UFC 273: Alexander Volkanovski TKOs 'Korean Zombie' Chan Sung Jung, Khamzat Chimaev Steals The Show
Volkanovski bludgeoned Jung to retain the featherweight belt and cement his status as a top pound-for-pound fighter.
Alexander Volkanovski and Aljamain Sterling both defended their titles at UFC 273, but the bulk of the post-fight buzz surrounds unbeaten welterweight contender Khamzat Chimaev. 
UFC 273 went down on Saturday night inside the VyStar Veterans Memorial Arena in Jacksonville, Florida.
In the main event, Volkanovski (24-1) attempted his third defense of the UFC featherweight title opposite the perennial fan favorite "The Korean Zombie" Chan Sung Jung (17-7). Volkanovski made it look easy, bludgeoning his beloved Korean rival to a standing TKO in round four after three lopsided rounds. 
"I'm on another level right now," the champion said in his post-fight interview with UFC commentator Joe Rogan. "I can't be stopped, and I just showed it."
In victory, the Australian extended his win streak to 21—including 11 straight wins in the UFC's Octagon—and reaffirmed his status as one of the sport's top pound-for-pound talents alongside welterweight king Kamaru Usman.
"He's up there," UFC President Dana White said of Volkanovski at the UFC 273 post-fight press conference. "He's No. 2 right now anyway. [He and Usman] are the two best guys."
UFC 273 was co-headlined by a bantamweight title fight between undisputed champion Sterling (21-3) and interim champion Yan (16-3). It was a second time the pair met, after Sterling defeated Yan by disqualification to win the title in 2021 thanks to a fight-ending illegal knee. 
While Yan was in control of the bulk of his first fight with Sterling, Sterling made excellent adjustments in the sequel, winning the first three rounds on most viewers' scorecards. Yan was able to surge back in rounds four and five, but it was too little too late, as the judges ultimately handed Sterling a split decision win.
"I know I came in here very highly doubted," Sterling said in his post-fight interview with Rogan. "People wrote me off but that first fight was a hiccup. Petr is dangerous, he brings it every single time and he brought out the best in me."
While Volkanovski and Sterling will both leave Jacksonville with world titles in their luggage, both champions have been overshadowed by the undefeated Russian contender Chimaev (11-0), who took on former welterweight title challenger Gilbert Burns (20-5) on the UFC 273 main card.
Heading into UFC 273, Chimaev had won all of his fights by stoppage, including four in the Octagon that took him well under 15 minutes combined. Many onlookers—the oddsmakers included—expected him to score another finish at Burns' expense, but the Brazilian was full of surprises. 
While Chimaev ultimately won a unanimous decision, Burns pushed him to the absolute limit, nearly finishing him on several occasions, and leaving the Russian battered and bruised.  
"I didn't know he was so tough," Chimaev said in his post-fight interview with Rogan, sporting a bad cut and bleeding heavily.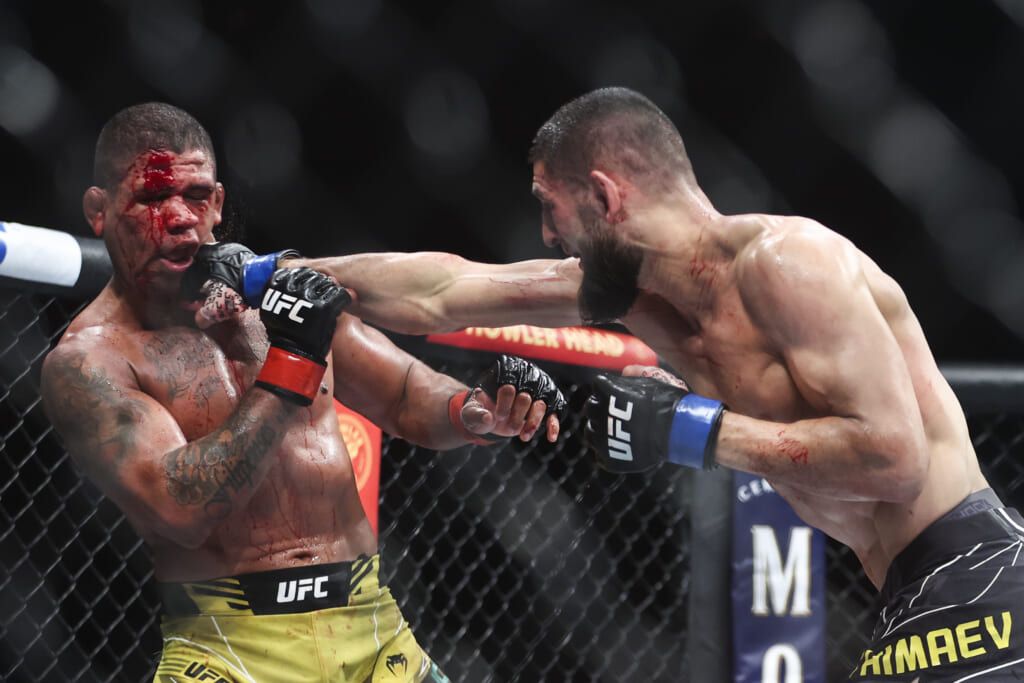 "The guy come out with Brazilian heart," he added. "Gilbert, I love you brother."
"Always respect. I just do my work to make money.'
Chimaev was ranked No. 11 in the UFC welterweight division before UFC 273. In victory, he will most likely steal Burns' perch at No. 2 when the rankings are updated.
While he has been linked to a potential fight with controversial welterweight star Colby Covington, a title fight with the champion Usman feels inevitable.