Team USA Roasted For 'Crotch Patch' Olympic Speed Skating Uniforms
It's supposed to make them go faster.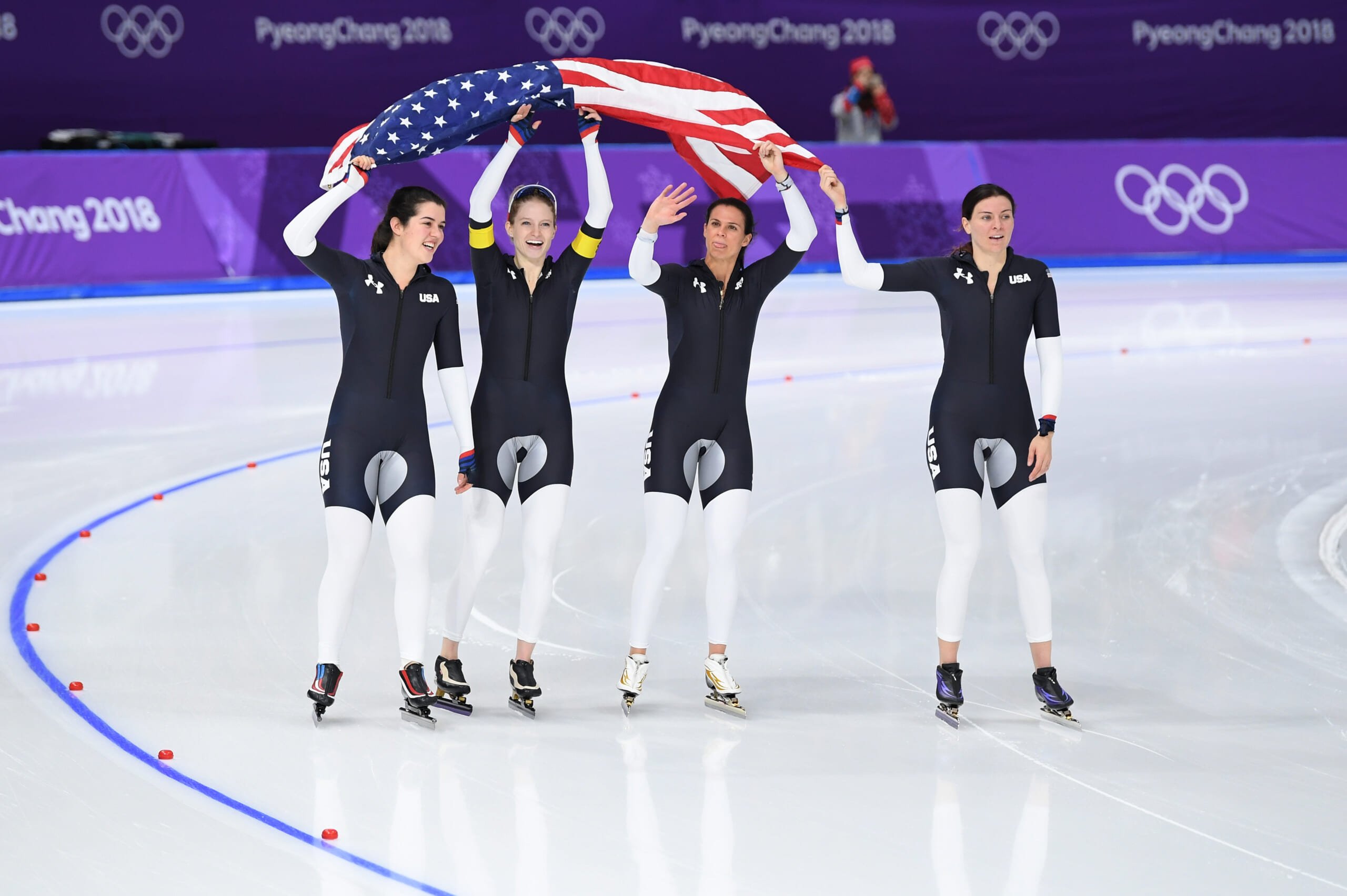 On the heels of one Winter Olympic wardrobe malfunction, comes another. But this one was not an accident. 
No, the bizarre, crotch-highlighting uniforms being worn by U.S. speed skaters in South Korea were very much intentional. 
The silver splotches splashed across the genitals of speed skaters are supposed to make them go faster, Yahoo reports. It's called ArmourGlide and it's a "super slick material that apparently reduces friction up to 65%."
Under Armour reportedly developed the material with the help of defense contractor Lockheed Martin after U.S. speed skating disappointed in the 2014 Winter Olympics.
The company explained what was going on in a statement to InStyle: "The contrasting material in the inner thigh (friction guards) has been commonplace for speed skate skins for decades, to reduce friction. The 2014 UA skin had one panel instead of two, but in testing the new skin, the addition of a second panel reduced friction even more—by 60 percent."
While the material doesn't seem to have done much—the U.S. only has a one medal, a bronze, in speedskating—it's certainly attracted attention. 
OMG! Who in the world designed the gray & black uniform for our (U.S) lady speed skaters?!!! It's ok from waste up, but it's most embarrassing in the crotch area! What was that person thinking!!! #WinterOlympics

— phillyphlash753 (@phillyphlash753) February 19, 2018
https://twitter.com/RealKiraDavis/status/965638895550455808
Uniform designer 1: Our new uniforms need to reflect the elegant and strong aesthetic of speed skating.

Uniform designer 2: And highlight the crotch.

Uniform designer 1: duh of course. Gotta pull the eye right there! pic.twitter.com/BEpWBB2xLN

— sarah_haskins (@sarah_haskins) February 8, 2018
But don't let the online ridicule fool you, Under Armor says the uniforms are being well received: 
"The athletes love the look of the skins and how they perform and are getting compliments from other countries."