XFL Comeback: Vince McMahon To Announce Football League Will Return in 2020
THIS. IS. THE. XFL. (AGAIN.)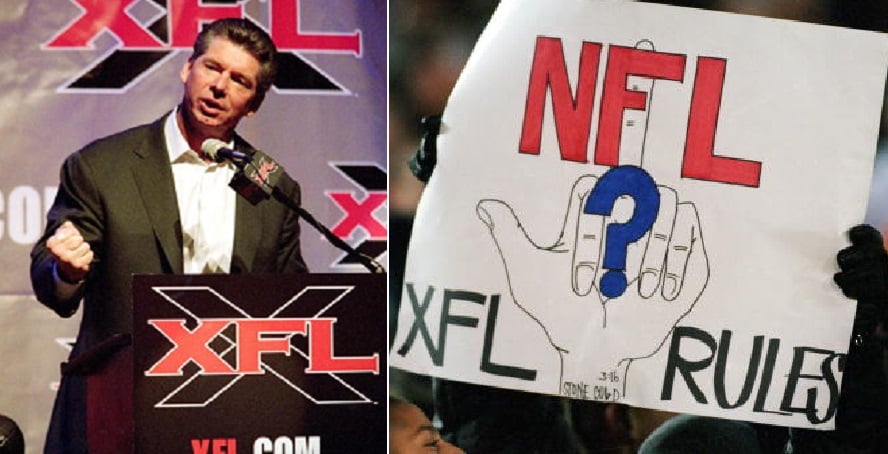 Getty Images
UPDATE: Vince McMahon officially introduced the new XFL (and it will still be called that) at 3 p.m. on Thursday.
Original: It's almost 100 percent official: The XFL will return, and there is nothing we can do about it. 
A CBS Sports report citing "sources close to the situation" says WWE boss Vince McMahon will make the announcement Thursday at 3 p.m. ET. The same report indicates that any XFL superfans out there pining for a return to the glory days of "He Hate Me" and WWE-style shenanigans on and off the field will have to wait a while. 
The reason for the delayed return—which McMahon signaled when he sold millions in WWE shares and set up his mysterious Alpha Entertainment—is that he reportedly wants to do it right. CBS writes that the original incarnation of the league was too much, too soon: 
McMahon, who rushed the original XFL into existence without so much as a full slate of offseason practices to prepare for the league's inaugural year, has apparently learned his lesson from one of the XFL's biggest initial mistakes.
Social media reaction to news of the pending announcement has been all over the place, and often hilarious. 
THE XFL AIN'T NO SISSY FOOTBALL LEAGUE! IF A QUARTERBACK FINISHES THE GAME WITH ANY BRAIN FUNCTIONALITY WE SHOOT HIM IN THE FUCKING HEAD! LIVE ON TV! JUST LIKE THE GOOD OLD DAYS!

— Stephen Sajdak (@stephensajdak) January 25, 2018
https://twitter.com/coolcam101/status/956569726326423552https://twitter.com/TygerrWoods/status/956566455998394368https://twitter.com/john_hullerMMA/status/956567855201472518
There are rumors on social media that it won't even be called the XFL. The alleged new name will be URFL.
As that name was trademarked in September 2017, it could be a pretty solid rumor. 
One thing we know is whatever McMahon does with a new pro football league, it will be intense.
h/t CBS Sports