Check Out Super Bowl MVP Von Miller's Holiday Workout
Give your turkey gut the finger.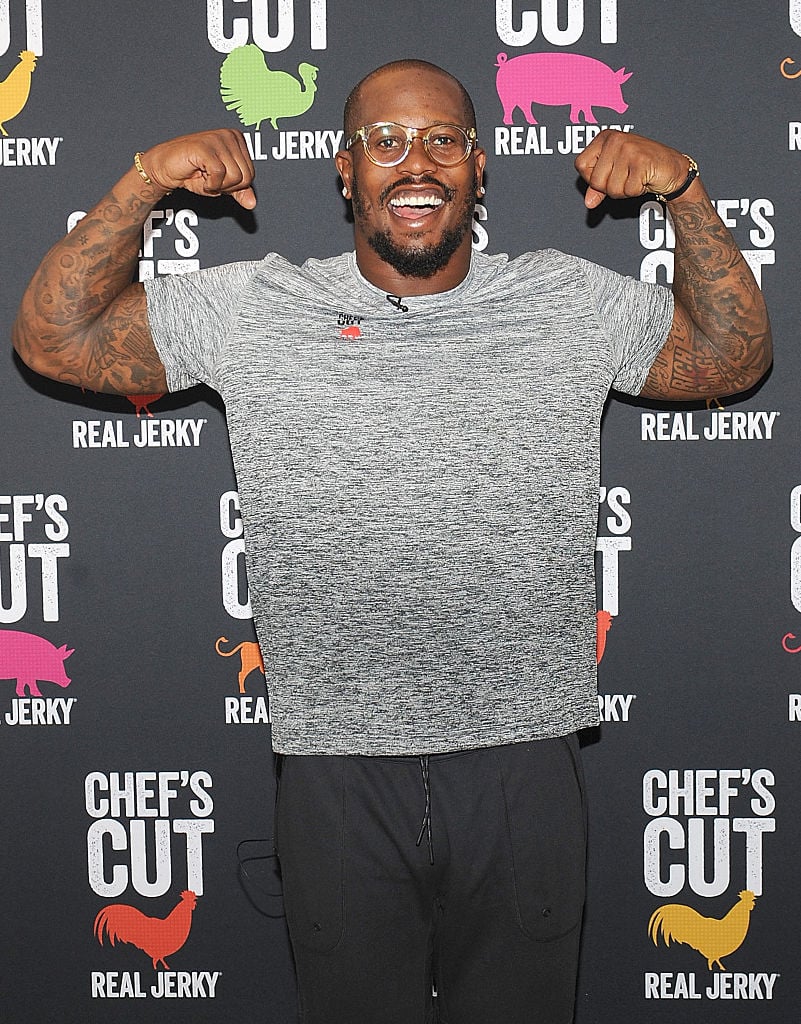 During the Broncos' recent bye week, their pass-rushing superstar visited NYC to unwind, catch a Knicks game with Odell Beckham Jr., and show the world what goes into his workout routine and healthy diet. Miller sat down with Maxim to talk workouts, food, and staying in top shape during the holiday season.
What makes this workout special?
It's just a great workout. The trainers that we've had involved make it different than any other. Those guys had such an energy-packed workout, so much stuff that we can relate to our everyday lives. Every trainer is different, but the trainers we had today [who created the routine below] were awesome. 
Would you say this is more of an in-season or off-season workout? Are there big differences between the two?
This is like a maintenance type of workout. You know, in the offseason, there's something that you're working towards. This workout is for overall health, like a tuneup for the body. It's a workout you do multiple times a week and feel great about it. After taking an off day or a few off days for the Thanksgiving break or the holiday season, it's important to focus on a full body workout.
During the season, you obviously need to work out, but you also need to recover. How do you balance the two each week during the season?
Even more importantly, no matter what, you need sleep. I feel like sleep is the most important aspect of all of this. You have to put time aside to rest and sleep. Sleep is incredibly important, and nutrition is important. That's what separates one athlete from the next, especially in the NFL where every team is just full of talent. 
Do you have a specific diet as well?
I do have a specific diet, but I think it's the snack portion of my diet that separates me from everybody else. My favorite snack is the Chef's Cut beef jerky. It's a chef-created protein that's essential to fueling my workout and maintaining muscle. Maintaining muscle and really staying on the body and maintenance work is what separates one individual from the next. 
So you're not like Antonio Brown or Marshawn Lynch, who are downing Skittles all the time?
No, I've got to put premium fuel into my car, into my Ferrari. That's why I stick why my jerky. It's great for when I don't have time to sit down for a meal. I can get a protein-packed bite of chicken, or steak or turkey.
Is there one food that you struggle to avoid?
It's been a while now that I've been living this type of healthy lifestyle. At first, it was incredibly tough with the habits. You know all it is, is a habit to eat healthy. And that habit turns into a lifestyle over time. It's been a while for me, but what I used to struggle with was the soda. If I drink one soda it's gonna turn into two, three, four. You can tell those calories add up, and they're pointless calories I can do without. I drink water instead, and there's 500-600 calories saved right there.
We just finished Thanksgiving, how do you manage the holidays with all of the unhealthy food?
My chef, she's completely involved with Thanksgiving. But you know the fun part of Thanksgiving is, it's not just one person doing all of the cooking. It's a little room for me to step out and cheat a little and have some great Thanksgiving food. But about three, four, five of my teammates we all have this one big Thanksgiving feast and we all contribute to the meal. My chef, she definitely pulls her weight, but we all contribute.
VON MILLER'S HOLIDAY SEASON WORKOUT
Warm up: 1 minute of burpees
Explanation: Instead of cold stretching, do an active warm up with 1 minute of burpees.
Then into workout:
1. Elbow plank to push up 45 seconds.
Explanation: With a flat back, rise from your elbows to your hands and back down. Keep your core tight for a great ab workout.
2. Body weighted speed squats 45 seconds
Explanation: With good form try to do as many squats as you can in 45 seconds. Keep weights at your side or chest for added difficulty.
3. Squat jumps 30 seconds
Explanation: Go into a squat position and use your legs to jump as high as possible. Not only are you strengthening your legs but adding cardio.
4. Toe touch abs 20 seconds
Explanation: Lay on your back with your legs in the air perpendicular from your body. Engage your core to touch your toes.
5. Sit ups 20 second
Explanation: Slow down your breath with 20 seconds of simple push ups.
Repeat these exercises 3x through! Try your best to finish in under 20 minutes.