Watch Amanda Nunes Destroy Ronda Rousey in 48 Seconds
This was just brutal.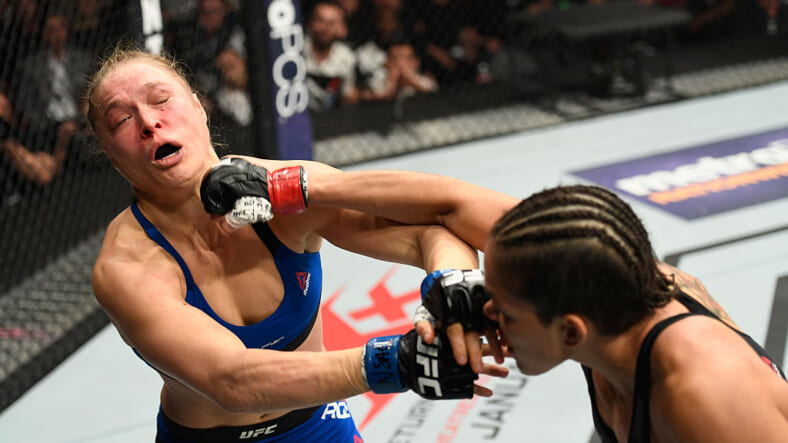 Getty Images
The Ronda Rousey era is officially over. Once the most dominant woman in the UFC and the most high-profile MMA star, the rowdy one didn't go out in a blaze of glory. She was beaten in a stunningly fast and utterly anticlimactic match that didn't even last a full minute.
Rousey's TKO loss to Brazilian bantamweight champ Amanda Nunes seemed like the result of a simple plan on Nunes's part: punch away and never let Ronda grapple. The strategy was obviously brutally effective.
In recapping any other UFC match there's usually some blow-by-blow to do, but Rousey's much-heralded comeback — for which she looked 100 percent ready — was sadly too damn short to pick apart in a technical way. Nunes zeroed in on Rousey's weak defensive posture and hammered away with a devastating left hook then repeated blows from the right. 
Rousey staggered and the ref wisely called it. 
Speaking to the press afterwards, Nunes said she "really trained very hard." 
"I'm a dedicated fighter and I have my team behind me," said Nunes. Her team, American Top Team, she continued, had made her "an amazing fighter." 
It's all hindsight now but looking back, it seems like Rousey may have telegraphed the fact she wasn't truly psychologically ready for this so-called comeback. She was in full silent running mode as far as press appearances went for most of the run up to the match, but guesting on Ellen in November she said she wasn't "too long" for continuing work in the Octagon. "This is definitely one of my last fights," she told host Ellen Degeneres, "Everyone better watch. The show isn't going to be around forever."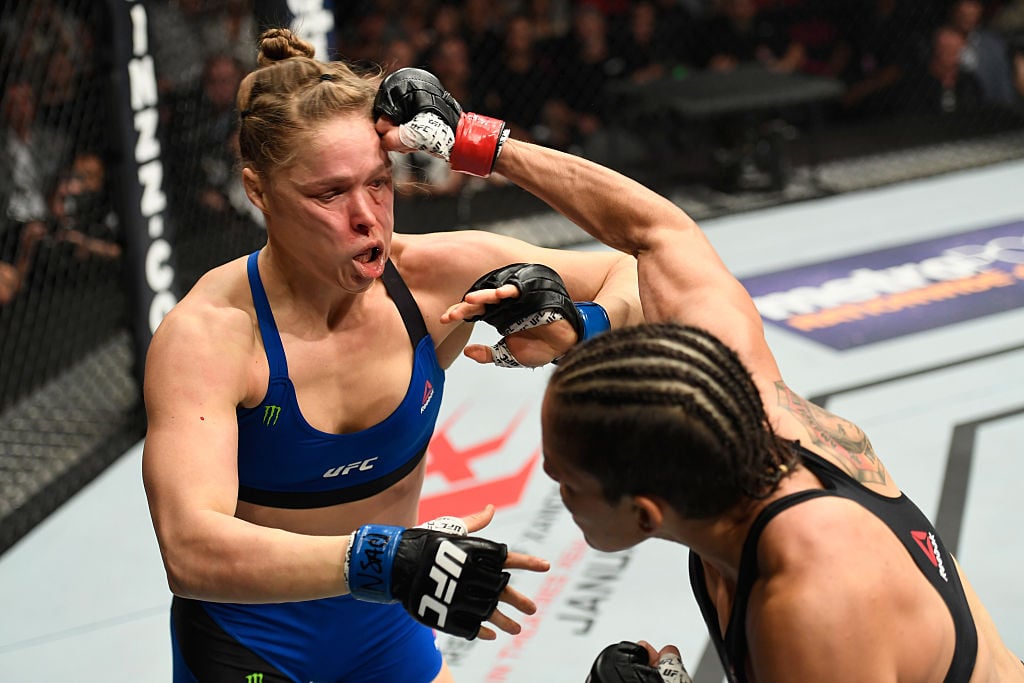 It certainly wasn't. 
Amanda Nunes seemed to know what was up all along. "Forget about Ronda Rousey," Nunes said later, "Now she's going to retire and go do movies."
That may be. She may work in the WWE. After movie appearances and even hosting SNL Rousey's celebrity is certainly not a thing of the past.
At one point it was hard to imagine anyone taking Ronda down. She was the most dominant figure in MMA, often destroying opponents with the kind of speed Nunes demonstrated Saturday night. Then came her stunning loss to Holly Holm — and now this. 
If everything was truly on the line as she said in the Countdown released prior to UFC 207, then her reign over the Octagon is definitely history.