Watch: Criss Angel Shocks ESPN Analysts By Correctly Picking Top 3 2022 NFL Draft Picks
The "Mindfreak" magician locked his perfect predictions in a box live on TV before the NFL Draft began.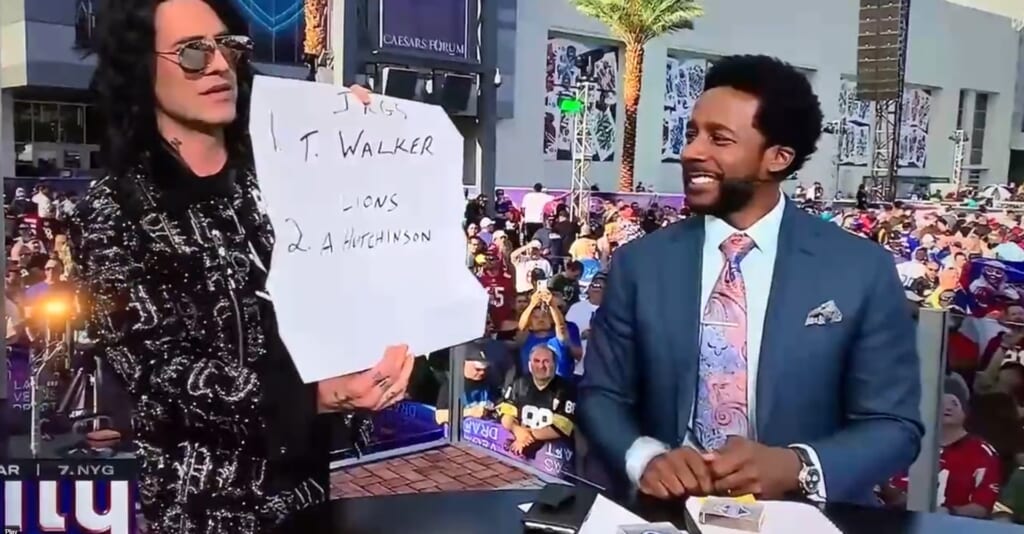 "Mindfreak" magician Criss Angel pulled off an unlikely hat trick at the 2022 NFL Draft in Las Vegas by correctly guessing the first three picks—a feat that seemingly eluded all other analysts and insiders.
As BroBible notes, Angel appeared live on ESPN's College GameDay and locked his predictions in a box suspended next to the set before the draft began. He then gave the key to host Desmond Howard and left the premises.
The Jacksonville Jaguars took Georgia edge rusher Travon Walker at No. 1, and the Detroit Lions secured Michigan edge rush rusher Aidan Hutchinson at No. 2, Yahoo reports. It was widely assumed that Walker and Hutchinson would be the first two overall drafts, the only real question was who would go first.
But while LSU cornerback Derek Stingley was predicted to be among the first cornerbacks drafted, he wasn't widely expected to go third overall to the Houston Texans. Angel returned to the College GameDay desk later as No. 9 was being selected by the New York Giants.
"Make sure it's sealed, is it sealed?" Angel asked Howard before instructing the analyst to open the envelope.
After confirming that "nothing was pre-arranged," Angel claimed to "have a premonition" before writing down Walker to the Jaguars, Hutchinson to the Lions, and most impressively, Stingley to the Texans.
But Angel's wildcard pick wasn't random luck. Buzz about Stingley's top-three draft potential grew in the days prior. The 6-foot-1, 190-pound defensive player earned All-American honors in 2019 and 2020, but was sidelined for all but three games in his final LSU season with a foot injury, according to ESPN.
Stingley is the fourth cornerback to be drafted with the No. 3 pick in the common draft era, tying the highest pick used on the position. He's part of the first draft class since 1991 in which the top 5 picks were defensive players.