Watch Highlights of Jon Jones UFC 247 Decision Win Over Dominick Reyes
"Dominick did a tremendous job. You have totally deserved my respect, man."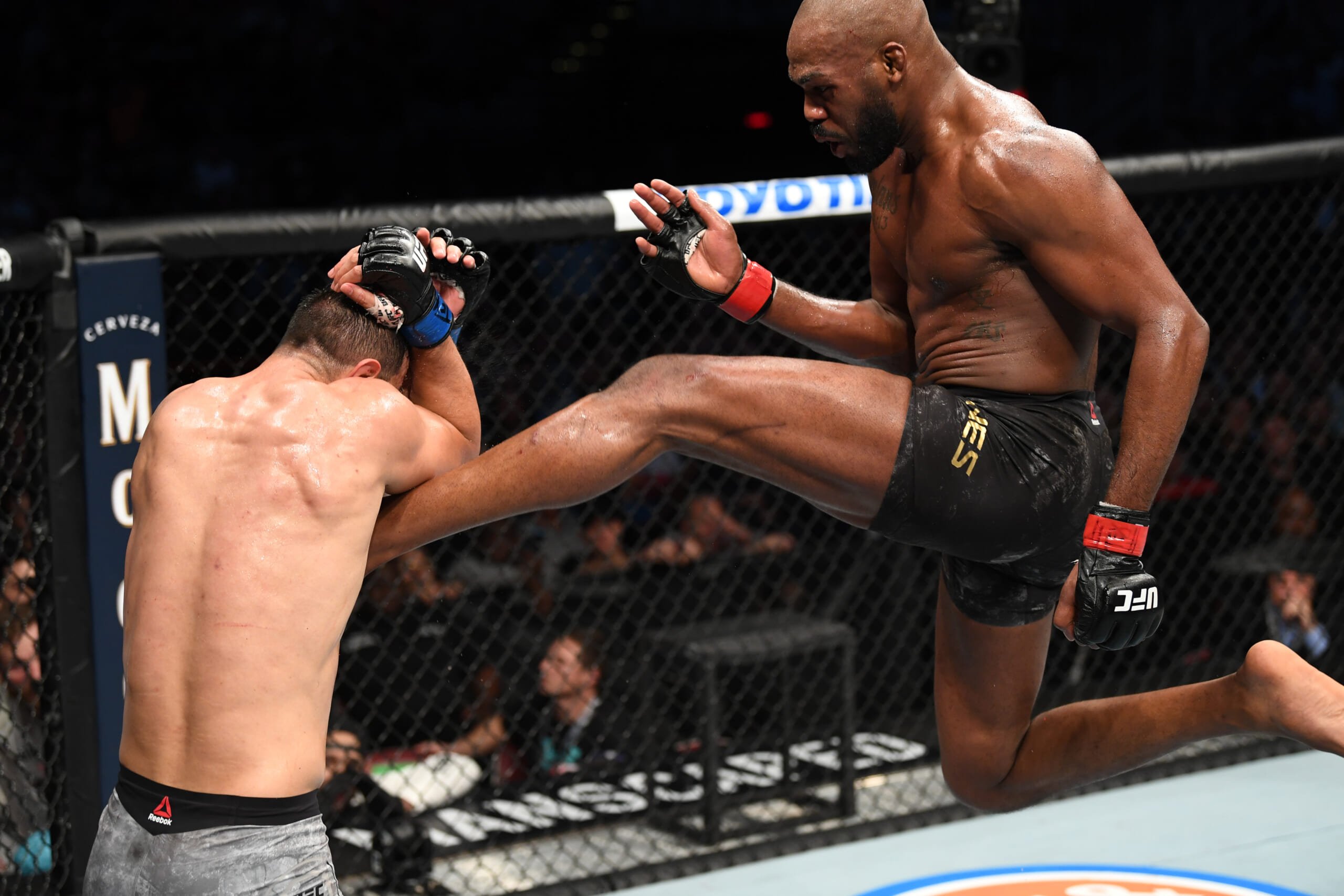 Light heavyweight champ Jon "Bones" Jones became a true MMA legend at UFC 247 Saturday night, defeating challenger Dominick "The Devastator" Reyes. With this, his 14th title bout victory, Jones set a UFC record and handed Reyes his first professional defeat.
And the crowd at Houston's Toyota Center wasn't too happy about it, booing as Jones's victory was announced. It was, after all, a strikingly even matchup, with Jones only pulling off the victory in the last two rounds—Reyes was competitive if not dominant in the first three rounds, appearing to shake Jones more than once with well-placed body blows.
The judges' scorecards told the tale of just how well-matched the fighters were: 49-46 and two cards tallying the match 48-47, all for Jones.
Speaking after the match, Jones made it clear that he agreed that Dominick Reyes put up one hell of a fight, saying, "Dominick did a tremendous job. You have totally deserved my respect man."
Jones gave his take on why he won despite Reyes clearly scoring points: "I think the difference in the fight was takedowns," he said, "I couldn't keep him down but at least I took him down. The exchanges were close with kickboxing but I believe my takedowns are what won it."
In the post-fight press conference, Reyes said, "I know I won that fight. I know I won that fight. I was in that fight. I don't have to watch the replay. I was there. I made Jon Jones look like just a man. I brought the fight to him."
"But it is what it is," he concluded, "All I know is that I am the truth, and people saw that tonight. Many people from the top down in this organization told me I owned that fight tonight.
UFC president Dana White was frank about his take. He admitted scoring it in Reyes's favor, and that he was not the only one who wasn't too sure about the outcome. "My kids are terrorizing me that the fix is in," White said, "'How does this happen, Dad? Reyes won the fight!' None of us are judges. The judges call the fight and that's it."
White didn't want to take anything away from the winner, though, calling him the GOAT and saying Jones "isn't 25 years old anymore. He's taking on these young killers and he finds a way to win these fights." 
"I just think the bar is set so high," White said, "you have such high expectations."
The debate over who really won will continue, but Jones is still a record holder and the UFC doesn't look back. Still, we smell a rematch sooner than later. 
Jones does, too: "I definitely want a rematch; I won," he said afterward, "I'm going to go home, maybe go on vacation, sit on a beach somewhere, and then maybe sit and talk with Dana and figure out my future."
UFC 248 will feature a middleweight main event with undefeated Israel Adesanya facing 13-4 challenger Yoel Romero. Fists and feet start flying in at T-Mobile Arena in Paradise, Nevada on March 7, 2020.