Watch Jared Goff's Model Girlfriend React to Lions' First Win of Season At SI Swim Shoot
Bikini model Christen Harper was thrilled after hearing about the Lions' clutch victory over the Vikings.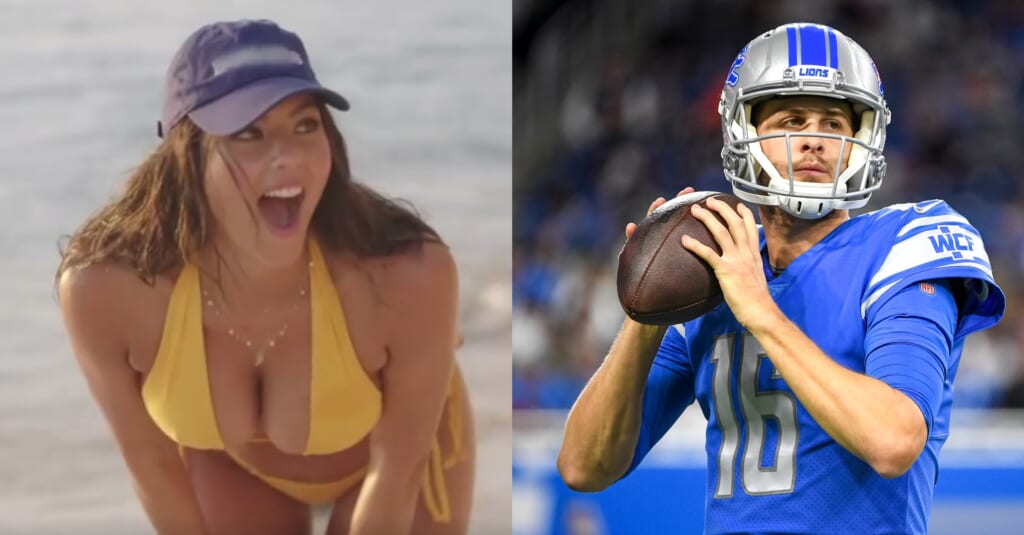 The Sports Illustrated Swimsuit team captured a memorable reaction to the Detroit Lions' first win of the 2021 NFL season from model Christen Harper.
Harper, girlfriend of Lions quarterback Jared Goff, was posing for her SI Swim rookie shoot when she heard news of the Lions' 29-27 victory over the Minnesota Vikings.
"Shut up! Shut up!" she said playfully after getting the news. "You guys, this their first win! Like, this is crazy!"
Goff made the game-winning play—a TD throw to rookie receiver Amon-Ra St. Brown that capped off a 14-play, 75-yard drive, per CBS Sports.
"Oh my God, this is going to make me cry. That is the best," Harper said after being shown footage.
The official SI Swim Instagram account captioned the video, "COUPLE GOALS! When your boyfriend throws the winning touchdown pass while you're shooting your rookie year of #SISwim22."
Meanwhile, former Maxim cover stars Maggie Rawlins and Jasmine Sanders replied "Freaking ADORABLE" and "Love this," respectively.
The moment marks the end of the Lions' 15-game winless streak, putting them at 1-10-1 for the season. One of those losses was delivered by Baltimore Ravens kicker Justin Tucker, who set the record for the longest field goal in NFL history at 66 yards.
Meanwhile, Harper's Instagram feed keeps notching wins every day. Here's a sampling: