Conor McGregor Wants To Fight Khabib Nurmagomedov Again
Given how Khabib dominated McGregor, would you pay to watch a rematch?
Getty Images
The bad blood between Conor McGregor and Khabib Nurmagomedov reached a boiling point at UFC 229—and the Irishman wants to do it all over again. 
For four rounds, the Dagestan-bred fighter showed his dominance on the mat before finally ending the bout with a neck crank that left McGregor with no choice but to tap out. 
The fighting didn't end there. Nurmagomedov jumped into the crowd seconds after the submission and swung at Dillon Danis, McGregor's trash-talking jiu-jitsu coach. Meanwhile, members from Nurmagomedov's camp entered the Octagon and sucker-punched McGregor.
Khabib makes Conor tap out and then chaos ensues

– Khabib talks some extra trash to Conor
– Khabib jumps the cage
– Conor appears to get punched by a member of Khabib's team pic.twitter.com/w2eg4Yz3tc

— Rob Lopez (@r0bato) October 7, 2018
McGregor not only refused to press charges against his attackers, but made it clear that he wants another shot at the UFC's defending lightweight champion. 
"Good knock," McGregor tweeted hours after his loss. "Looking forward to the rematch." 
Good knock. Looking forward to the rematch.

— Conor McGregor (@TheNotoriousMMA) October 7, 2018
In his latest Instagram post, McGregor claimed to have "won the battle." The accompanying photo shows his battered face. 
https://www.instagram.com/p/BorCLW-gfSF
"We lost the match but won the battle," he wrote. "The war goes on."
Nurmagomedov sees it differently. He also took to Instagram after the fight, writing that the UFC's former two-time champ is "just now slowing down." 
https://www.instagram.com/p/BoqtSDsCoH4
"Brothers, you're just now slowing down, for now I'm uncomfortable for you," Nurmagomedov wrote. 
"I told you, October 6 I told everyone, or did you really want me to get beat there?" (The Washington Post's Isabelle Khurshudyan provided translation and points out that, in Russian, a plural reference can refer to one person.)
One question is swirling in the heads of fight fans everywhere: what's next? 
Nurmagomedov's immediate future is unclear. As ESPN notes, the Nevada State Athletic Commission will likely hand him a fine and suspension as punishment for his post-fight melee. 
UFC president Dana White said as much in the post-fight press conference. 
"The Nevada State Athletic Commission is going to go after him pretty hard, I'm sure," White said. 
"He doesn't have to worry about me right now, he has to worry about Nevada," White added. "The governor was here tonight and he went running out of the building. That's not good. He's in trouble." 
Assuming his capacity to fight is eventually restored by the NSAC, it's not a stretch to think that the UFC would want to make McGregor vs. Nurmagomedov II. The first contest wasn't even close, but a second would surely be extremely lucrative.
However, McGregor may have to prove he deserves a rematch in light of his decisive loss to "The Eagle." 
Tony Ferguson, a formidable lightweight fighter who defeated Anthony Pettis in UFC 229's co-main event, could be either Nurmagomedov or McGregor's next opponent.
https://www.instagram.com/p/BorQsMXHkQ8
The Independent has further details: 
The pair have a mutual dislike of each other although not nearly as intense as the enmity shared between McGregor and Nurmagomedov.

Ferguson has been itching for a fight with McGregor – or 'McNuggets' as he has taken to calling the Dubliner – and is ranked number two in the lightweight rankings, so he would be no easy night's work.
But there's another followup fight to be had, and that's Conor McGregor vs. Nate Diaz III. Speaking to ESPN reporter Ariel Helwani before UFC 229, The Notorious One said he's certain that the trilogy will be completed.  
"Nate Diaz will always have a rematch off of me. No matter what happens I will always give that man gave his rematch," McGregor said.
"When it will happen? I don't know. We will complete that trilogy, no doubt about it."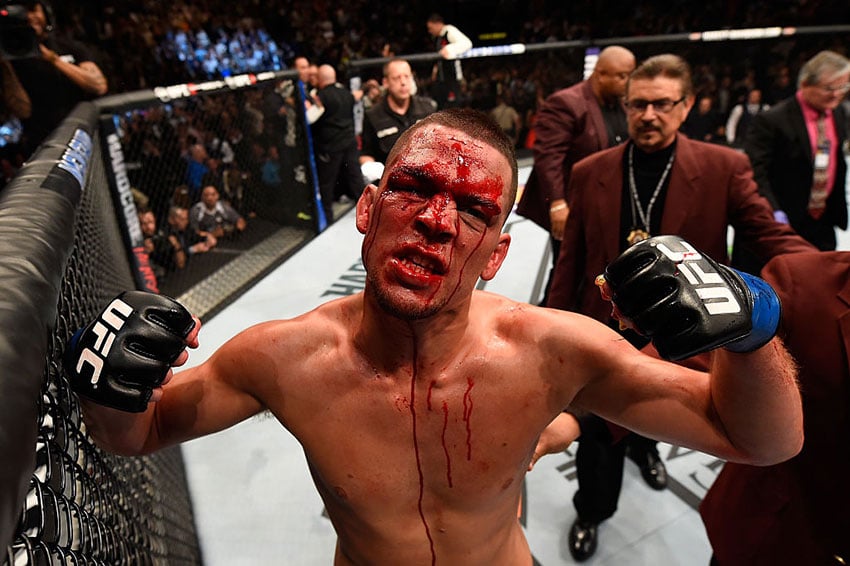 The Stockton, Calif.-based brawler is considerably less keen on fighting McGregor a third time. 
"I ain't fighting no trilogy," Diaz told TMZ. "He already got his ass whipped. He can fight everybody else. I got shit to do, too." 
McGregor has also showed interest in a megafight with 43-year-old MMA legend Anderson Silva.
"I'd be interested in an Anderson Silva bout," McGregor told ESPN. "I swear to God. Anderson is a legend of the game. I'm sure he's hunting for a few quid as well."
Silva responded positively to the idea. 
"He's a legend, I'm a legend," Silva told ESPN. "Let's go do this for the fans. Hopefully McGregor doesn't do the same as Georges St-Pierre. He talked about fighting me and then he run and run and run."
If McGregor wants to step back in the boxing ring with Floyd Mayweather, that may be on the table as well. 
Fox Sports has further details: 
The August, 2017 boxing match between Floyd Mayweather Jr. and Conor McGregor was arguably the biggest event in sports history.

Mayweather Jr. walked away with nearly $200 million, while McGregor had a purse of approximately $100 million, so that's clearly the incentive for doing this again.

The 50-0 boxer's father told Helen Yee that talks of a rematch were in the works.

"They are talking like him and Conor McGregor are going to fight," Mayweather Sr. said.

"That's what it sounds like. I don't know for sure but I'm just saying the way things are sounding to me. Sounds like (my son) wants to fight again."
We'll see what happens.