Why NASCAR Is America's Most Exciting Live Sports Event
The high-octane Monster Energy NASCAR Cup Series puts the Super Bowl to shame.
Presented by Autotrader
It's a mild Sunday afternoon in April at Bristol Motor Speedway in Bristol, Tennessee, a racetrack tucked into the northeastern most corner of the Volunteer State. Countdown time. On a stage in the center of the track infield, amidst a barrage of flames, smoke and dance music, stands retired WWE icon Goldberg. He wears a black t-shirt, sunglasses, do-rag and wields a microphone. 
"Who's ready to race?" Goldberg asks, his voice blasting out of the 154,000-watt sound system. "I said, WHO'S READY TO RACE???" 
See, the tens of thousands of fans on hand – including yours truly – aren't here for a pro wrestling Smackdown. We're here for racing. The 8th race of the Monster Energy NASCAR Cup Series. And by the checkered flag, the day will once again prove that NASCAR is simply the best live sporting event in America.
It starts right here with Bristol Motor Speedway itself, a.k.a. The Holy Grail of Short Tracks, a.k.a. The Tennessee Teacup a.k.a. The Fastest Half Mile on Earth a.k.a. The Last Great Coliseum (I'm guessing the persons who named it meant The Last Great Coliseum in the U.S. because when I last checked THE Coliseum in Rome still stands). 
This is hallowed racing ground, a veritable Mecca for gearheads everywhere. Just take a gander at the banners hanging near the top of the track that celebrate "Great Moments in Bristol Motor Speedway History." 
1961 Track Opens. 1978 First Night Race. 1995 Earnhardt/LaBonte Clash #1. 1999 Earnhardt/LaBonte Clash #2. 2010 Kyle Busch Weekend Sweep. 2012 Tony Helmet Throw (the infamous incident in which Tony Stewart threw his helmet at Matt Kenseth's car).
There's more. Like Bristol's banked 28-degree turns – the nastiest incline in all of NASCAR – are as steep as a ski slope. That means higher vertical loads, more downforce, and more speed through the corners. 
"It's probably the most physically and mentally demanding track," says 2018 Monster Energy NASCAR Cup Series champion and Team Penske driver Joey Logano, who is behind the wheel of his orange, #22 car. 
Autotrader, the undisputed king of third-party car shopping online, is the primary sponsor for three of Penske's NASCAR races this season – including Bristol. "And there's definitely more G-forces than anywhere else." 
Then there's the Colossus TV, the world largest outdoor center hung video screen. And last but not least are the stands, Thunderdome-esqe walls of stadium seating that encircle the entire track and accommodate a cozy 162,000. 
"My dad raced in NASCAR and as a kid I remember walking through the tunnel in turn three and I'd look up at the stands in this massive arena," says Team Penske driver Ryan Blaney, who, two days earlier, set the all-time BMS lap record with a 14.528 run. "It was the absolute coolest thing for me." 
But the cool factor goes way beyond the seats. It's the scene, the atmosphere, the environment. There's little else like it. There are down home Southern eats like J's Smokin BBQ (Where "Ya Don't Need Teef to Eat Our Meat"), turkey legs at Pinty's, and Bourbon and Brown Sugar baked beans. 
There are the smells; smoked meats, gasoline, and burning rubber. Throw in sounds: power tools, AC/DC songs, screaming engines and cheering, lots of cheering. At the center of it all? The people. 
NASCAR diehards of every imaginable age, shape and size, whooping it up for the day, the weekend or in some cases the week (look no further than the thousands of RV's parked around the outskirts of the racetrack). 
As I roamed the ground in the hours before the start of the race I spied (in no particular order): baseball hats, goatees, moustaches, tank tops, the sort of sporty sunglasses worn by pro golfers and Midwestern computer salesman, tattoos, cigarettes, dip cups, koozies, energy drinks and clothing that included every possible color in the electromagnetic visible spectrum.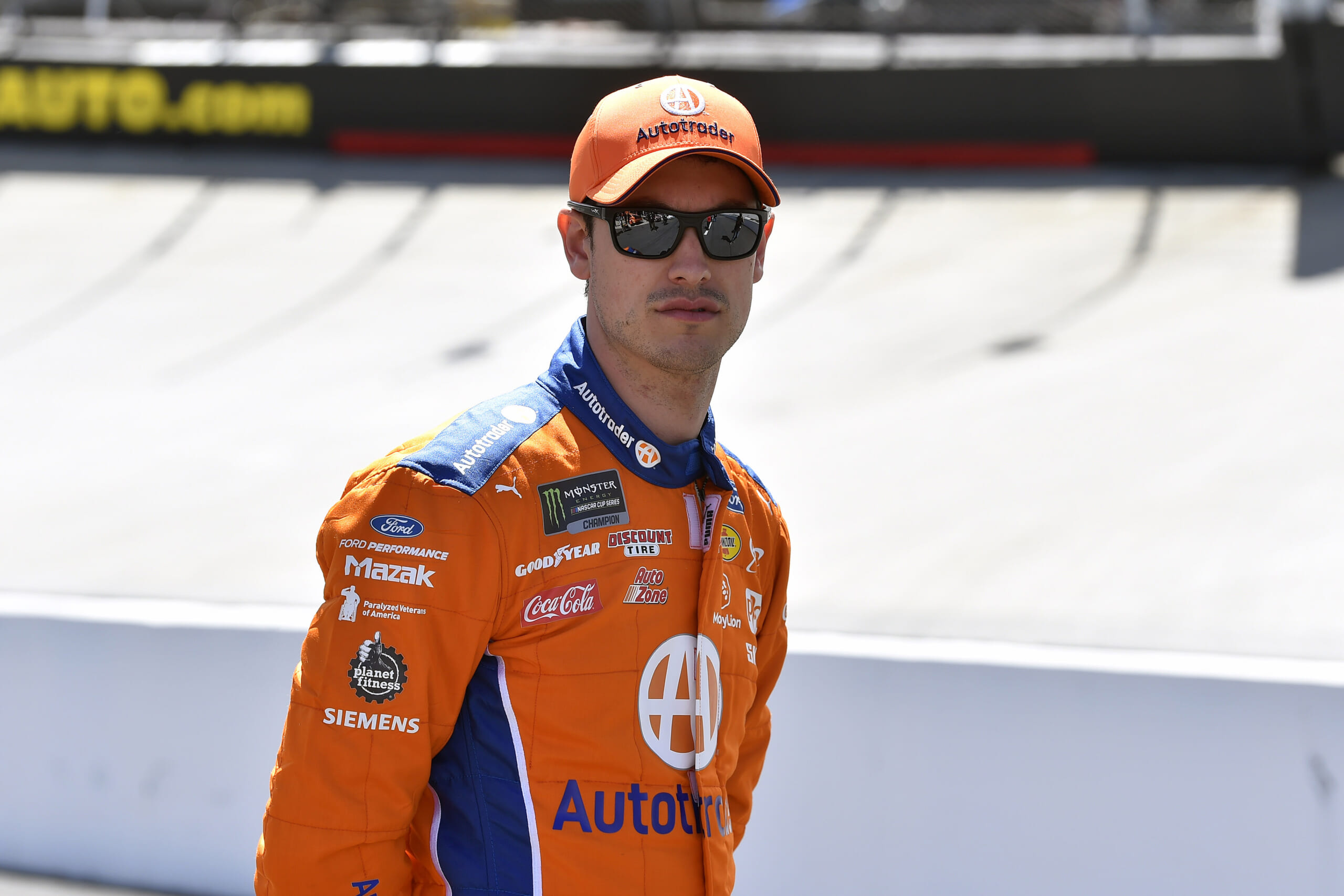 Some of those people you'll find around the Bristol Motor Speedway? The drivers themselves. Johnson, Harvick, the Busch brothers, Keselowski, you name it. NASCAR's athletes might be internationals stars, but they sure as hell aren't divas. 
Take Logano, for example. Fresh of winning the 2018 championship, the 28-year-old doesn't have an attitude. Doesn't roll with some posse keeping fans at arm's distance. He spends a serious amount of his race day pressing the flesh in his orange firesuit. 
And after 11 years in pro racing, Logano still signs autographs, poses for pictures, and answers fans' questions up in the suite with a genuine warmth. There may be no nicer guy in any sport. As for nerves? 
"I used to be nervous but not anymore," says Logano with his trademark wide smile. "You have to be confident enough in what's going to happen and what you're going to do. You're not going to perform if you're unsure about your abilities, without that real confidence."
At exactly 2:03 p.m., after the driver introductions, the Pledge of Allegiance, a formal invocation, the Star Spangled Banner, navy jets flying over and NASCAR legend Darrell Waltrip waving the green flag, thirty-seven, 750-horsepower stock cars tear off the starting line for the official start of the Bristol Motor Speedway race. 
The noise is ear-rattling. The excitement is palpable. The action, all 500 laps and 266.5 miles of it just as the drivers themselves describe it: challenging, fun, unpredictable, intense and non-stop. A high-stakes cage match on four wheels. 
"Everything happens so fast here," explains Blaney of the small track Bristol experience. "You're always trying to pass someone or somebody's trying to pass you. You know you're going to get run into at some point in this race. It's how small it is. You just gotta stay calm."
As I witness Ricky Stenhouse Jr. in the Sunny D car plow into the back of Kyle Busch's Skittles-mobile within the first ten seconds, then closely watch Logano in his orange #22 car masterfully weave his way through traffic to eventually take the lead in Stage 2 (the race is broken in to 3 stages), I'm again assured that NASCAR is THE action sport. No offense to other major sports leagues, but let's be honest here. 
In three plus hours of broadcasting, an NFL game consists of a mere 11 to 15 minutes of actual playing. As for the NBA, anyone will tell you that only the last four minutes of any regular season game is worth watching. 
With the merry-go-round of pitching changes and slow play, MLB games feel as long and tedious as a Ken Burns documentary series. The NHL, with its blistering pace and hardcore fans gives NASCAR it's closest run for the money as far as live sports, but does an early-season February match up between the Sharks and Blues matter that much?
Here in Bristol, the BMS race features 21 lead changes, a heart breaking Brad Keselowski penalty and a Braveheart-style charge from Kevin Harvick (who came from four laps down to finish 13th after failing three pre-race inspections). 
In the end, Autotrader-sponsored Logano's hopes of a second 2019 win (and third career win at Bristol) is thwarted by Kyle and Kurt Busch who finish first and second respectively, once again proving they own this track (coming into the race they've won a combined 13 races at BMS).
As for me? I only have one problem with today's race at The Last Great Coliseum. It's over too soon. But there's good news. 
There's another race here in August and I've already got my ticket.