Why Tiger Woods Is A 100-1 Longshot To Win 2022 Masters Tournament
MaximBet has the latest odds on Tiger's Masters chances IF he plays Augusta.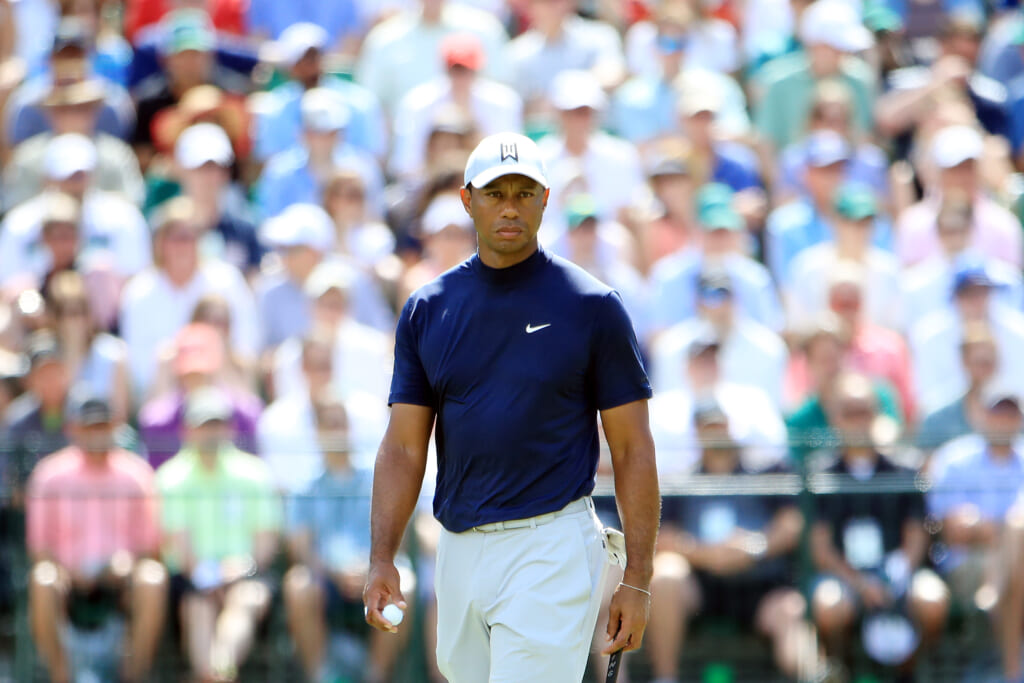 Well, we now know that Tiger Woods has played Augusta National golf course. What we still do not know is whether he will actually play the Masters. And, of course, whether he is physically capable of winning (MaximBet has Woods listed at 100-1 odds to win the Masters).
We already know that Woods was once physically and mentally capable of winning, because we have seen it five times, most recently in 2019 before he sustained life-threatening injuries in a car crash.
Now comes news that Tiger played 18 Tuesday with his son Charlie and fellow PGA professional Justin Thomas, and we shall see beginning today what that does to the odds of Woods winning a sixth green jacket. He is currently listed at 100-1 at MaximBet's Masters futures, with 17 golfers having shorter odds.
But this is a guy you never want to bet against when he is in top form, which begs the question: What does his golf game look like these days? And can his surgically repaired body handle the rigors of walking the hilly course among the azaleas?
"One thing that television does not properly convey is the topography of Augusta. The beauty comes across, but not the steepness of the hills. That is an extremely tough course to walk. The slope from the 10th green to the 12th tee has to be at least 200 feet, and to think of him doing that at least five times, because there would be another practice round, is hard to fathom.
"But then again, this is a guy who has made a career out of doing things everyone said he could not do. He won the U.S. Open at Torrey Pines playing on one leg," said Ron Sirak of the Golf Channel, the former golf writer at The Associated Press who has covered the Masters 32 times and shot an 86 there in 1996 before the course was "Tiger-proofed" and lengthened.
Thomas has not posted to Twitter or Instagram since Monday, so he is playing that one close to the vest, which is understandable given that he is the 14-1 third choice (behind world No. 1 John Rahm, 8-1, and Scottie Scheffler, 12-1).
He could conceivably be in the final Sunday pairing with a certain guy in a red shirt as they navigate America's most exclusive famous golf course, which has been lengthened through changes at the 11th, 15th and 18th holes, the last of which has been extended by 13 yards and may or may not bring the bunker along the left side of the fairway back into play.
The Masters is an invitational tournament, and Woods does not have to commit to playing until next week.
It would be sensational to see him back on that course and hobnobbing with the green jacket types, who in 1995 told your faithful correspondent that his request for a foursome of Greg Maddux, Tom Glavine, John Smoltz and himself would not be granted, although a threesome of Glavine, Maddux and Smoltz could be arranged (true story).
Woods played in December in the PNC Championship with his son, but that was a 36-hole event in which he was permitted to use a cart. And at the Masters, you are about as likely to see a cart as you are to see a white napkin wrapping a pimento cheese sandwich. The Green Jacket types have the concession stands use green napkins to prevent white napkins being seen blowing around the course during the four-day telecast.
Woods still trails Jack Nicklaus by one for most Masters championships, and he lost his share of the 72-hole scoring record that he shared with Jordan Speith when Dustin Johnson shot 268 in the November 2020 Masters.
Also, there is always the matter of Nick Price's course-record 63 set in 1996, which may or may not fall this April. MaximBet has the odds of someone shooting a 62 listed at 9-1.
And no, the par 3 contest does not count.
But in all seriousness, this is one of the most captivating sports stories we have seen this year. Woods was discussing amputation of his leg with his doctors following his car crash on Feb. 23, 2021, which came as he was recovering from his fifth back surgery.
We have not seen much of him in public since, and that familiar back pain grimace that inspired so much empathy has been replaced on the PGA Tour by talk of the prodigious drives hit by protein shake guzzler Bryson DeChambeau, his ongoing feud with Brooks Koepka, and the controversy surrounding Phil Mickelson's support for a rival tour being proposed by big money in Saudi Arabia. Mickelson has not been invited to this year's Masters.
Picking a favorite is tricky, because nobody has been killing it with regularity on the tour as Woods once did. He has 82 PGA Tour victories, tied with Sam Snead for most all-time.
"Golf betting lines, in my opinion, are always too high. Nobody should ever be 8-1 because there are usually 150 other golfers they have to beat," said Sirak, whose pick is Thomas. "In this year's field of 91, probably 40 have a chance to win. And Tiger walking that course at 46 and playing against guys in their 20s … I'd have to put Tiger at pretty high odds. 50-1 makes sense."
If Tiger plays (MaximBet has a line of 2-1 that he will not play; -250 that he will), we could be in for the most-watched Masters in recent history. And coming off one of the least-watched Oscars in recent history despite Will Smith open-handed slapping Chris Rock, it would be nice to see an event where everyone is on their best behavior, lest they fall into the same dogwoods doghouse that Mickelson currently occupies.
The green jackets have lengthened the 11th hole (known as White Dogwood) by 15 yards at the tee box, also moving it to the golfer's left and taking down several trees along the right side of the fairway. The 14th, known as Firethorn, has had the tees moved back 20 yards and will now play at 550 yards, heightening the risk/reward factor for that par 5 hole that features water in front of the green which had been taken out of play over the years because of improvements in equipment.
No. 15 and No. 18 being more difficult (in theory) should keep Price's record intact. But then again, you can never quite tell. The 59 that Al Geiberger shot in 1977 at Breckenridge Park in San Antonio was once considered unmatchable, but Chip Beck did it in 1991 in Las Vegas, David Duval matched it in 1999, and eight more golfers (including Thomas) have shot 59s in the years since.
Jim Furyk is one of those Club 59 golfers and also holds the new record of 58, set in 2016 at TPC River Highlands in Connecticut. He is the not on the list of active invited players, and Woods is one of 18 past champions scheduled to compete. The one with the shortest odds is Dustin Johnson at 14-1, followed by Jordan Speith at 16-1.
MaximBet has Woods at 50-1 to be the leader after the first round, and 25-1 to have a bogey free first round.
If Woods locks in, his odds to win another green jacket will not remain 100-1 because half of the Western world with money to wager will put it on him. So if you like the pick, get it in now.
"If he plays, that will not only be the story of the week, it will be the story of the month. But it is very, very hard on the legs to walk that course," Sirak said.
Ready for some Masters golf action? Take advantage of MaximBet's massive welcome offer that puts a 100% bonus up to $1,000 back into your betting account after your first deposit. Sign up here today to maximize your sports betting experience with MaximBet.