Wiffle Ball, Fishing & Jeep Cherokees: Colorado Rockies Star & MaximBet Ambassador Charlie Blackmon's Favorite Pastimes Beyond Baseball
"Chuck Nazty" and MaximBet have partnered for sports betting's first-ever endorsement deal with an active pro baseball player.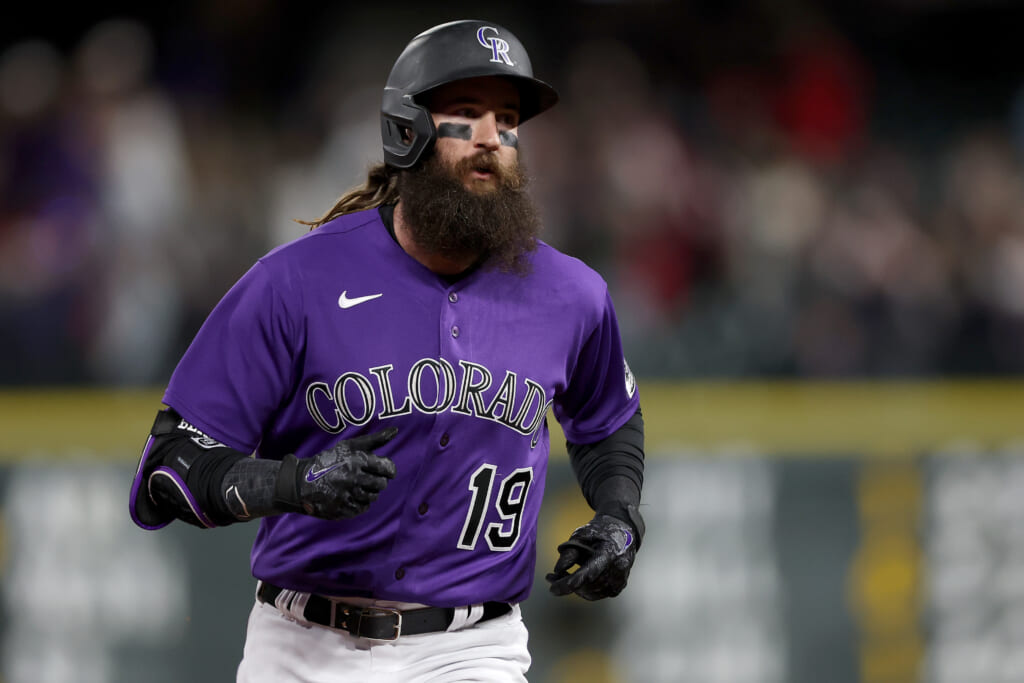 Shohei Ohtani is bending the barriers of modern-day baseball, but let's be honest, there isn't much an MLB player hasn't done these days.
Four bombs in four at-bats? Done. Seven hits in nine innings? Done. No-hitters, cycles, triple crowns…all done.
But you know what's never been done by an employee of Major League Baseball? Signing a partnership deal with an online sports betting company. Until now.
Charlie Blackmon, one of the greatest and most popular players in the history of the Colorado Rockies organization, just signed with MaximBet to become the first active MLB player to be sponsored by a sportsbook.
MaximBet has also been bucking trends since entering the U.S. sports betting space in 2020, and now the brand will go down in history as the first gaming operator to sign the first sportsbook deal with an active MLB player.
You can read more about that announcement here, and I've collected some fun stories pertaining to the great "Chuck Nazty." Hope you enjoy.
—-
Blackmon always kept a wiffle ball bat in the rear hatch of the 2004 Jeep Grand Cherokee that he refused to get rid of despite his lofty salary. This is a highly intelligent Major League Baseball player with a degree in finance from Georgia Tech and an intimate knowledge of which Jeep model was the best ever made.
But a wiffle bat? The yellow one that we all have played with as kids, whacking plastic home runs over whatever we all designated as our own Fenway Park green monster?
Well, again, Blackmon is a finance major. And when it comes to bang for the buck, there ain't much out there that competes with wiffle ball, which can be played virtually anywhere with equipment that coasts about 12 bucks, unless you add in a stick of chalk to delineate the pitcher's mound, which will set you back an extra quarter.
Anyway, Blackmon is already having a good week, having hit his first home run of the season Monday as Colorado opened the week with a 4-1 victory over the Philadelphia Phillies, where the Rockies were +145 underdogs, according to the baseball odds at MaximBet.
The reason for his good fortune, no doubt, is the fact that he had just become the first Major League Baseball player to partner with a sports betting brand, having signed with MaximBet in a groundbreaking deal that is almost certain to be copied by the other major sportsbooks in the legalized U.S. sports gambling market.
Those folks are trying to keep up with the brighter and more intrepid minds at Maxim and MaximBet's parent company, Carousel Group, which was clever enough to offer a name, image and likeness deal to every single 21-and-older female college athlete in Colorado, a program we highlighted here back in October by talking with Rebecca Gonzales of the University of Denver's softball team.
She is currently hitting .402 on the season, and we expect Blackmon to be moving closer to that range than his current .212 average as the weather starts getting warmer in the Mile High City, his 35-year-old body warms up to the new season that had no spring training and he tries for a fifth .300 batting average in eight seasons.
Easily the most popular player on the Rockies roster, Blackmon has played his entire major league career with Colorado's National League entry and is the second-longest tenured player in franchise history.
"As I learned more about MaximBet, I knew this absolutely was the right brand for me," said Blackmon, also known affectionately as "Chuck Nazty."
"MaximBet has really attached itself to the local Colorado community, and I cannot wait to have some fun with MaximBet and surprising fans with incredible 'money can't buy' experiences all season."
Blackmon ranks second all-time in hits, games played and at-bats for the Rockies and is third in runs scored and total bases in team history. The 2017 NL Batting Champion was selected in the second round of the 2008 draft by the Rockies.
He is not believed to have purchased a razor since then, which may or may not be another manifestation of the appreciation for money he was taught while getting that finance degree and making ESPN's all-academic team.
"Charlie is one of the most revered Rockies players of all time, and his style and career success makes him a perfect fit for MaximBet," said Daniel Graetzer, CEO of MaximBet parent company, Carousel Group.
"We are thrilled to welcome Charlie to the MaximBet family. We look forward to him hitting it out of the ballpark for us as we continue to grow in Colorado and across the country."
As part of the partnership, MaximBet is also collaborating with iconic, custom artist, SolesbySir, to design one-of-a-kind baseball and personal interest items for Blackmon. SolesbySir, whose real name is Marcus Rivero, crafted a custom co-branded Rawlings glove, Nike cleats and New Era Rockies hat.Given Blackmon's love of fishing, he also minted a personalized tackle bag, fisherman's scissors and cooler for the new MaximBet ambassador.
No word yet on whether SolesbySir can come up with something that'll turn Blackmon into the Major League who got kids playing wiffle ball again, which would earn him the respect and admiration of every single American parent who tries in vain on a daily basis to pry a cell phone and/or Xbox controller out of their teenager's grasp.
In a perfect world, we would have Blackmon working with America's youth not only on wiffle ball but also on an appreciation for the Jeep Grand Cherokee, the model of vehicle that Blackmon bought in high school and continued to drive well into the latter years of his major league career.
The '04 Grand Cherokee was the last Jeep made with an inline 6-cylinder engine by Chrysler before switching to a V-6. Those who drive Jeeps and Chryslers know not only about the superiority of that engine, but also about the quirky dashboard lights in that make and model of Jeep.
One of which is a digital idiot light that flashes "5 miles until empty" or "10 miles until empty" and is fairly accurate, as Blackmon learned when he ran out of fuel in the middle of the night on a Georgia freeway and was eventually rescued by former teammate DJ LeMahieu, who now plays for the New York Yankees.
"He looked like a caveman who had slept in his car all night," LeMahieu said.
Well, that caveman has certainly evolved.
When you are a four-time All-Star and the first Major Leaguer to sign with a major U.S. sportsbook, you are what is known in the business as the sharpest of sharps.
Here's hoping that Blackmon and his big bushy beard can teach everyone a little about baseball, wiffleball, fishing, Jeeps and why MaximBet is where it's at in the legalized U.S. sports gambling market.
Ready for some baseball action? Take advantage of MaximBet's massive welcome offer that puts a 100% bonus up to $1,000 back into your betting account after your first deposit. Sign up here today to maximize your sports betting experience with MaximBet.