Meet The Baseball Fan Who Caught a Foul Ball With Her Beer, Then Chugged It
Video of Gabby DiMarco's incredible catch has gone viral, and she's now fielding marriage proposals on Twitter.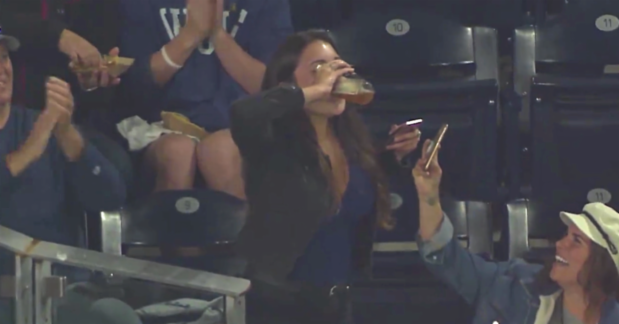 Twitter/@PetcoPark
A San Diego Padres fan has become Internet famous after she caught a foul ball in her beer…then chugged it like a champ.  
San Diego native Gabby DiMarco was watching her hometown Padres get schooled by the Atlanta Braves when Ender Inciarte hit a high foul into the stands.
The now-viral video above shows the epic moment that DiMarco snagged the ball in her cup, and proudly hoisted it high for Petco Park's Jumbotron, becoming an instant hero to baseball fans and beer lovers everywhere. 
The woman seated next to her filmed what might be the most American chug ever from a second angle. 
"It bounced from behind me," DiMarco told MLB.com. "I wasn't trying to catch it at all, and it landed in my cup."
https://www.instagram.com/p/BIf0oXCgo8x
She quickly went from fielding foul balls to marriage proposals after the clip blew up on social media: 
If her social media accounts aren't 100% private, she'll have eleventy-billion marriage proposals by morning.

— Sarah Eishen (@AztecFemBone) June 6, 2018
I'm meeting with my divorce attorney tomorrow. 😁

— Ice Bear Stan (@k5james) June 6, 2018
https://twitter.com/sofascout1/status/1004323808449388544
Anybody know her @ ? Asking for a friend 😍😍🖤🖤

— hektor (@hectorbass) June 6, 2018
Nice catch, Gabby! Meet America's latest sweetheart, courtesy of her fun-filled Instagrams here. 
https://www.instagram.com/p/Bf32Lx-A65R
https://www.instagram.com/p/BSujG0FBgyehttps://www.instagram.com/p/BOx2MtmDlos