World Series Flasher Julia Rose Celebrates Boyfriend Jake Paul After His Viral Knockout Win
"Mmmm…tastes like victory to me."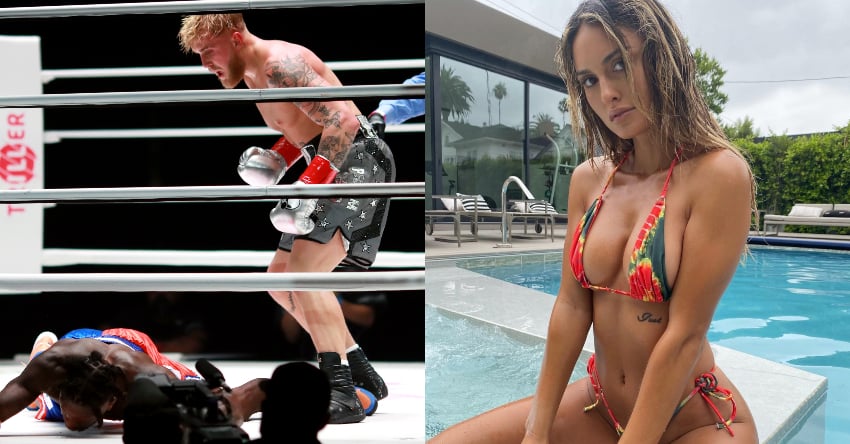 Left: Getty Images
Jake Paul's viral knockout of former New York Knicks player Nate Robinson earned him a kiss from his internet-famous girlfriend, who's unsurprisingly celebrating his attention-grabbing win on Instagram. 
https://www.instagram.com/p/CIJeCpygqnB
Julia Rose, the IG model who infamously flashed New York Yankees pitcher Gerrit Cole during Fox's live broadcast of the 2019 World Series, posted a photo of the couple celebrating following the YouTube sensation's viral victory. 
"Mmmm…tastes like victory to me @jakepaul," Rose captioned the shot.
https://www.instagram.com/p/CIL-GK-JjIg
Paul, 23, put Robinson, 36, on the canvas multiple times before delivering a brutal knockout blow in the second round. The fight took place on the undercard of Mike Tyson and Roy Jones Jr.'s mega-hyped exhibition match, which ended in a draw, though many observers thought Tyson deserved the win. 
https://www.youtube.com/watch?v=cOF-xGtFuCg
"Thank you everyone for all of the well wishes, I'm OK," Robinson wrote on Instagram shortly after Saturday's fight. "I appreciate @triller for the opportunity as well as everyone that has backed me during the fight. To my coaches, trainers, fans, and teammates, I appreciate all of the time and support you guys put in with me."
Paul's dominant performance came after a tough training camp. According to a recent Instagram post, he suffered a serious injury that kept him out of the gym in the days leading up to the fight. 
https://www.instagram.com/p/CIMiFLFJQeR
"Broke my nose on the day of the press conference… 20 days before the fight… I couldn't train," he captioned images and video of the crooked appendage before teasing an upcoming boxing doc.  
As the New York Post notes, Paul also revealed that Rose was "pissed" about his pre-fight preparations…but not because of the injury. 
https://www.instagram.com/p/CIGixeEADtk
"I haven't had sex in a while, which is difficult to do since I have a girlfriend and she's hot as f–k," Paul told TMZ. "She's pissed, man. She hates me. She just looks at me like, 'I f–king hate you, bro. Why can't we do this right now?'"
It's hard to argue with Paul's characterization of his partner. Following her publicity stunt during 2019's MLB Championship game, the Shagmag founder and Free the Nipple advocate has amassed 5 million Instagram followers with photos that are nearly NSFW—see for yourself below: 
https://www.instagram.com/p/CIFFUxeARguhttps://www.instagram.com/p/CG3F9ZUAqfchttps://www.instagram.com/p/CGqGdoTA2uXhttps://www.instagram.com/p/CFsN-3zgG6Jhttps://www.instagram.com/p/CDzNUkPgaa1https://www.instagram.com/p/CDuBOUxAucu