10 of The Most Iconic Watches In Movie History
These classic timepieces are co-stars in their own right.
Left: Mary Ellen Mark/courtesy Phillips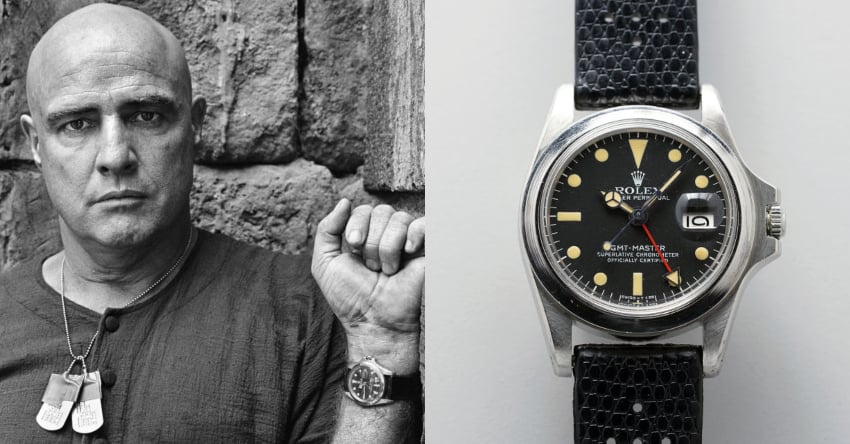 Movies have power. It's not often anyone outside of Hollywood stops to think about this, but they really do. They influence everything from cultural attitudes to politics to style. 
That's what we're talking about here. Style covers everything from the obvious—James Bond's suits, his cars—to the seemingly casual and silly, like Michael J. Fox's self-lacing Nikes in Back to the Future. In movies dating from the mid-20th century on, watches have increasingly crept into the moviegoing public's consciousness, as more money was budgeted for costume and wardrobe and as film gained resolution and we got to see what the hell was on a given character's wrist. 
In this roundup, we've focused on ten iconic, original timepieces featured in movies from the 60s and 70s up through 2019. There's a little bit of everything from action through lifelike drama to pure science fiction. Beginning with the man, the myth, the legend…
1. The John Wick Series—The Carl F. Bucherer Manero AutoDate
https://www.instagram.com/p/BxNKo82nEFY
John Wick (Keanu Reeves) isn't a flashy man. He doesn't need to be. His fashion sense is sober but always on point and stylish, and that extends to his timepiece. Wick has, in all three movies—John Wick through John Wick: Chapter 3—Parabellum—sported the Carl F. Bucherer Manero AutoDate. It's not an idle choice, either. It fits his look and his needs but is important enough to Wick that he wears it on the inside of his wrist like a special forces soldier. 
Bucherer has leaned into the association, with an ad for the watchmaker featuring prominently in the background in a climactic scene in Parabellum. 
Want to cop John's style? The Bucherer Manero AutoDate retails for $2,600 up to $13,400.
2. Skyfall—James Bond's Omega Seamaster  
James Bond isn't fully dressed without his Omega Seamaster, most recently seen in Skyfall. Seamasters of all flavors—there are several—really hit a Bond sweet spot. The Bond movies feature action and elegance and these luxury timepieces sit right on that line; that's why they've been staples of the movies since the early 1990s. 
Get your Bond on and explore the Omega Seamaster 300 collection here. 
3. Men in Black movies—The Hamilton Ventura
The gorgeous Hamilton Ventura has been featured in all the Men in Black movies, up to and including 2019's MIB International, starring Chris Hemsworth and Tessa Thompson. It's no wonder—its design is uniquely retro and futuristic all at once. Which makes sense, because it was first released in 1957. 
The Ventura goes perfectly with a franchise that features characters dressed like mysterious 1960s-era secret agents but using wildly futuristic, alien-made technology.
Venturas can cost up to $1,995, but you can pick one up at a major dept. store for $845.
4. Glengarry Glen Ross—Rolex Daydate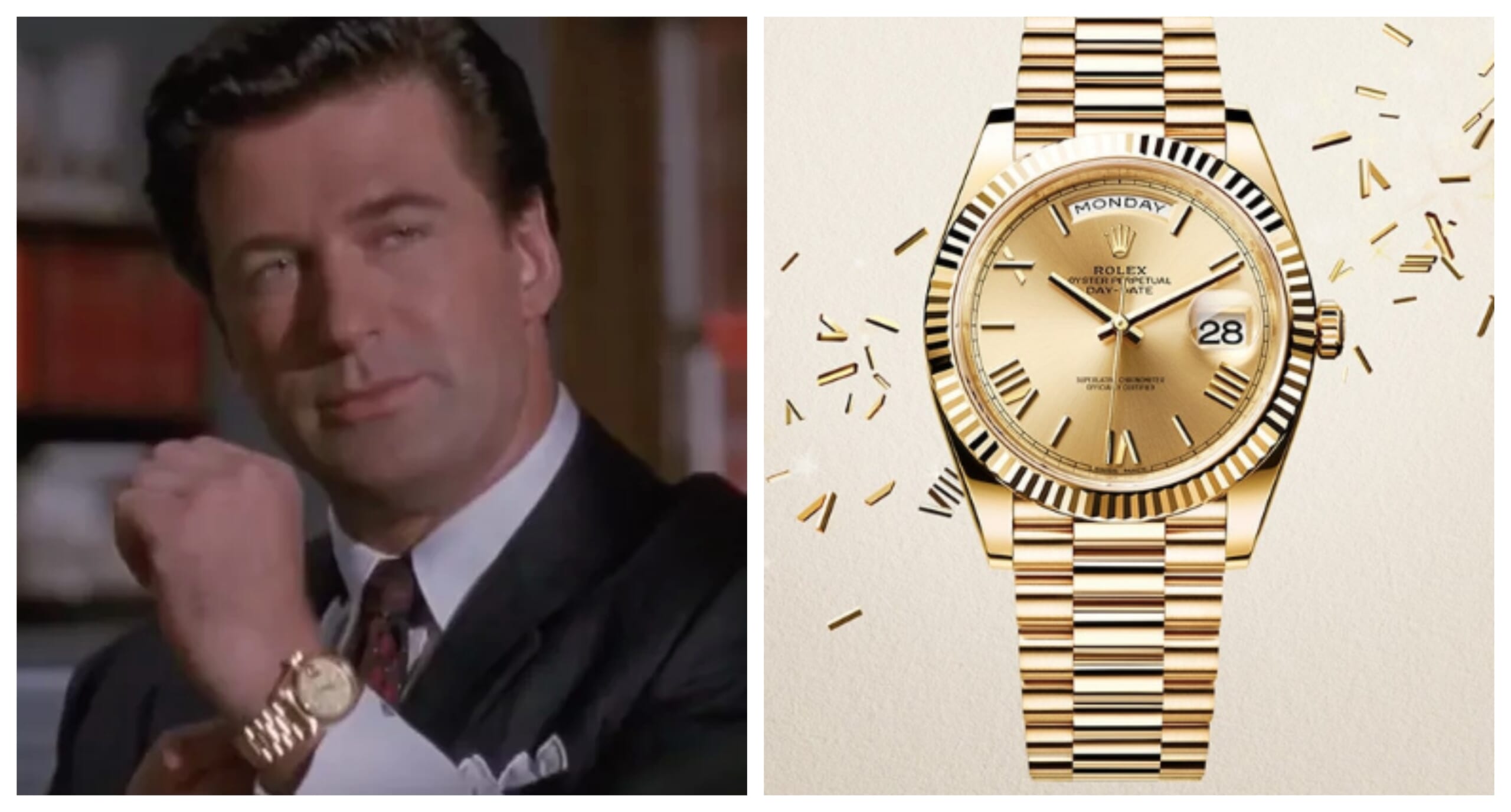 "You see this watch? You see this watch? … That watch cost more than your car. I made $970,000 last year. How much you make? You see, pal, that's who I am. And you're nothing." 
That quote is from David Mamet's gloriously profane drama, Glengarry Glen Ross, in which Alec Baldwin played an outside exec named Blake. It was a cameo, but it was utterly unforgettable, and his co-star was a gold-plated Rolex Perpetual Daydate. 
Rolex is fully aware of this timepiece's outsized legacy, they call it "the ultimate prestige watch." 
Daydates can cost up to $34,850 new, but you can find them used for as little as $10,450.
5. Predator—Seiko "Arnie"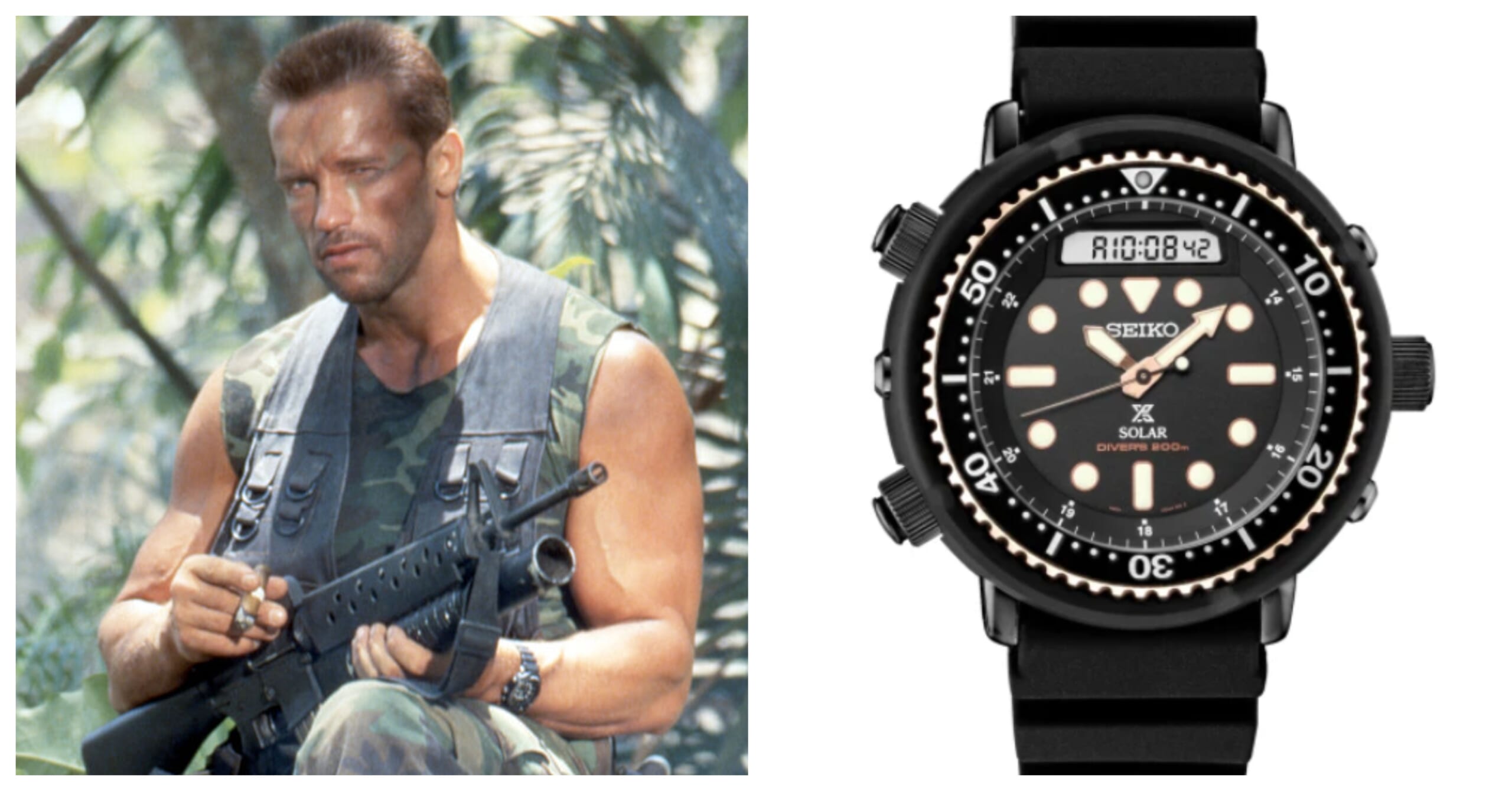 It was digital-analog Seiko model H558-5009 until it ended up on the wrist of Arnold Schwarzenegger in Predator. The watch immediately became famous in its own right, and so identified with Schwarzenegger that today it's still called the "Arnie."
It's the kind of watch you'd expect a special operator like the Austrian Oak's Dutch Schaefer to wear, tough-looking and practical. Seiko knew it had a good thing with the Arnie, too: they reissued it in 2019 as part of the Prospex line. Check it out here, starting at $525.
6. Daylight—Panerai Luminor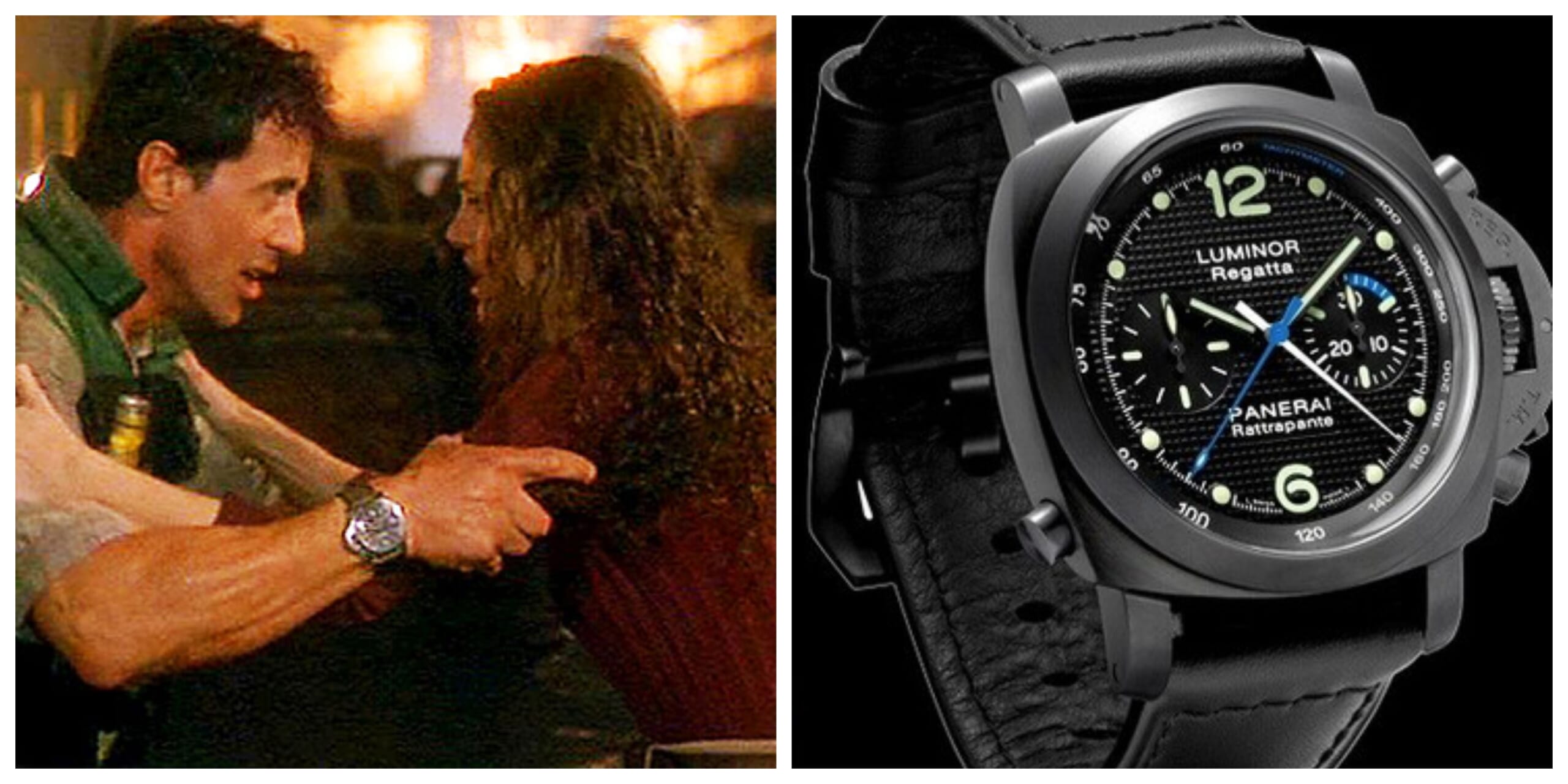 The story is that Sylvester Stallone was shopping in Italy when he spotted a Panerai Luminor in a shop and was taken by its rugged appearance. He's worn one in numerous movies since, including Daylight in 1996 and more recently, The Expendables. He liked them so much he had his own versions made and called them "Slytech" and gave them out to friends.
Panerais are substantial, "manly" watches—it's no wonder they caught Sly's eye. Check out Luminors here, where they range from $7,600 up to the top of the line Luminor Tourbillon GMT, which goes for a cool $143,000.
7. Le Mans—Tag Heuer Monaco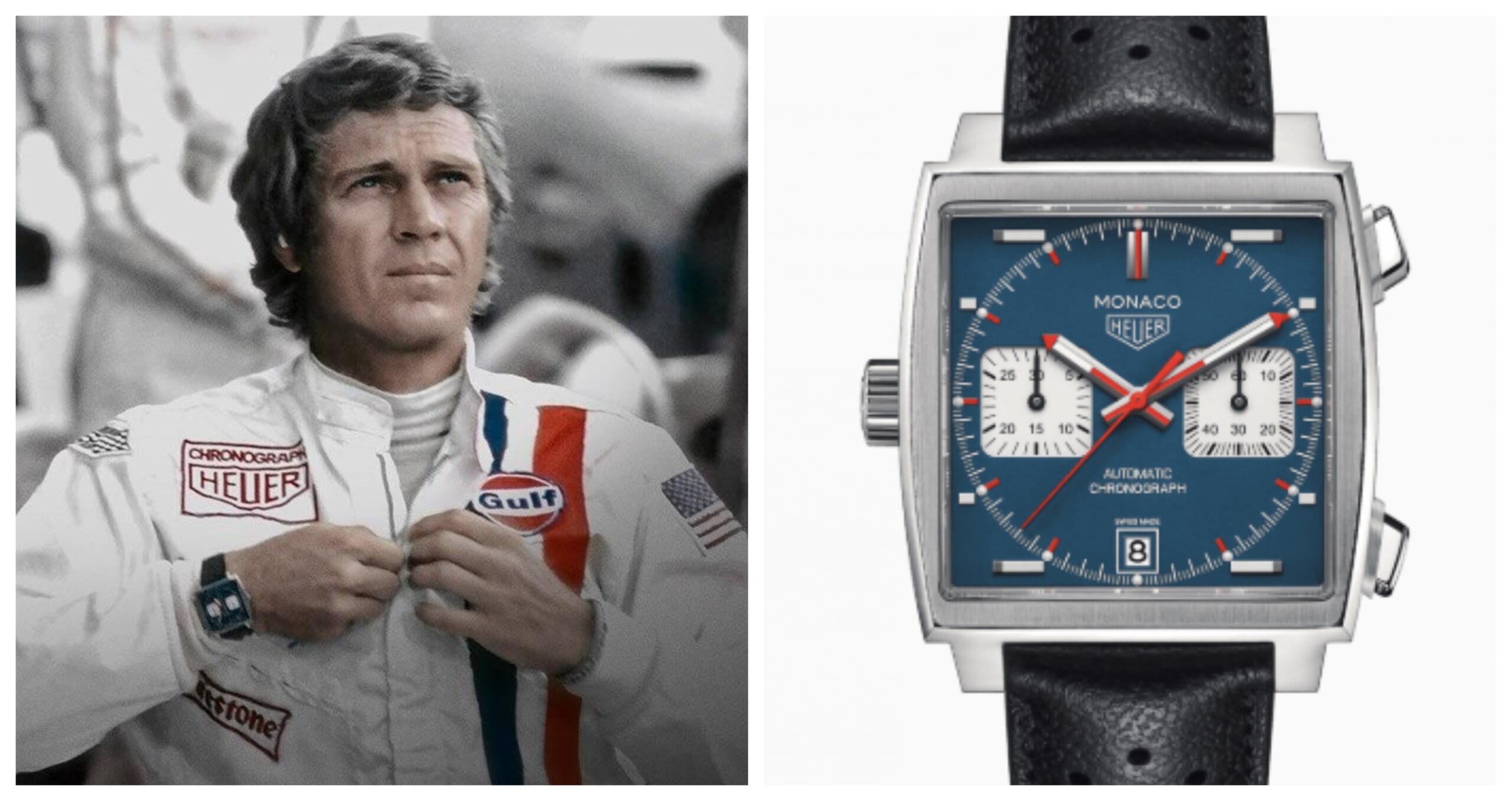 Steve McQueen has been dubbed the King of Cool. That was evident in every role he ever took on, but he might have been at the height of his coolness in the 1971 thriller, Le Mans. In it, he played a driver whose team was sponsored in part by Heuer and as part of his uniform he wore the Heuer Monaco 1133. 
It was likely hard for audiences to miss this watch, which had a somewhat eccentric design for the time, with a square face and subdials. If you're feeling a need for Le Mans-level speed, used Monacos are available on numerous sites dealing in vintage watches. Modern versions are still available from Tag Heuer for $5,400.
8. Apocalypse Now—Rolex GMT Master 1675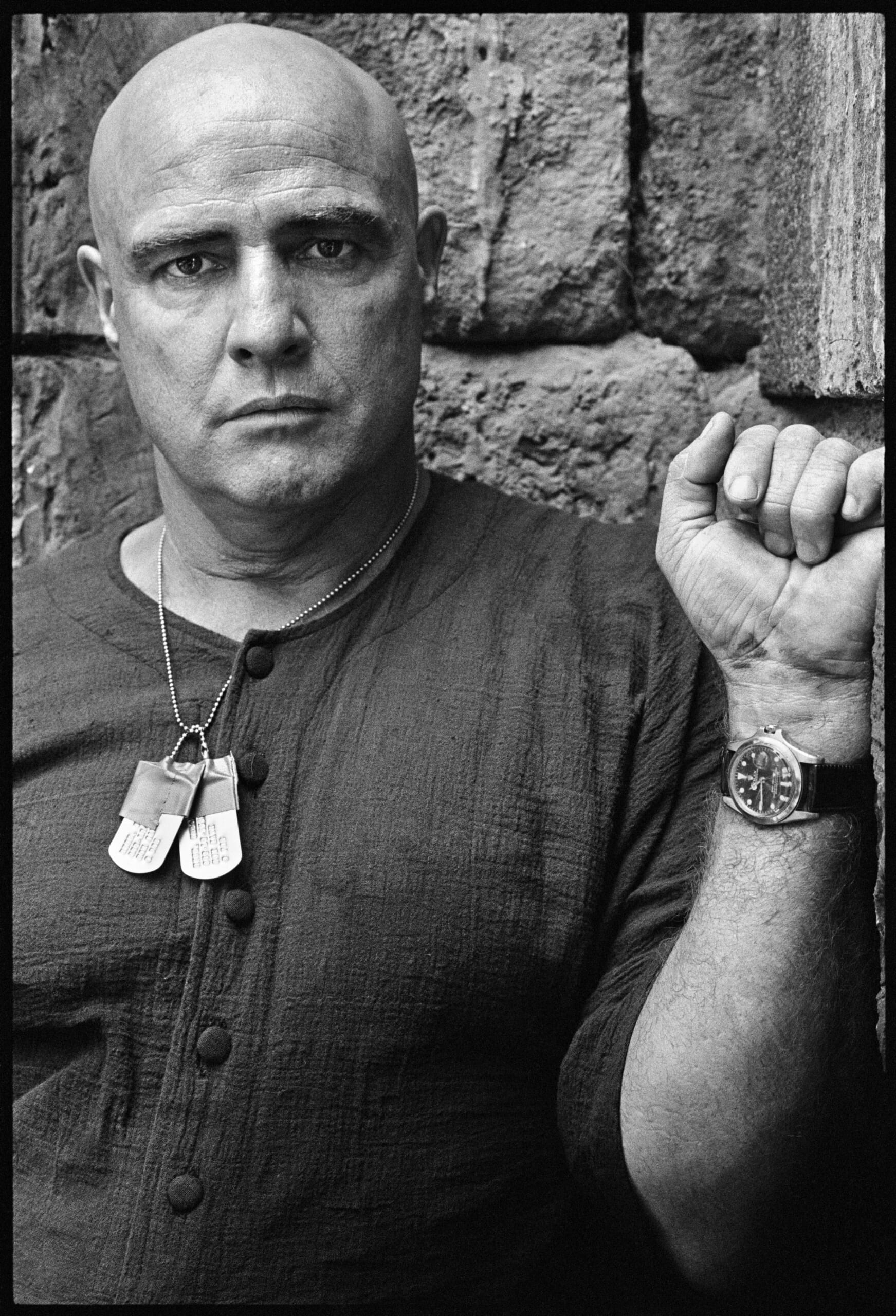 Marlon Brando was already having troubles when he played Colonel Kurtz in Francis Ford Coppola's Apocalypse Now. It might have been the beginning of the ultra-intense actor's eventually outsized rep for being "difficult."
And yet the movie is the definition of iconic, as are so many elements of it, from Kurtz's bald head to the timepieces seen on his and Martin Sheen's wrists. Brando's character wore the Rolex GMT Master 1675 and the original is set to go on auction before the end of 2019. If you can't get the original, Chrono24 has you covered with plenty of used GMTs priced about $12,000 and up.
9. Jaws—Alsta Nautoscaph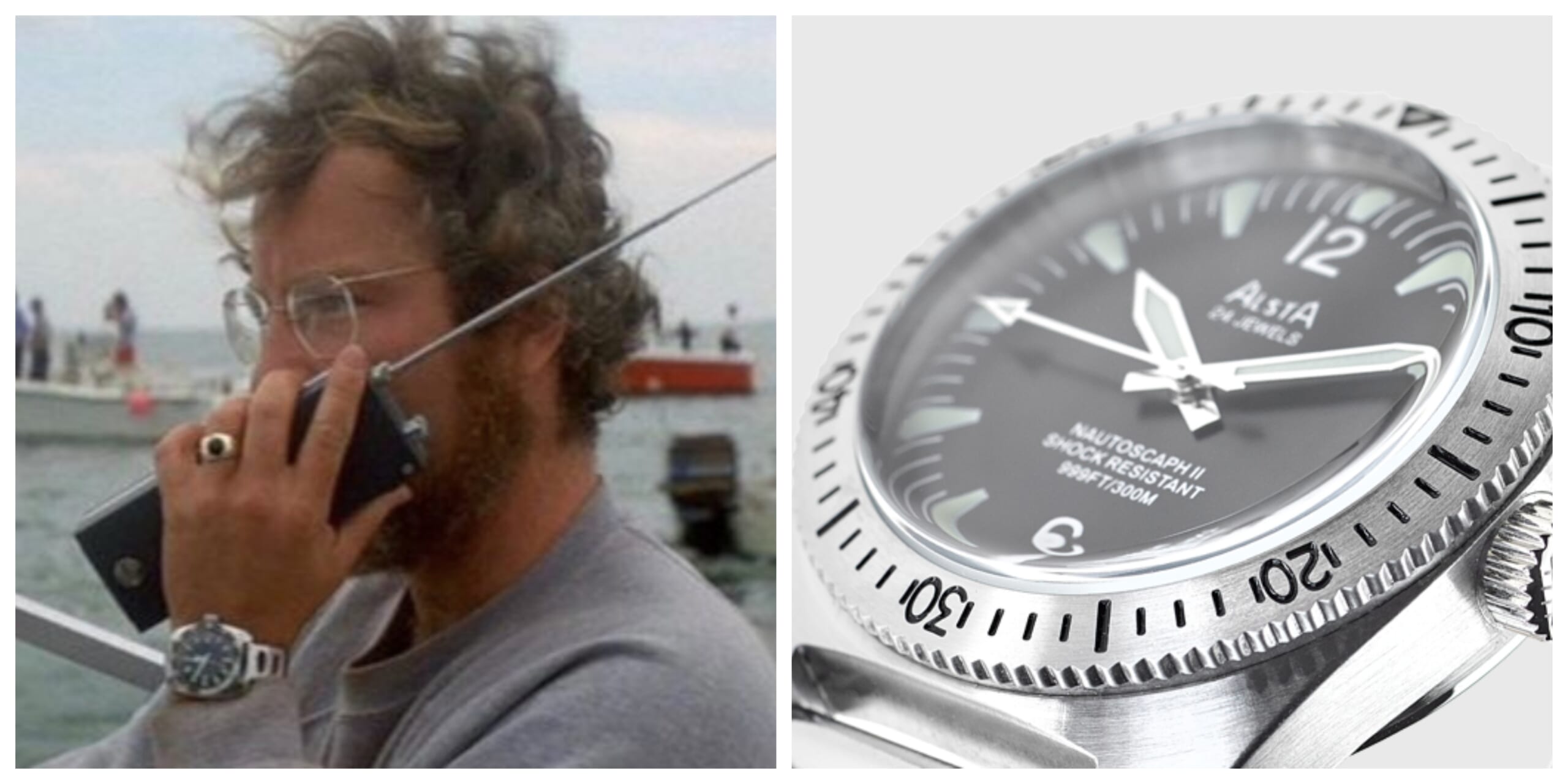 Apparently the watch worn by Richard Dreyfuss when he played shark expert Matt Hooper in Jaws was for years something of a mystery to watch fanatics. It looked pricy, which fit with the character being from a wealthy family, but it wasn't readily identifiable as one of the high-profile brands like Rolex or Omega.  
Turned out it was an Alsta Nautascaph, and virtually unknown for decades because the company went defunct in the 70s during what's now called the "quartz crisis"—a period when mechanical watchmakers went under as quartz movements took over the market. 
Alsta resurrected itself in 2014 and today they lean into the Jaws association in a big way. You can buy one of your own online for about $820 USD. 
10. Aliens—Seiko Giugaro 7A28-7000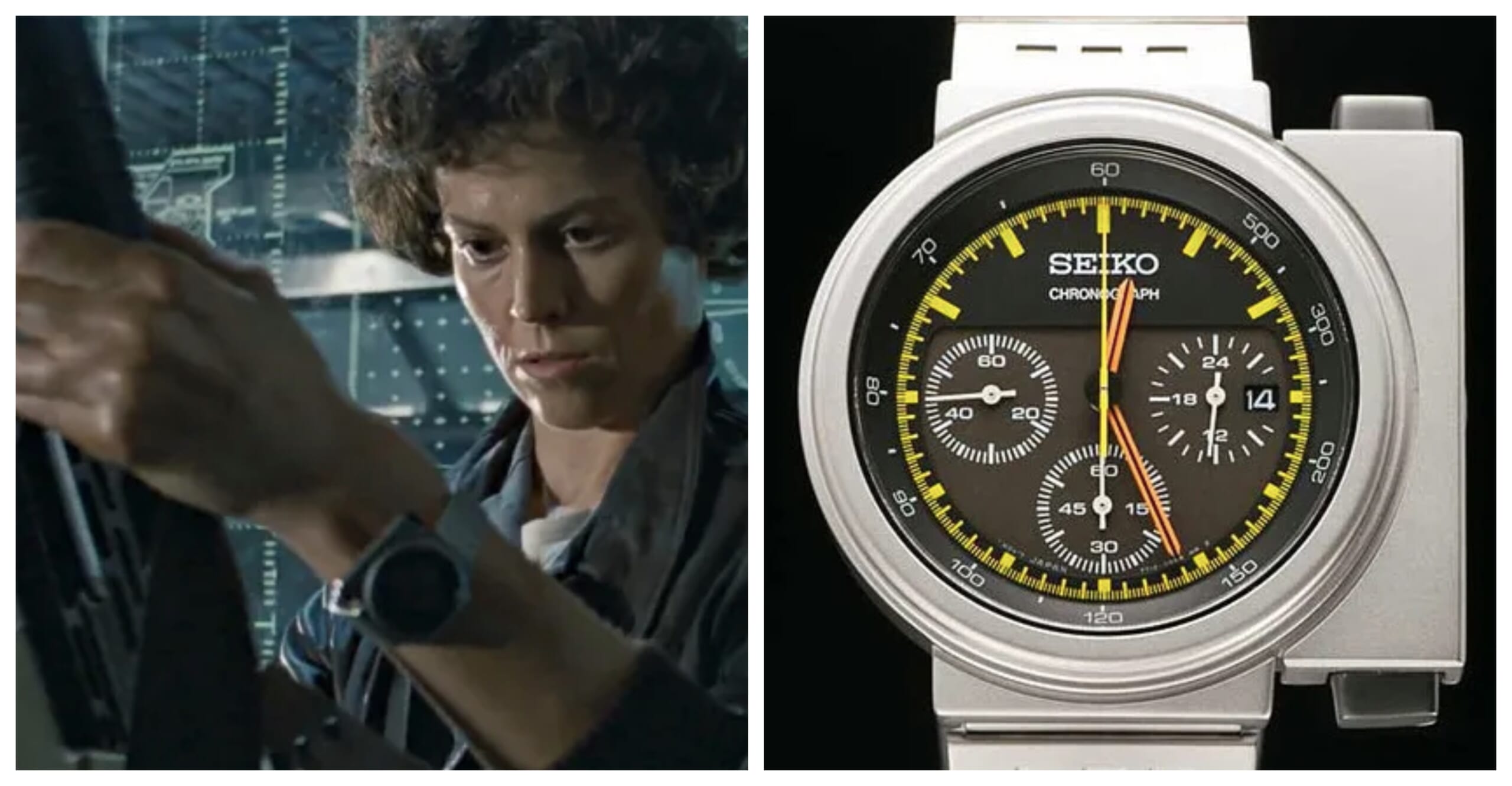 As Ellen Ripley in the Alien movies, Sigourney Weaver gave us an ass-kicking icon like none other. Ripley was the woman you wanted in charge in a mess and one you knew better than to cross if she had a pet cat or orphaned child to protect. In Aliens Ripley wore a timepiece that fit her imposing persona: the  Seiko Giugiaro 7A28-7000.
It was ideal for fitting into the design aesthetic of the movies because it was recognizably an analog-style watch yet with its block and pushers on the side had a profile that made it plausibly futuristic in appearance.
The Giugaro 7A28-7000 was a real and at the time relatively affordable watch. It's still pretty reasonable as a collectible today, though condition will always be a toss-up. 
Seiko reissued the timepiece in 2015, and it went for $260-300 USD. A used reissue can run as high as over $1,200, Alien facehugger not included.