15 MTM Special Ops Watches That Will Make Your Wrist More Rugged
These badass tactical timepieces are tough enough for the military and stylish enough for the office.
(Photo: MTM Special Ops)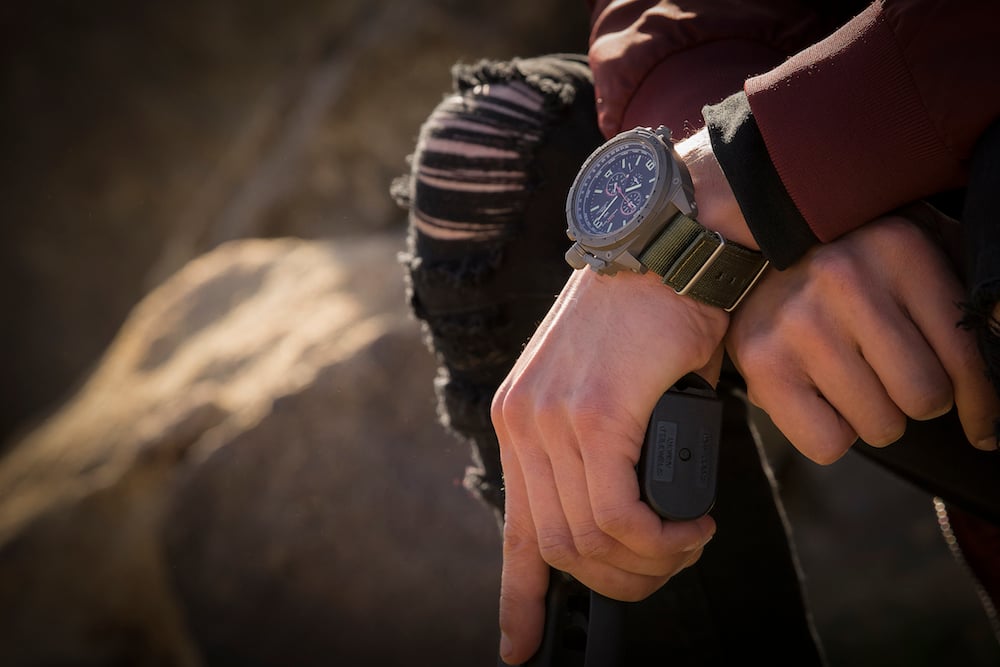 Presented by MTM
For more than 25 years, MTM Special Ops Watches has been a top manufacturer of tactical timepieces, supplying the U.S. military, law enforcement and outdoors enthusiasts with watches designed to perform in the most challenging conditions known to man.
Over time, MTM expertly catered to its rough-and-ready clients, including boots-on-the-ground forces, fighter pilots and more. Some of the brand's brawny timepieces feature water resistance down to 3,300 feet, others have strobe light emergency signals and one even boasts a gamma-radiation detector.
MTM Special Ops Watches are now more widely available to the public, who would be hard pressed to find the same life-saving utility and durability from other luxury watchmakers.
"Though they are envisioned for the soldier, the athlete, the modern adventurer, the weekend warrior and men both faithful and daring, these sophisticated and priceless timepieces add an edge to any lifestyle," MTM explains on its website.
"Meticulously crafted with a bold and sophisticated design, MTM watches are no longer worn solely by men in uniform. These modern and elegant timepieces have earned their place in the fashion world."
MTM today stands as one of the great American watchmakers. Headquartered in Los Angeles, MTM proudly designs, develops, engineers and assembles its watches in the United States, and it is at the forefront of constant technological innovation.
Here, 15 tougher-than-hell MTM Special Ops watches that are sophisticated, timeless and virtually indestructible:
A chronograph built to endure battle, the MTM Patriot Watch is fortified in either NASA-grade carbon fiber or brass dials and 316L stainless steel or titanium cases.
$545—$920
This military-grade dive watch is popular among Special Ops with good reason. Made in a solid titanium case, locking screw down crown and automatic helium release pressure valve, it is water resistant down to 3,300 feet (that's really damn deep).
$1,900—$2,050
MTM's dual analog-digital aviator watch boasts a number of tactical features, like a global GMT world-time function, five daily digital alarms, chronograph mode, digital compass and a countdown timer.
$945—$1,120
An upgrade to the Air Stryk I, the Air Stryk II is still a dual analog-digital aviation timepiece but features a near-indestructible dial of half brass and half carbon fiber. You can also use it after dark thanks to a glowing index and hands.
$1,050—$1,325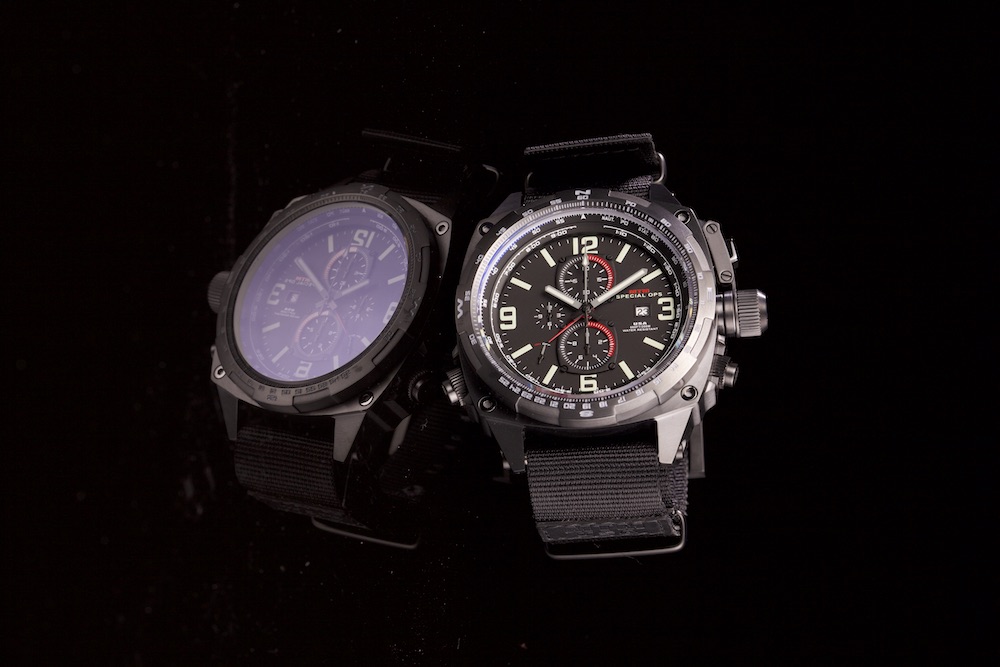 The standout on this classic pilot watch is it slide scale bezel, which can provide useful metrics like flight time and distance, fuel consumption, rate of descent and climb and more… all without reaching for a calculator. 
$1,100—$1,525
The Falcon watch won't just look nice, it may save your life in an emergency. LED torch lights hidden underneath the dial can act as a flashlight, and there is also an emergency strobe light. According to MTM, they are the "brightest lights ever offered in a watch."
$595—$1,070
One of MTM's more lightweight and elegant offerings, the Hypertec H-61 is distinguished by its rotating dual bezels, polished stainless steel and solid blue dial.
$350—$550
The first watch in MTM's more affordable Hypertec Chrono lineup is built for casual wear. That said, its durability and quality are not compromised, evidenced by a solid 316L stainless steel case, chronograph quartz movement and scratch-resistant glass crystal.
$375—$395
MTM added a bit more utility to its Hypertec Chrono 2, which has two sub-dials for tracking both seconds and minutes. 
$375—$395
MTM took it a step further with the Hypertec Chrono 3, which has three sub-dials to track seconds, minutes and hours, hence the name 3.
$375—$395
Simply called the Hypertec, this no-frills option is more customizable. There are 12 different color combinations to choose from for the dials and hands as well as four color finishes for the case—Black DLC, Brush Silver, Grey and Rose Gold.
$295—$325
Another MTM watch that could very well save your life, the RAD measures harmful gamma-radiation with a Geiger-Muller tube and sounds an alarm when human's maximum radiation threshold is reached. That's "RAD" as in radiological; not the California surfer slang term.
$1,500—$1,715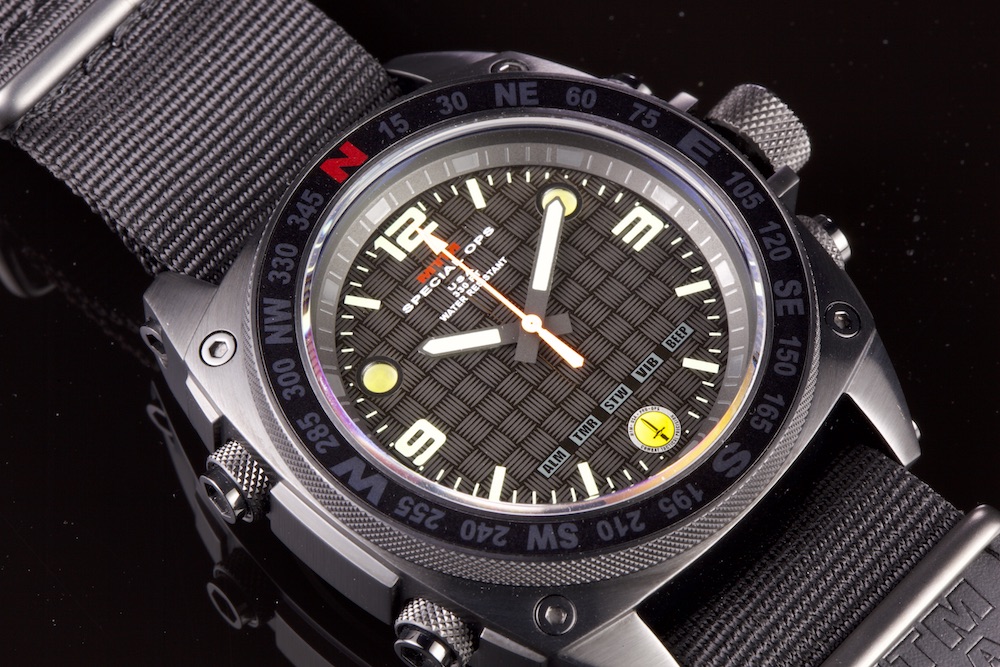 The MTM Special Ops Silencer is multifunctional, and so anyone can make use of its LED flashlight, emergency strobe light and rechargeable lithium-ion battery. It is particularly suited for stealth missions, as its beeping alarm mechanism has a vibrating option, hence its name. Check it out here, in all its underwater glory.
$795—$1,020
MTM's light technology doesn't end with flashing lights and emergency strobe lights, which the Vulture Watch still has. This model, however, goes a step further with 12 new UV lights, which can detect blood at a crime scene and even counterfeit currency. 
$995—$1,425
The iridescent hands and dial on the MTM Warrior Watch are lit not by LED lighting but rather tritium-gas filled tubes that can glow without an external light source. These tritium tubes have been approved for use by the United States Nuclear Regulatory Committee (US NRC) and will glow for up to 25 years. 
$695—1,070