3 Ways To Upgrade Your Kentucky Derby Outfit
Skip that same old seersucker suit, and try these Derby Day styles instead.
(Photo: Getty)
Menswear designer Davidson Petit-Frère is betting on three tips to elevate your Kentucky Derby get-up, whether you plan to be at Churchill Downs in person, or are merely attending a legit Derby viewing party.
The NYC-based designer is best known for his stylish bespoke suits, which have adorned Jay-Z, Kevin Hart, Steph Curry, and Michael B. Jordan.
But Petit-Frère was recently enlisted by Champagne brand G.H. Mumm's "Derby Differently" campaign to offer up style commandments for dudes on Derby Day (that's this Saturday, May 4, if you didn't already know.)
Check out his top three twists on classic Derby style below, plus a recipe for a Champagne-and-tequila cocktail that could give a Mint Julep a run for its money. 
Rock stylish sneakers instead of leather loafers
"While the rest of the crowd will be playing it safe with loafers, try amping up your look by pairing your tailored suit with the latest sneakers. Whether they are on the casual side like Converse or Nike, or the more upscale Gucci or Prada, pairing a suit with sneakers is an easy way to turn a classic look into a modern get-up."
Sport a simple white t-shirt instead of pastel seersucker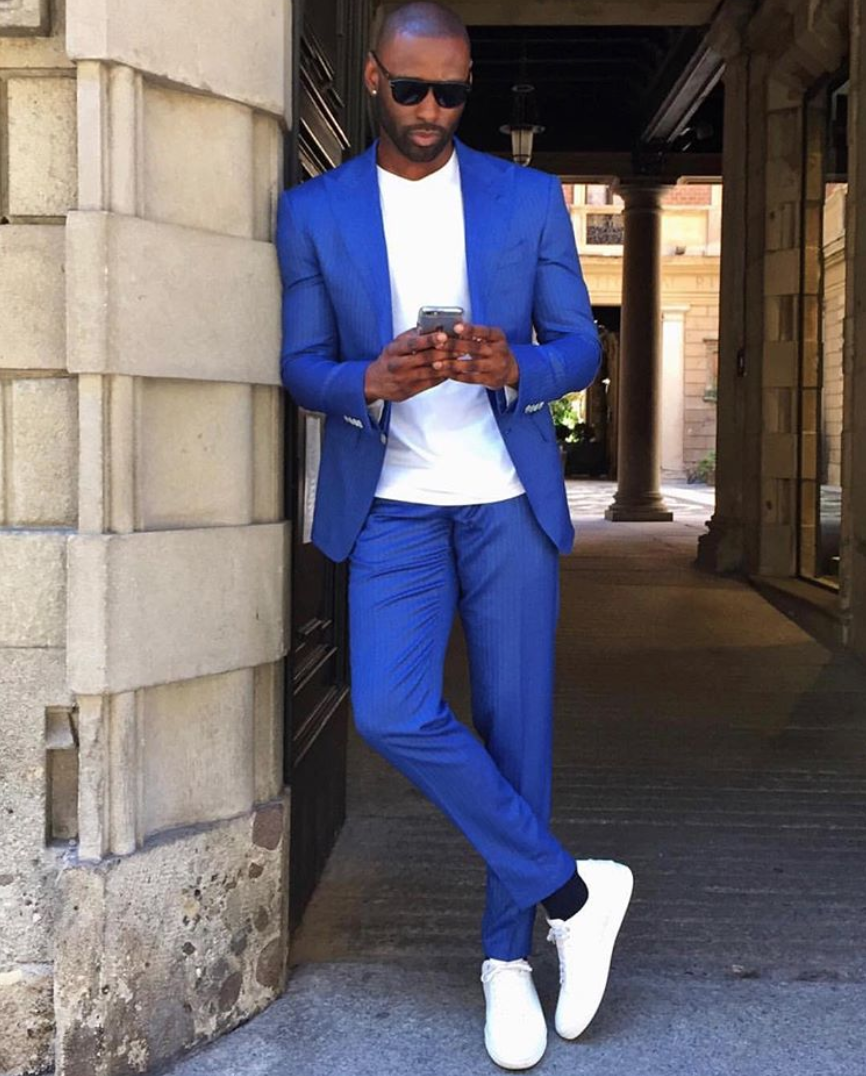 "The standard button-down shirt in pastel tones is the basic look that so many men wear when celebrating the Kentucky Derby. Stand out in the sea of pink, yellow and lavender with a crisp white tee paired with a bold, solid colored suit like royal blue, red or fuchsia."
Wear a tailored pinstripe suit instead of colorful florals 
"Leave the florals at home this year and make a statement by rocking an unconventional pinstripe suit. Defying the traditional rules of Derby fashion by adding your own flair and changing up classic patterns is sure to impress the crowd."
Meanwhile, if you're looking to enjoy a more bubbly-forward cocktail along with all those Juleps on Derby Day, bartender Elliott Clark created a race day drink that incorporates champagne, tequila and even a flaming garnish. Here's how to make it: 
Cinco De Derby Cocktail
Ingredients:
2 oz G.H. Mumm Champagne
1.5 oz Avion Blanco Tequila
.5 oz blackberry cinnamon syrup
.5 oz lime juice
Instructions:
Combine all ingredients into a cocktail shaker and fill with ice. Shake to chill, and strain into rocks glass over ice. 
Top with Champagne and garnish with fresh mint, lime, and fresh-grated cinnamon.
To Light Up Your Lime:
"Squeeze the juice from half of a lime so the middle is hollowed out," Clark advises. "Pour a little bit of overproof alcohol into the lime (rum, vodka, or liqueurs) and light it with a flame. Sprinkle fresh grated cinnamon onto the flame and watch it spark up a bit!"