The Only 5 Seersucker Items You Need This Summer
Dress like a gentleman in iconic cotton stripes.
Pretty much everything under the sun has its own national day by now, so why not seersucker? June 9 is National Seersucker Day, and to celebrate in style we've picked 5 essential items that go beyond the standard issue striped suit:
Haspel Krewe Seersucker Tuxedo
From the iconic 100-year-old New Orleans brand that helped popularized the seersucker suit in America, this warm weather twist on the classic tuxedo is as natty as they come.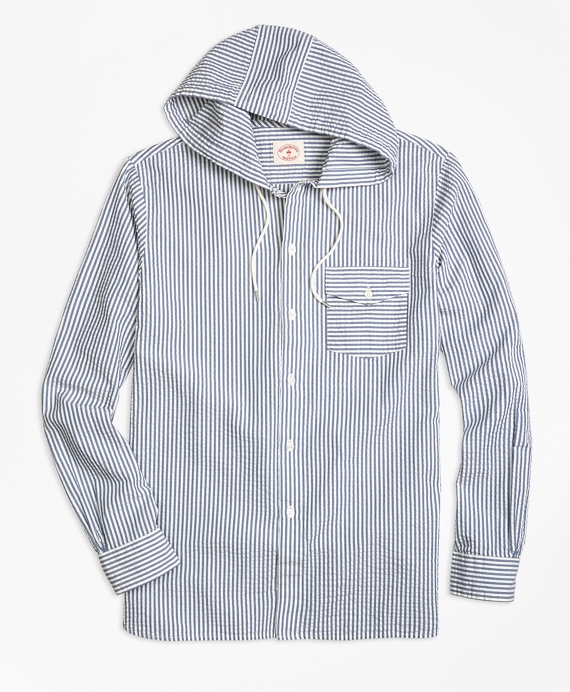 Brooks Brothers Hooded Seersucker Sport Shirt
This witty shirt jacket mashup looks like something JFK would wear on his yacht – which automatically qualifies it for inclusion.
Brooks Brothers Blue Seersucker Baseball Jacket
The Brothers Brooks are gods of seersucker in their own right, and their younger Red Fleece label is using the fabric in all kinds of awesome ways.
Ralph Lauren Stretch Seersucker Anchor Shorts
Leave it to Ralph to make something already ridiculously WASPy even WASPier. These shorts fairly scream "summer on Nantucket."
Brooks Brothers Patchwork Seersucker Bucket Hat
There's something go-to-hellish about seersucker that instantly makes its wearer look rich and carefree. But a patchwork seersucker bucket hat is really sticking it to the plebes.