Audemars Piguet Revamps Royal Oak With A Dimpled Dial
The flying tourbillon timepiece is refreshed with an intricate textured dial.
While it's what inside a watch's intricate movement that truly counts, it's always an impressive bonus when next-level design finds its way elsewhere into a timepiece: Take the newest edition of the Audemars Piguet Royal Oak.
The legendary silhouette exists as an impressive blank canvas of sorts and was recently updated in vibrant new colors, but the Royal Oak Selfwinding Flying Tourbillon has another intricate feature: A textured, dimpled dial that refreshes the classic timepiece for a new year.
Dubbed the Ref. 26730BC.GG.1320BC.01, the dial switches out Audemars Piguet's typical grid design on the Royal Oak for a delicate, crisp dimpled design — which nicely complements the 18-karat white gold case and bezel.
The indices of this handsome, Swiss-made timepiece are also outfitted in white gold, and the signature integrated bracelet on this newly revamped Royal Oak is made from white gold, for good measure.
Suffice to say, the AP Royal Oak has plenty of style points and luxurious touches beyond just the precise Swiss movement housed within.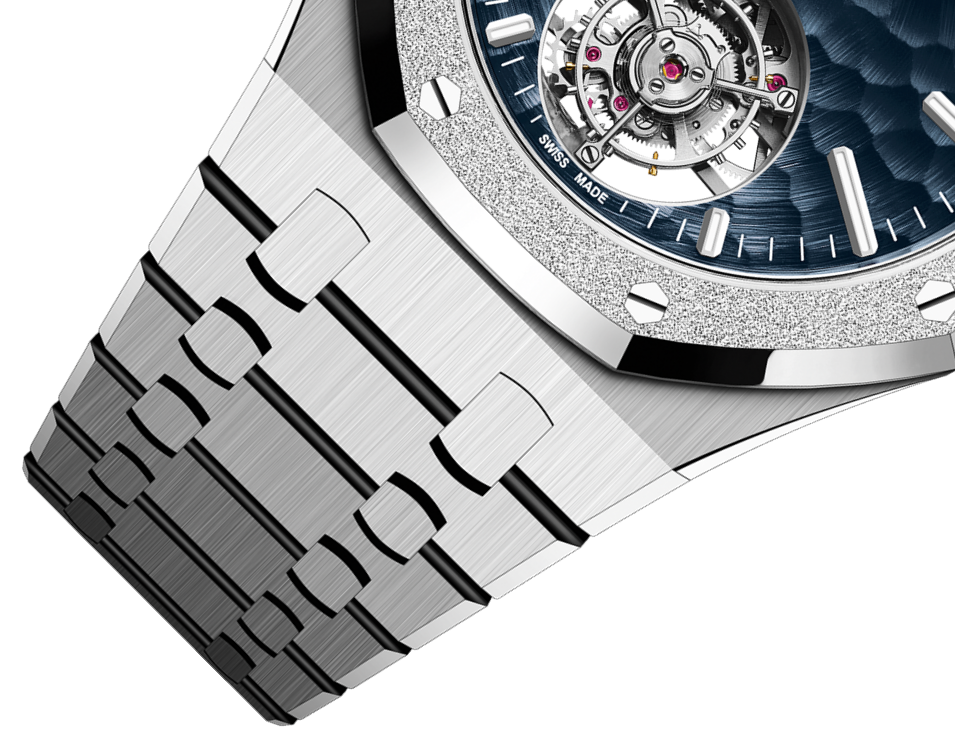 The 270-part movement features 27 gems and the sort of complex production only one of the world's finest luxury timepiece companies can deliver.
The sporty, rugged-yet-refined timepiece also boasts a 41mm diameter case and more than 160 feet of water resistance in a nod to truly wearable luxury performance.
Of course, it doesn't come without a price: Audemars Piguet itself can provide the price on request for its latest and greatest timepiece, so consider yourself one of the very lucky few if you fall into that lofty realm.