Baume and ZAG Skis Teamed Up To Create a Completely Sustainable Watch
Alpine-inspired timepieces.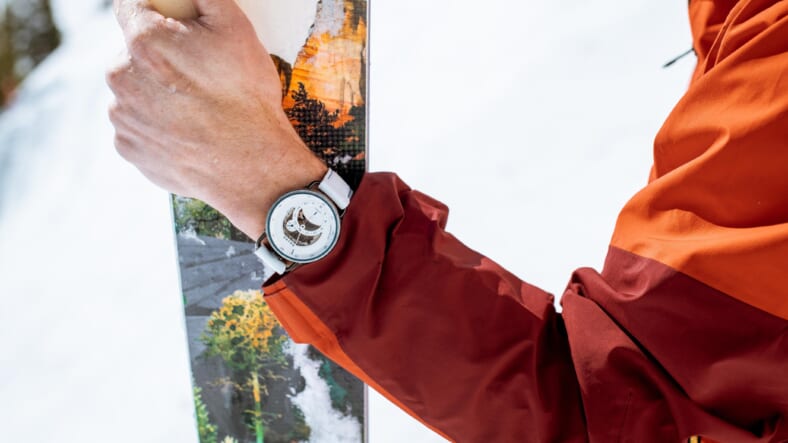 Baum
Baume just launched another sustainable collection of watches with French ski brand, ZAG.
Baume, the entry-level offering of Baume & Mercier in the Richemont portfolio was founded on the principles of sustainability and fostering a circular economy through their manufacturing process. While excess materials from professional skis don't seem like the likely supplies for a watch, Baume has perfected the process of upcycling ski scraps from their alpine partner to make a design-forward and customizable timepiece.
Designed in Geneva and built in the Netherlands, the new Baume x ZAG watch features an automatic Miyota movement with a 42mm casing made of natural wood and carbon, which are left-over resources from the production of ZAG's professional-grade skis. 
After carefully selecting each material, the case is shaped by a machine to make several discs which are pressure-tested and treated with water-based resin to strengthen the wood. An anodized aluminum container encapsulates the movement and clips onto the casing for air-tight and water-resistant protection.
The product was put to the test in Jackson Hole, Wyoming with extreme skier Owen Leeper who sported the watch atop the Tetons. 
The unisex watch comes with two sporty strap options on cork lining: white with blue stitching and blue with yellow stitching, a color palette that evokes a day on the slopes. Unlike your traditional watch, the crown is featured at the 12, and you'll notice telling time is a little different. Minutes are indicated on the watch face with markers around the bezel, while hours are indicated in military time within the sub-dial.
Best of all, the watch was designed to give back. The yarn of the white strap is made from recycled PET, sourced from plastic bottles fished from the oceans by Waste Free Oceans (WFO), and a portion of proceeds from the watch itself is donated to Protect Our Winters, a non-profit whose mission is to turn outdoor enthusiasts into climate advocates.
The Baume x ZAG watch becomes available this week, retailing for $1,350 in a limited-run of only 100.