These Hand-Crafted Shoe Brands Were Favored by Frank Sinatra, Johnny Cash, And Andy Warhol
And you can read all about them in two stylish new photo books.
What with the state of the sidewalks in most cities at the moment, you probably want to leave your finest footwear at home. But the dead of winter is the perfect time to plan a major upgrade to your sub-sartorial infrastructure. Hence the timely publication of two new books from Rizzoli in the next few weeks, which should help make your dreams of being better shod a reality – or at least stimulate some serious thought on the subject. Handmade shoes require a major investment, but they should last many years and above all are the mark of a truly well-dressed man.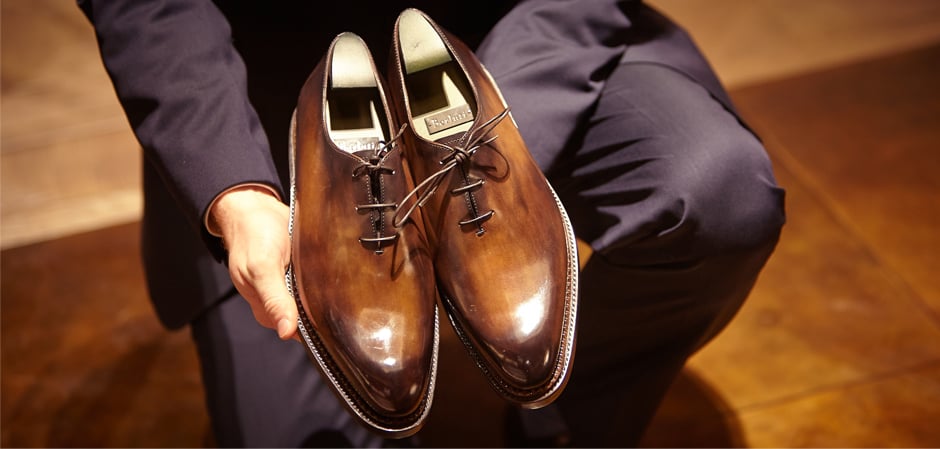 First up is a monograph on one of the world's most prestigious shoemakers, the house of Berluti, which has been crafting gentlemanly leather kicks since 1895. Maxim's own style columnist Glenn O'Brien provides the text accompanying the 72 pages of straight-up shoe porn. Berluti: At Their Feet (Feb. 9, available for pre-order on Amazon) presents the roll call of style icons who have relied on Berluti to wrap their hooves in the world's finest hide: Marcel Proust, Andy Warhol, Frank Sinatra, Robert De Niro, Bryan Ferry and Jeremy Irons, to name a few.
And on March 1 Rizzoli will release a volume on another equally venerable, if not as well known, master shoemaker – Moreschi. 
For over 70 years they too have catered to an impressive roster of clients including Richard Burton, Johnny Cash, James Brown, Liam Neeson and Michael Jordan. The Italian Art of Shoemaking (available for pre-order on Amazon). It features an interview with the founder of the firm, "reflections by the craftsmen who have been with the company for decades", and 180-plus full-color images of their creations.
Having a pair of custom shoes made to order can take several weeks, of course, but at least you'll have something to read – and by then the pavement should be far more hospitable.