The Best Omega Speedmasters From Epic Moon Landing 50th Anniversary Sale
Out of this world.
On Friday, July 19, famed auction house Sotheby's is staging a special sale of iconic Omega Speedmasters called "To the Moon and Back" – 50 of them from the past 50 years – to coincide with the 50th anniversary of the Apollo 11 Moon landing. 
The "Speedy" as collectors call it was of course the first watch worn on the Moon, courtesy of Buzz Aldrin, and Omega has built its business on the admittedly impressive feat – all the more so because NASA chose it on merit alone after rigorous testing.
There's a wide range of prices but the starring lot is an example from 1958 which pre-dates the Moon landing, a Ref. 2915-1 known as the "Broad Arrow." It's the grandfather of the Moon watch if you will, and is estimated at $150,000–$200,000. There are two more '58 Broad Arrows on offer, both expected to top $100,000. 
One of our favorite pieces looks like a relative bargain with an estimate of $70,000–$90,000. It's a one-off Ref. 2915 known as the "Alaska III Prototype" and was also qualified for spaceflight by NASA for use in the Shuttle program. It's from 1978 but as you can see changes were minimal from the original Speedy.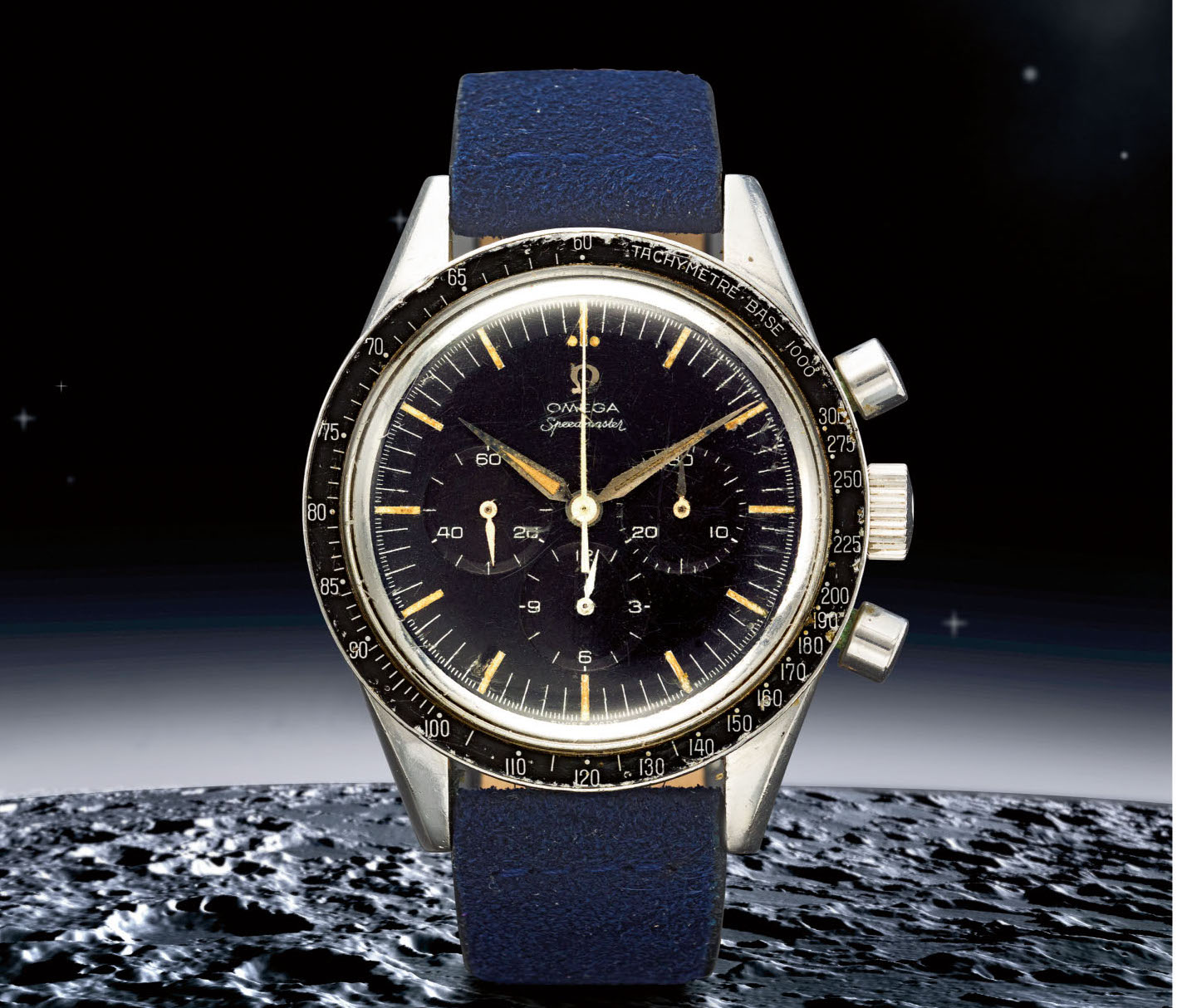 This Ref. 2915-3 from 1959 isn't too shabby either. Estimated at $40,000–$60,000 it's the third iteration of the first Speedmaster reference, and its hour markers have acquired a killer patina which makes it especially cool and valuable. The fabric straps were made to go around the outsize sleeves of space suits.
If gold is your thing, you'll want to cash in some bonds for a bid at the Ref. 145.022-69 "Apollo XI." Produced in a limited edition in 1969 to honor the Moon landing, the very first example was given to Richard Nixon with others going to the astronauts themselves. Omega recently re-issued this watch, and it's estimated at $35,000-$55,000 (the new version will cost you $32K).  
Want to get something cool that's a hell of a lot cheaper? We'd recommend this Ref. 105.012-64 "Tritium" made in 1965, the year the Speedmaster was first qualified for spaceflight. Estimated at $7,000–$9,000, this was the first Speedy reference to carry the now legendary "Professional" wording on the dial. 
You might get the picture by this point that all Speedmasters are super cool, no matter what the era. 
"The 50th anniversary of the Moon landing just reinforces the importance of the Speedmaster," says Paul Altieri, founder of online watch boutique Bob's Watches, who has a number of rare Speedy references in his eye-popping personal collection. "Some space missions might even have ended in disaster without it. Prices for the best vintage references are indeed becoming astronomical, but there's still value to be found if you do a bit of research."
https://vimeo.com/348343147″ tml-render-layout="inline
And while the 50 Sotheby's watches are cool and some are quite pricey, the most iconic Speedmaster of all is not only absent from the sale but totally lost. "Buzz Aldrin's Speedy famously went missing after he sent it to the Smithsonian in 1971," Altieri notes. "If that watch surfaces one day it could be the most valuable watch in the world. Meanwhile you can find several great examples that are just like it."