Bill Murray Has Gone from Bartender to Golf Wear Designer
Fresh off pouring shots at a Brooklyn bar, the "Caddyshack" star is launching an awesome golf style collection.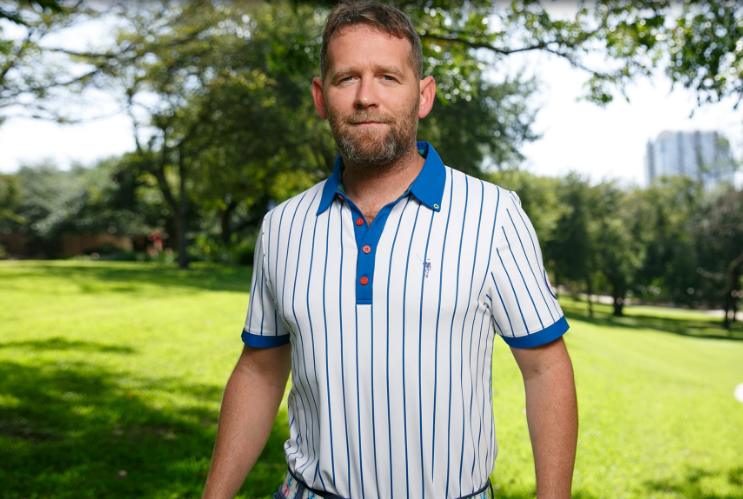 Bill Murray has been branching out from Hollywood pursuits lately. Last weekend he caused an Internet meltdown by taking over the bar at 21 Greenpoint, his oldest son Homer's new Brooklyn hotspot (below).

https://www.instagram.com/p/BKeGiTzg7_o
And now he's launching a new career as a designer of golf wear.
https://www.instagram.com/p/BKjOrmagyd6
The beloved comedy legend is partnering with the Chive on William Murray Golf, a new collection of irreverent apparel for links enthusiasts infused with Murray's signature sardonic style. 
https://www.instagram.com/p/BKglYVWBf7l
But first, let's watch Murray down a tequila shot, shall we? 
https://www.instagram.com/p/BKb8Dx-BRxc

OK, on to the new golf wear:
The line is a being pitched as "a breath of fresh air for those looking to express themselves on the golf course in unique fashion." 

A portion of the proceeds will benefit Murray's favorite Chicago charity, the Mercy Home for Boys & Girls.
Items on offer will include polos in a range of colors, featuring argyle and other fun prints, Chicago Cubs-jersey inspired polos, tartan button-downs and golf shorts, baseball caps featuring a Murray logo and, in a nod to his classic movie Caddyshack, a belt equipped with a beer bottle opener for cracking cold ones on the course.
Price points will range from $30–$75, with the full line coming on stream beginning Oct. 20. 

For now you can preview a couple of items here and prepare to get your Murray on. We're pretty sure they can be worn inside a bar and on the links, by the way.