Boot Cut Jeans Are Back, and People Are Not OK With That
NOOOOO.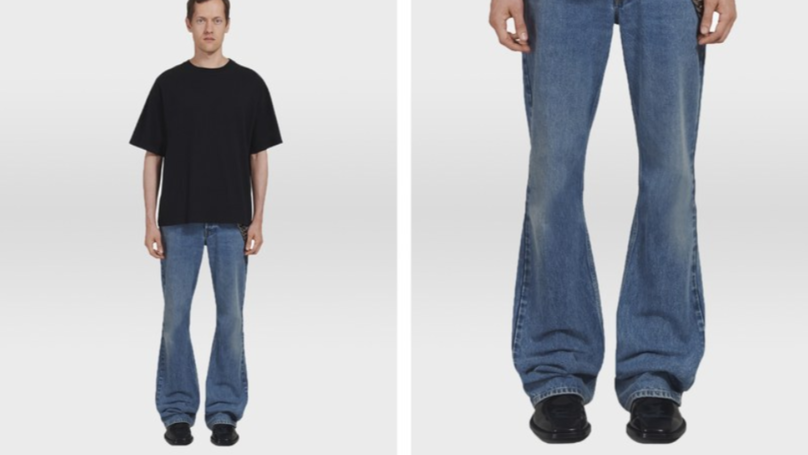 Balenciaga
Jeans just may be the most cherished elements of a guy's wardrobe. Reliable, comfortable, perennial. Denim styles change over time, and one of the goofiest styles ever adopted is making a comeback, at least according to the style watchers at GQ: the boot cut. 
Somewhere between a hippie bell-bottom flare and a classic straight leg, boot cuts were shockingly popular for a dark period in the 2000s, but then thankfully vanished, consigned to the bottom of bro-ey closets everywhere. So why are they sneaking out of hiding?
Here's what GQ says about the alleged resurgence of the boot cut: 
[Nostalgia] works in cycles, so it was only a matter of time until the boot cut made a comeback. Which it did recently when Balenciaga designer Demna Gvasalia decided to include the style in the brand's spring lookbook.

Whether paired with a red flannel overcoat or an oversize quilted jacket, the flared-out jeans are hard to miss. That, we're pretty sure, is the point.
The question of whether boot cuts are really a thing again is about comfort zones. How adventurous do you feel when it comes to your jeans?
Model and often hilarious tweeter Chrissy Teigen doesn't feel that adventurous, to say the least.
She was definitely not alone. Twitter users in general apparently aren't ready for this adventure, and on hearing of this trend, they said so. 
https://twitter.com/PierickSmith/status/1070503213869264901https://twitter.com/kashanacauley/status/1070336851054092288
Who actually needs boot cut jeans? Freaking cowboys, that's who. Men and women who, you know, regularly wear boots. That's what the jeans are made for. 
But even cowboys might hesitate at this point. No one wants to piss off Chrissy Teigen.