Breitling Unveils Aviator 8 Mosquito Watch To Honor Iconic World War II Fighter Plane
Ready for takeoff.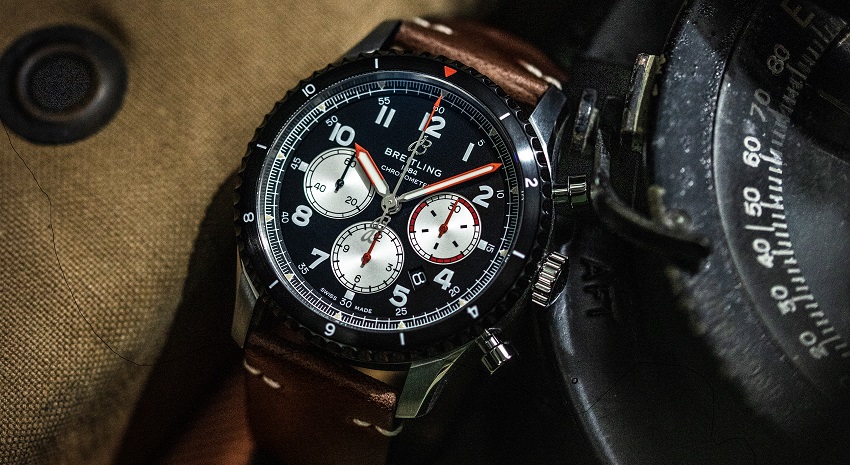 Breitling
Breitling looks back on its own storied history with its rugged new Aviator 8 Mosquito watch, a chronograph with three subdials based on the great watchmaker's World War II-era dashboard clocks.
Specifically, the new timepiece is a nod to the British de Havilland Mosquito, a twin-engine combat aircraft that first took to the skies in the early days of the Second World War. The Mosquito was distinguished by its flexibility, speed, and its construction–it was at one point dubbed The Wooden Wonder because it was primarily made out of wood, which by the early 1940s was highly unusual.
Prior to the first fighter jets–Messerschmitts designed by the Nazis–the Mosquito was one of the fastest warplanes in the skies over Europe, and it played a number of roles, doing duty as an unarmed light bomber, day or night fighter, and reconnaissance aircraft.
Regarding his company's Aviator 8, Breitling CEO Georges Kern said in a news release that like the plane, which was  "a truly unique and iconic piece of aviation history," the watch "is an affectionate reminder of one of the world's true aviation successes."
Key features of the Aviator 8 Mosquito: 
43mm stainless steel case
Black satin-brushed ADLC-coated stainless-steel bezel with a practical red pointer, indexes, and Arabic numerals.
Super LumiNova®-coated second hands
Black dial with silver subdials for an eye-catching contrast
Powered by Breitling's
Calibre 01 in-house mechanical movement
70-hour power reserve
The watch also bears orange and red accents which echo the de Havilland Mosquito's fuselage design and color scheme and its historical legacy is completed by a brown, vintage leather strap. 
The Aviator 8 Mosquito is available for purchase now at Breitling retailers and online for $7,710.