Bulgari Introduces Its Most Complicated Watch Ever
The OCTO Grande Sonnerie Perpetual Calendar is a complex masterpiece.
Bulgari
In a time of smart watches requiring nightly recharging and assembly-line produced digital time pieces that only seem fit for military use, Bulgari steadfastly adheres to the art of watchmaking with its most beautifully complex watch yet: the OCTO Grande Sonnerie Perpetual Calendar.
The Grande Sonnerie is a masterpiece combining tradition and innovation. Aficionados knew from the beginning—an Asian collector purchased it shortly after it was first introduced in Rome in July 2018.
In a press release, Bulgari stated that expert watchmakers labored for up to a year on this gorgeous timepiece. Two major features—the Grande Sonnerie, which means "grand strike," and the Perpetual Calendar—testify to this level of craft and sophistication, as both usually present major challenges to even the most accomplished horologists. 
Four hammers  respond to the watch's automatic movement. They strike hours, minutes, and quarter-hours as desired. The Perpetual Calendar is another marvel of mechanical precision. In addition to standard-issue capabilities like tracking the day, date, month and year, it also features moon phase displays.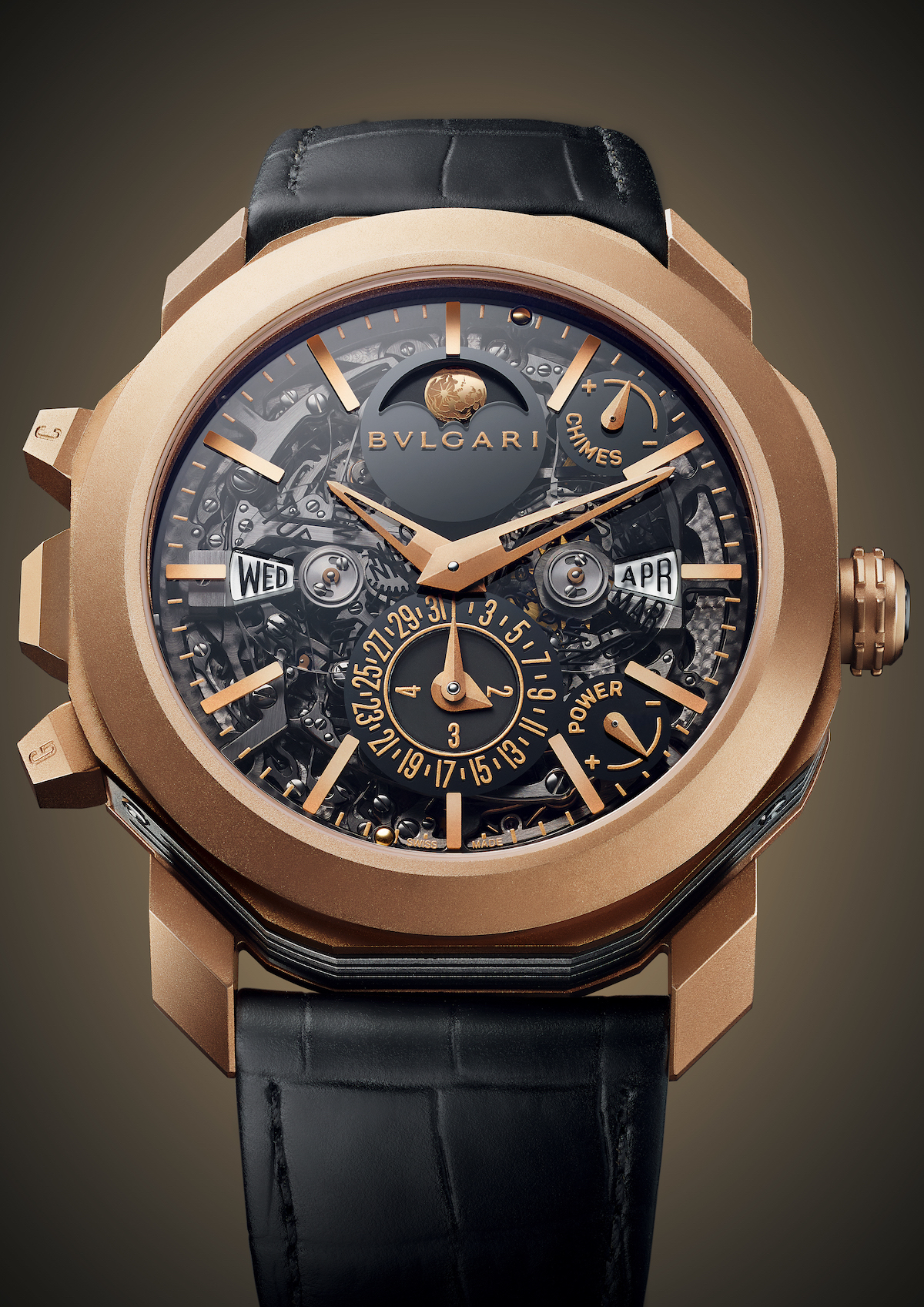 Further details should cement any watch obsessive's understanding of just how luxe the OCTO Grande Sonnier truly is. In addition to multiple practical features including automatic winding, it comes in a sandblasted 18kt rose gold case with a transparent back. 
It has an alligator strap with a rose gold clasp, and you could even go diving while wearing it if needed (though why would you need to while wearing something like this?). It is water resistant up to 90 feet below the surface.
Bulgari has won multiple awards for its watches over the last decade or so. This year, 2018, has been particularly impressive, perhaps peaking with placing five new designs in the last round of the Grand Prix d'Horlogerie de Genève, one of the most notable achievements in watchmaking.
The OCTO Grande Sonnerie Perpetual Calendar is destined to become a sought-after perennial. Get in early, buy your own at Bulgari.com for $14,300.