Denver Tourism Companies Offer Cannabis-Themed Mile-High Getaways
Things to do in Denver when you're baked.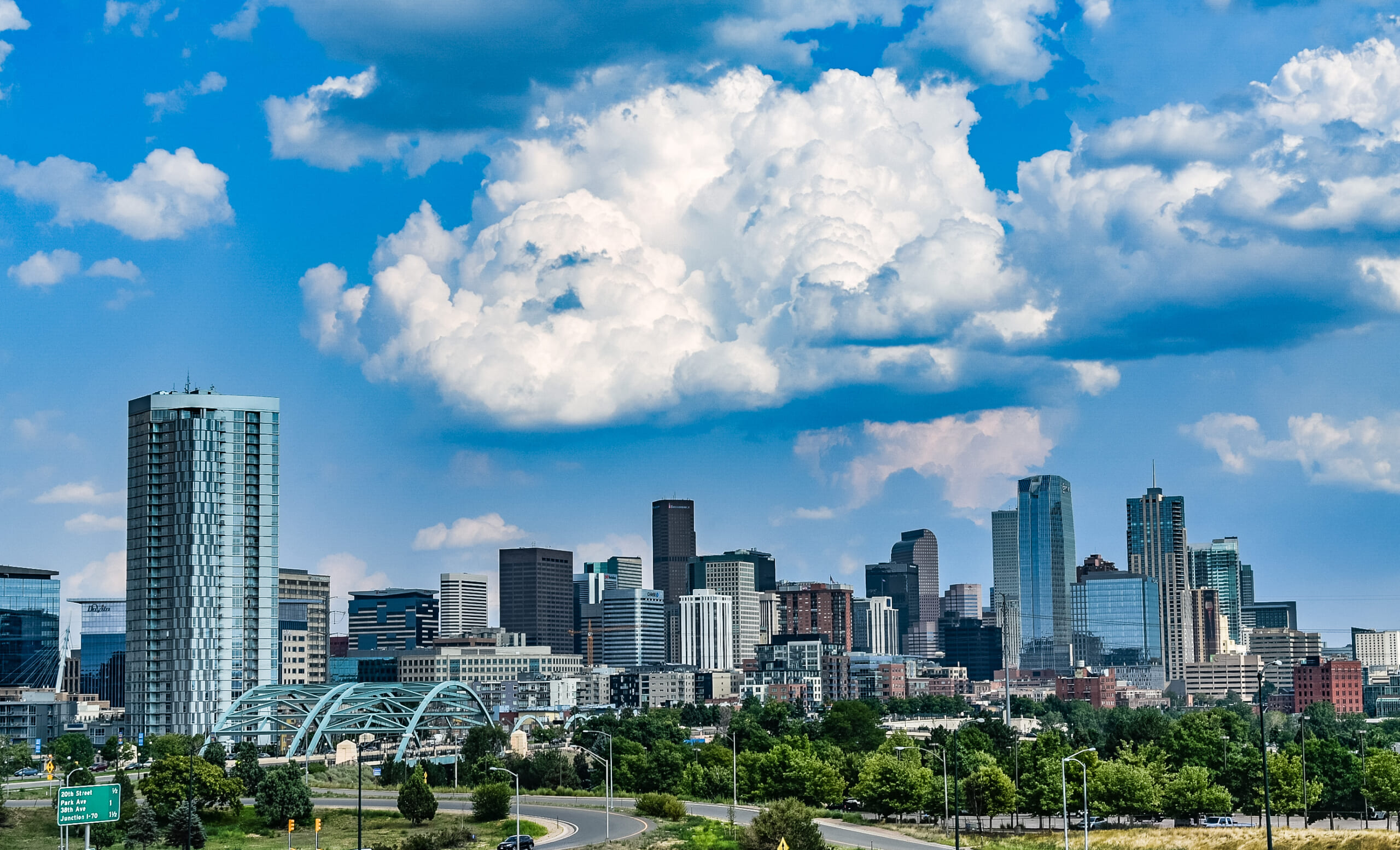 Getty Images
"Yeah, the Wild West days. There were duffle bags of cash and Russians with AK-47s. Seriously." My 420 Tours CEO Danny Schaefer is smiling as he says this over our five-course, cannabis-infused gourmet meal. We're sitting inside Invisible City at a gorgeous long wood table, working on the second course (I think), and at that moment I realize the world that saw me frantically hiding weed from uptight resident advisors in 1987 is history as distant as the Roman Empire. 
Schaefer is expanding on his description of the early days of his business: "You could pull up to the dispensary with a backpack full of weed," he tells me, "they would take you in the back and based on how much cash they had … there would literally be armed guards and the biggest safes you've ever seen stacked full of product or cash."
Make no mistake, though: A weed revolution is afoot. Attitudes are changing as surely as marijuana business practices. Cannabis is rapidly becoming as mainstream as beer or wine. And at the heart of this revolution, in Denver, cannabis tourism is becoming a positively upscale pursuit.
" tml-render-layout="inline
Schaefer tells me his company is "a hospitality and tourism company," and their "goal is to mainstream cannabis through education and life-changing experiences."
It's a timely goal, and they are nailing it. The days of AKs and duffle bags are over. 
So—courtesy My 420 Tours' experience and knowledge in crafting the ideal mile-high getaway, here's what you can do in Denver when you're ready to mix luxury travel and lessons in becoming a ganja gourmet. 
Stay: The Art Hotel
" tml-render-layout="inline
Vacation begins in earnest with a ride from Denver's huge, eccentric airport via 420-Themed High End Transportation. They provide friendly and competent drivers who also are happy to offer a tightly-rolled spliff with which to unwind on your way downtown to the uniquely gorgeous Art Hotel.
The Art is a cannabis-free environment, no smoking of any kind allowed, but it's an ideal place to wind down after a long day exploring the area and all it has to offer. Wind down and chow down: The Art is home to the Fire, which serves creatively-rendered and delicious New American cuisine on the fourth floor. 
The Art Hotel alone could meet a vacationer's needs, but even if you don't take advantage of opportunities like touring the nearby Denver Art Museum or the Clyfford Still Museum,  it's a great place to stay, with spacious rooms and plenty of appealing and original artwork in every room.
Eat: The Snooze for Breakfast or Lunch
" tml-render-layout="inline
My first full day in Denver Danny Schaefer and I begin at the Snooze Eatery for breakfast. Snooze is one of Denver's most popular brunch and breakfast destinations. The place is hopping at 9:30 in the morning, full of a mix of Denver locals and tourists drinking good, strong coffee and chowing down on expertly-prepared meals like the Benny Duo—a pair of gourmet versions of Eggs Benedict like the Ham Benedict III and the Bella! Bella! 
I also quickly learn as we eat and chat just how friendly and laid-back Denver can be just in pleasant, casual conversation with our server and folks sitting nearby. 
" tml-render-layout="inline
Later, at Invisible City, Schaefer says "Seriously, the city is humming. You can see it, you can feel it … that's cannabis and that's, again, just the beginning" and I remember the vibe inside Snooze, which is definitely anything but sleepy.
Tour: Native Roots Facility and Dispensary
" tml-render-layout="inline
Nowhere is it more apparent just how big a deal the cannabis business has become than inside the huge Native Roots Marijuana-Infused Products facility located in a nondescript factory building in quiet industrial area on a highway not far from the Denver Airport. 
In a small group tour you get an overview of the entire life cycle of a cannabis plant, from birth as a cutting in a bucket in a grow room through its ultimate destination as any one of a number of end-products: edibles, soft drinks, vape cartridges, and yes, neatly hand-rolled joints. 
From the moment Danny Schaefer and I don clean suits and walk through shallow chemical baths designed to disinfect our shoes it's clear my assumptions about the casual nature of the business of turning weed into other consumables were hilariously naive. 
" tml-render-layout="inline
Schaefer takes me on the tour any visitor can expect. Facility staff are on hand as well and they explain in engaging and sometimes slightly geeky terms how the process works. It's a fascinating live look at a process few realize is so formal and scientific. It's also totally worth it to get a photo of yourself holding a five-pound bag of bud to text to all your old college friends in return for their expressions of jealousy and awe. 
" tml-render-layout="inline
Following the tour—which is a surprising highlight of the entire trip—you can do as we did and head to a nearby Native Roots dispensary. They're clean and well-lit, with a feel that's much more Apple Store than pop-up fly-by-night business. That vibe extends to the highly knowledgeable and engaging budtenders, who are strangely much more relaxed than any Apple Genius could ever be. 
Taste: The Tetra Lounge
" tml-render-layout="inline
Tetra is a private lounge for social consumption located in Denver's chic Rino Art District. If this was Napa Valley, Tetra might be where you sit down and taste test selections from top local vineyards. We end up at this no-frills kind of place after our dispensary visit. It's appointed with massive TVs on the walls and comfy large sofas in the corners. There you can have a sommelier-style cannabis sampling experience with someone like My 420's Alyse Morgan.
From experts like her you can learn about terpene profiles and cannabinoid ratios—and as My 420's Cannabis Concierge Kelleyanne Buchanan predicted when arranging my trip, "You'll leave with a heightened understanding of the plant and how to match it with your own tastes and desired effects."
Eat: El Five for Dinner
" tml-render-layout="inline
El Five is a tapas destination in Denver's stylish LoHi neighborhood. It's a premium dining experience marked by a tapas selection that's simply too good to resist—especially to a hungry tourist who has just had a sommelier-guided cannabis experience. 
The food is enough to recommend lingering there a good part of the evening, but El Five has a fantastic view of the city as well. It's been listed as one of the 25 best restaurants in Denver for a reason. Go there, eat everything.
Hike: The Mountains
" tml-render-layout="inline
It's Colorado. One option any cannabis tourist needs to consider is getting out of the city and up into the mountains. Danny Schaefer and I grab snowshoes on my third day and make the trip up to the peaks in Empire. My back is killing me and the cold is biting but the views are stunning and my guide is good-humored and super patient.
Whether you do as I did and have edibles then go with a much fitter, younger guide in 15-degree temps and high winds is up to you. Whatever you do, find yourself in the mountains outside Denver for a while, it's worth it, no matter what. 
Fun: Comedy Works Denver
A cannabis-themed tour seems like it would be pretty empty without comedy involved, given the green stuff's well-known funny bone enhancing properties. 
Comedy Works brings in established, touring standups like Christopher Titus as well as up-and-coming talents from the region. Spice the experience with a little beer and classic comedy cellar feel and it's a perfect way to end the day on a high note. So to speak.
Cook: Private Cooking Class at Invisible City
Invisible City, where we began, describes itself as "a membership-based community and event production company dedicated to creating the most unique, creative, and engaging experiences imaginable." One of those experiences available as part of a My 420 Tours package is a private cannabis cooking class with Chef Patrick Bailey. 
Chef Patrick also teaches a sushi and joint-rolling class and watching him work his art in person is every bit as engaging as you might expect from someone creative enough to think of a combination like that. 
"We're going be extracting 99% of the cannabis," the Chef tells Danny Schaefer and me as he begins, "or the THC from the cannabis, but there's still also flavor profiles and CBDs and stuff left in the plant matter that we can use to flavor other items." 
My experience with edibles cooked in someone's kitchen has been they taste like someone put weed and peanut butter in a blender with a side of mud. Not good. Then there's my host.  
"I'm not cooking for the weekend bender, I'm cooking for the everyday person," Chef Patrick says as he expertly blends cannabis while butter sizzles in a pan, "I'm trying to keep you motivated throughout the day, not necessarily tagging you on the weekend like, 'Oh, it's the weekend, I'm just going to stay on the couch or whatever'. I'm actually trying to keep you going throughout your day so you can stay functioning and feeling better."
And the thing is, he's a wizard. Not only is cannabis's usual overwhelming funk far from the dominant flavor in any course, Chef Patrick configures each dish so that taste enhances the food. 
If there is a single highlight of this particular My 420 Tour package that commends the rest, it might be this leisurely, extremely well-crafted food. 
"One thing I like to do is make sure that you're full when you're done," Chef Patrick tells Schaefer and me at the end of the meal. 
Flying back home that night it occurs to me that his philosophy could speak for the city as well. It's hard to leave Denver and feel unsatisfied.