Where to Eat, Stay and Play in Dubai
Indulge in a Middle Eastern oasis with underwater hotel suites, 24-karat gold cappuccinos, and the tallest building in the world.
(Photo: Burj Al Arab)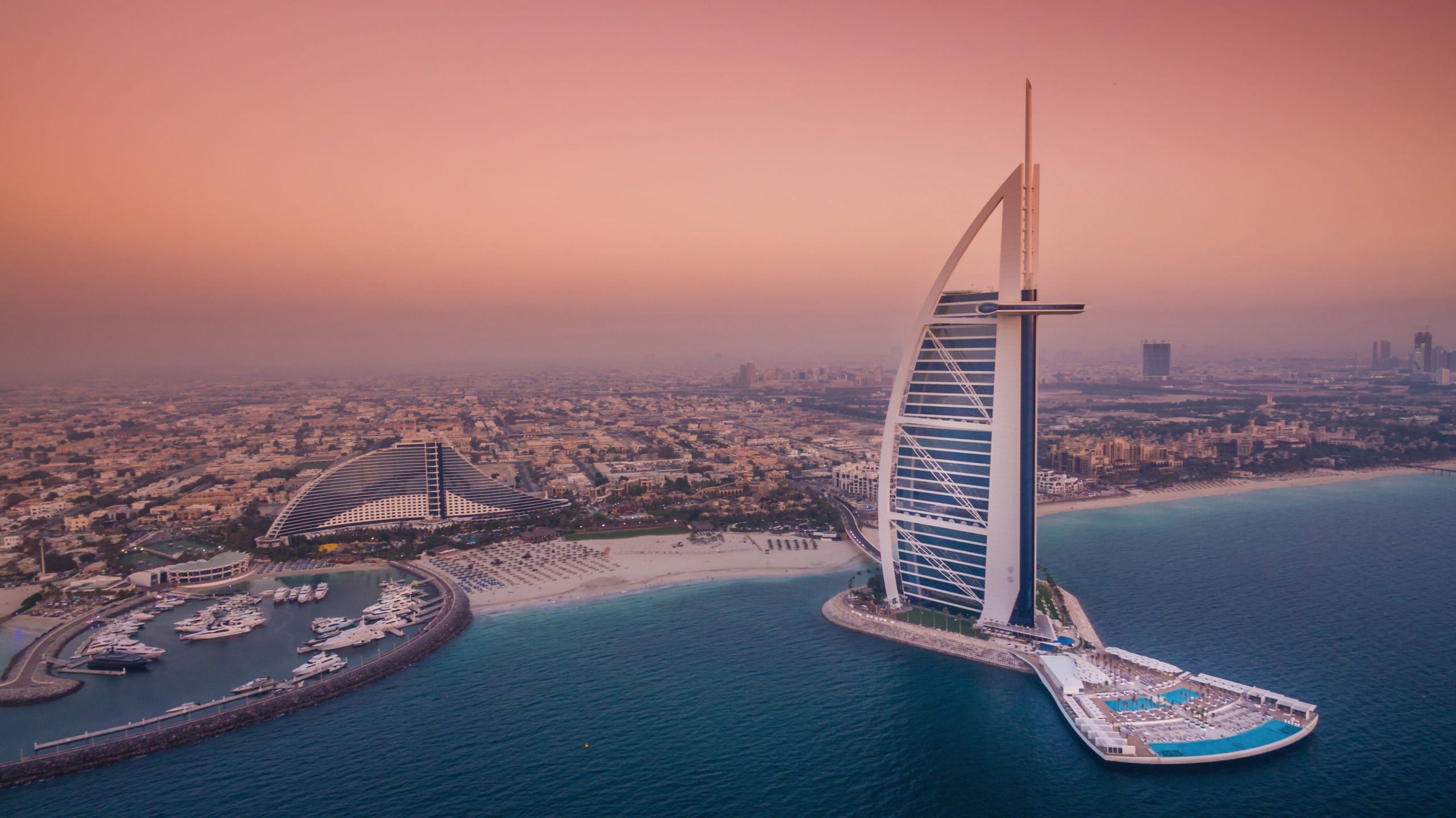 The glamorous city of Dubai is the one place in the world where the goal is to have the biggest, greatest, and showiest of anything and everything.
https://www.instagram.com/p/Bs6BjGtAh7v
Home to the tallest building in the world, a man-made island in the shape of a palm tree, Lamborghini police cars, and lots and lots of gold, it's obvious that money is no object in this extravagant city — and they're not afraid to show it.
https://www.instagram.com/p/BvbnzBYghq_
Below, a detailed guide on the best places in Dubai to eat, stay, live it up, and dig deep into your pockets and spend like no one is watching.
Stay: Burj Al Arab
https://www.instagram.com/p/BvybEO9DujT
The Burj Al Arab Jumeirah is often described as the world's most luxurious hotel thanks to its over-the-top amenities including personal butlers, nine restaurants, and massive columns made of actual gold in the lobby.
https://www.instagram.com/p/Bq37S32gJgu
The glamour starts the moment you arrive in Dubai as a chauffeured Rolls Royce greets you at the airport and takes you to the hotel, where each guest is offered a 24-carat gold iPad upon check-in to use as their "virtual concierge" throughout their stay.
The entire hotel has just 202 duplex suites and the highest staff-to-suite ratio in the world at a kingly eight to one, so you hardly have to lift a finger.
Take a dip in the Arabian Gulf from the hotel's private beach or at one of the five pools — one of which is a grand 828 meter salt water infinity pool on the terrace.
Atlantis, The Palm
Feeling adventurous? Check out the Poseidon and Neptune Underwater Suites at Atlantis, The Palm.
These 1,776 square foot twin suites live up to the name as an ode to Poseidon and Neptune as floor-to-ceiling windows have panoramic views of The Ambassador Lagoon — a three million gallon aquarium brimming with over 65,000 marine animals.
Even the bathroom has a view of the aquarium, so you can enjoy your literal 24-karat gold flecked soap as sharks swim past your window.
The three-story suites have 24-hour butler service to take care of your every need, but it all comes with a hefty price tag of over $8,000 per night.
Eat: Nathan Outlaw at Al Mahara
Michelin-starred British chef Nathan Outlaw brings his culinary expertise to the Burj Al Arab at this plush aquatic seafood restaurant that has menu items including lobster with black truffle, crispy fried oysters, caviar, and whole fish theatrically baked in a salt crust.
A massive 260,000-gallon aquarium gives the illusion of dining underwater with countless vibrant saltwater fish and picturesque reefs, and the glittering gold accents throughout keep reminding you that Dubai is low key obsessed with the precious metal. 
Khaymat Al Bahar
The focus at Khaymat Al Bahar is Lebanese and Middle Eastern food with classics like grilled lamb, hummus, shawarma, and fried spiced lamb fritters called kibbeh.
https://www.instagram.com/p/BvyShtegKbH
The restaurant overlooks the pool at the Al Qasr Jumeirah as well as the beach on the other side, and is made even more authentic with belly dancers, a Lebanese singer, and an Oud player in the evenings.
https://www.instagram.com/p/BeKHJEplMrF
Ultimate Gold Cappuccino
Taking luxe to the next level is the Ultimate Gold Cappuccino at the Sahn Eddar Lounge in the Burj Al Arab's atrium, and it's exactly what it sounds like.
The coffee is made with Arabica beans and combined with foamed local organic milk, and is then blended with 24-karat gold, because why not.
Finally, the not-your-average cup of joe is sprinkled with Italian gold flakes and served up with some more gold in the form of a Grand Cru Guanaja — a chocolate marshmallow sprinkled with ground gold.
Giardino at Palazzo Versace
https://www.instagram.com/p/BnYmffhAkdQ
Immerse yourself in Versace at Palazzo Versace's indulgent brunch at Giardino, where you'll find an endless buffet of sushi, seafood, steaks, grills, chocolate fountains, and, of course, bottomless champagne.
https://www.instagram.com/p/BqH0vnahqa1
Play: Burj Khalifa – At the Top SKY
The Burj Khalifa, a.k.a. the world's tallest building at 2,717 feet, gets a luxurious spin with a sleek lounge on the 148th floor fittingly called At the Top SKY.
Be greeted with refreshments as you step off the elevator and enjoy a private observation deck 555 meters above the city. 
Nikki Beach
Thanks to its location on the Pearl Jumeirah Island and its bright white color scheme, the swanky Nikki Beach Dubai is overflowing with tropical island vibes and is home to one of the best bottomless brunches in the area that's both chill and a party at the same time.
After starting off with live music, a rich buffet, and never-ending drinks, move over to one of the cabanas by the pool or stretch out on a lounger as the party really starts to take off with a DJ, Las Vegas-esque dancers, and even a musician playing an electric violin to house music.
Q's Bar & Lounge
Inside the Palazzo Versace is music legend Quincy Jones' intimate yet lively lounge featuring resident acts he's cherry-picked himself. Order a whiskey and a cigar (yes, you can smoke inside) and settle into the plush furniture for some seriously entertaining live music.
Mercury Lounge
https://www.instagram.com/p/BvZkbgtJNwN
Take in the views of the Dubai skyline over the Arabian Gulf at this decadent rooftop lounge inspired by the Mediterranean. 
https://www.instagram.com/p/BmLKRGFln8c
The venue is easygoing and elegant, and the finely crafted cocktails pair nicely with light bites like waygu beef sliders, calamari, and truffle french fries.