View NYC From 100 Stories Up At Highest Outdoor Sky Deck in Western Hemisphere
Absolutely stunning.
Courtesy of Related-Oxford
New York City is full of opportunities to rise above it all and take in some breathtaking views. So the newly-opened Edge outdoor sky deck 1,100 feet above Hudson Yards had to stand apart. With the feel of an open plaza at street level and its pristine glass floor giving a dizzying view of the city below, it definitely does just that.
Visitors reach Edge by passing through the Hudson Yards luxury shopping mall. At ground level, they step into a Rockwell-Group-designed multimedia introduction to the space then take a long (nearly one minute) elevator ride up to the viewing area, which measures 7,500 square feet and extends 80 feet out from the 100th floor.
From that open space, you can see up to 80 miles—New York City's vast urban vistas and beyond.
The sky deck experience gives the more fearless visitors a chance to step over a glass floor and view the streets below. It's totally safe, obviously, and viewers also have 9-foot glass walls that truly expand the sense of dizzying openness. There's even a seating area a little higher up via an outdoor staircase that allows visitors to relax while they take it all in.
The Edge sky deck is made up of 15 sections, all anchored to the building. Marianne Kwok, of the KPF architecture firm, says that while "most observation decks are on a terrace," and incorporated into the building, her firm did something unique here. 
"We didn't want to scaffold up and build it and then take the scaffold down," Kwok tells Design Boom, "it was manufactured in Italy, and we put together the whole thing in Italy to test it. Then it was taken apart and shipped over."
Kwok says that the sections were then "craned into place." The prefab approach allowed builders to considerably shorten construction time.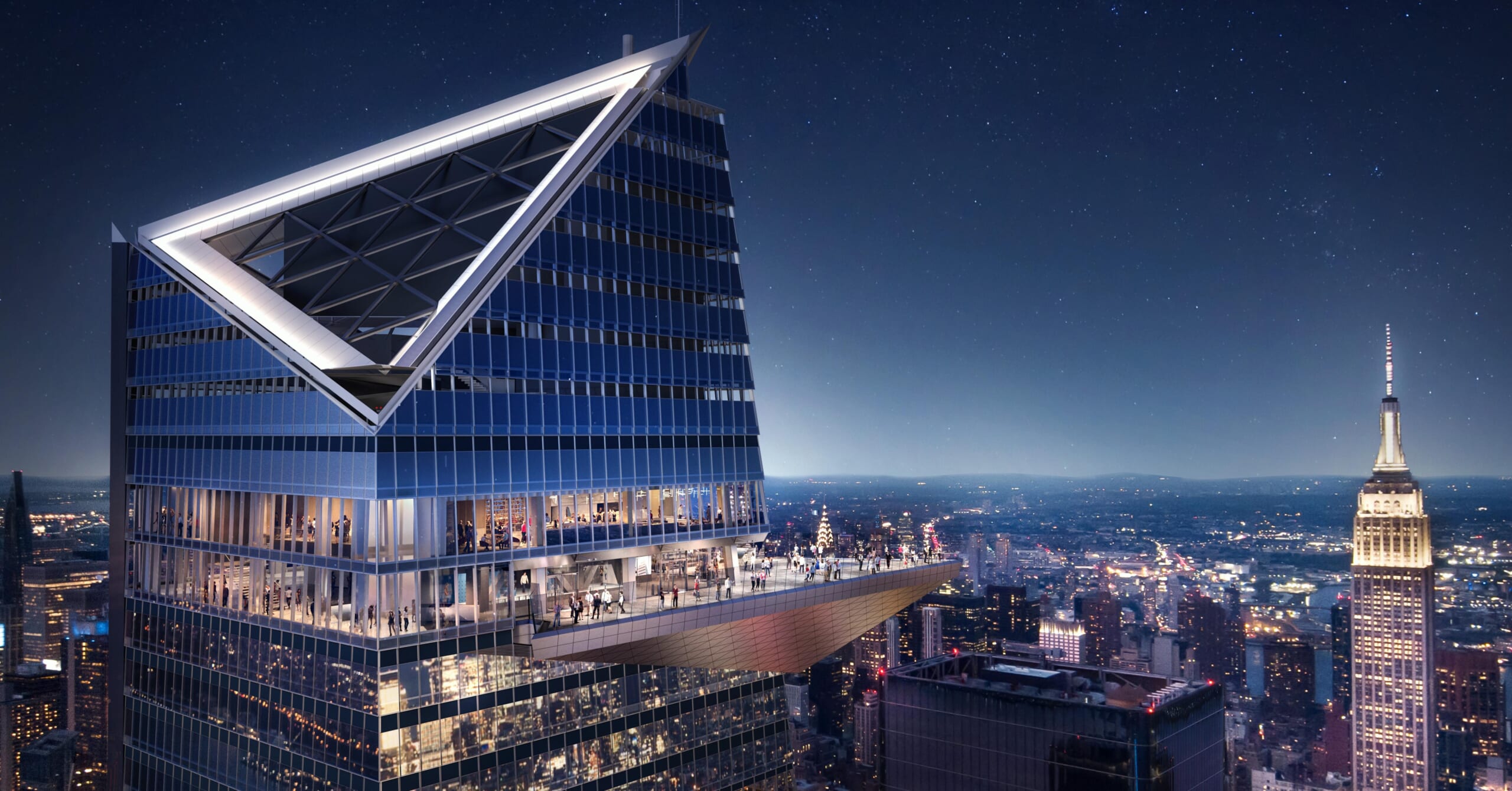 Kwok tells Design Boom that KPF "really wanted to create something that would give you a different view of the city and a different experience." That's why she says "there are no metal supports on the glass, and the glass is held slightly apart so that a cell phone camera can be put between and you can get a clean photo."
Just one level up on the 101st floor visitors will find dining and an "event space." 
Edge is on the 100th floor of 30 Hudson Yards, in NYC. The space is open every day of the year, 8am to midnight.