Watch Eminem Reveal His Favorite Nikes and Call Out The Worst Sneaker Trend Ever
"I've always felt like shoes are 90 percent of your outfit."
Eminem is the latest guest on Complex's web series Sneaker Shopping, where sneaker-obsessed celebs talk about their favorite kicks.
The comebacking rapper, out with his ninth album Revival, revealed that he is a massive fan of Nike (duh), and not just because his custom Air Jordan 4 "Encore" kicks are among the most popular limited-edition collabs ever.
"Nike's always been pretty much my favorite shoes since I can remember," Eminem said.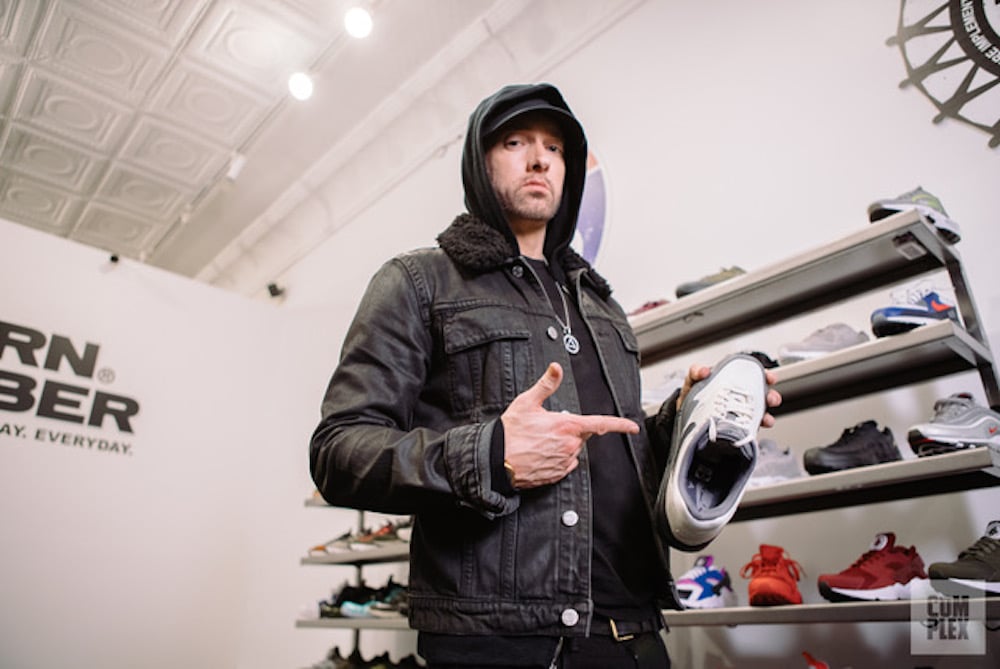 "The [Jordan] 4s have always been my favorite thing, but sometimes they don't always look the way I want them to in a certain outfit."
Marshall Mathers admitted that he is a fan of multiple brands and styles, including Adidas and Reebok, but there's one feature that can kill a sneaker.
"There's a pet peeve I have with shoes, and it's one of the reasons that I've always been so attracted to the Jordan 4s. When the toe points up on a shoe, and it goes like this, because then it kind of looks like you're walking in clown shoes."
https://www.instagram.com/p/Bcuk_WIlWep
He is also all for footwear fiends flaunting their sneakers on Instagram.
"I completely get it because I've always felt like shoes are like 90 percent of your outfit. So whatever shoes you got on, if you're wearing a fucking tablecloth, if you got some cool shoes, you'll be respected for it for sure."
About his mentor Dr. Dre getting into headphones rather than sneakers, Eminem said, "He should've gotten into sandals or something."
Watch the full episode of Sneaker Shopping, hosted by Joe La Puma at Burn Rubber in Detroit, on Complex.