Forget First Class, This Airline's 'Private Suites' Take Luxury to New Heights
This is WAY better than the middle seat in Coach.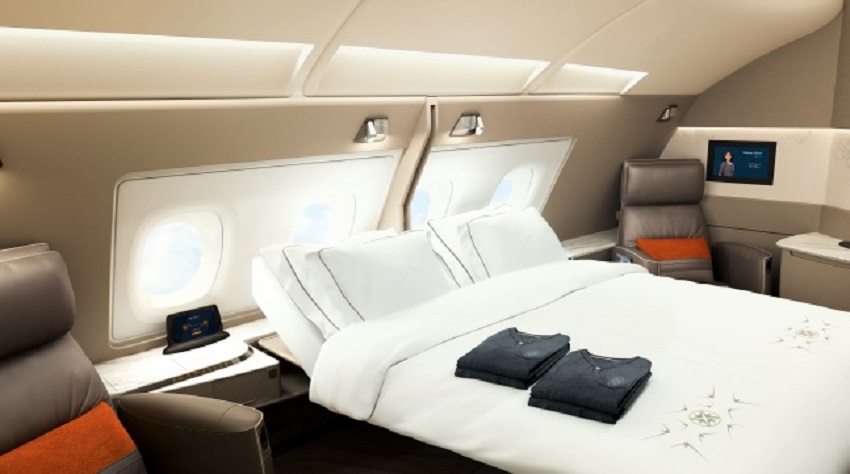 Singapore Airlines
Let's be blunt: Many people hate to fly. Since the days of simply giving a friendly nod to security as you boarded a Boeing while smoking a cigarette, flying has become a very safe and often very unpleasant slog. 
Carriers like Singapore Airlines clearly want to put the fun and sense of freedom in flying again. They're doing it by offering an experience closer to staying in a fine hotel, with private suites.
These aren't available on every plane, obviously. But if you are riding in an Airbus A380 double-decker, the airline can accommodate you in a number of ways.
They've got single-sized suites with amenities like a desk, TV, and twin-sized bed. Even better, if you're flying as a couple, there are suites with queen beds available.
As you'd imagine these suites come along with other top-shelf amenities. Gourmet menus, a pleasant bathroom for which there won't be a line when the "fasten seatbelts" sign is off, and freaking sleepwear, in the form of slippers and pajamas. If that's your thing.
It'd almost be like you're back in those Mad Men days when people didn't apologize for seeking out luxury to smooth the edges of a travel experience.
Even if you don't want to swing the upgrade for a suite, Singapore Airlines's Instagram makes it clear they know how to take care of all customers.
" tml-render-layout="inline
" tml-render-layout="inline
" tml-render-layout="inline
" tml-render-layout="inline
" tml-render-layout="inline
 [h/t Uproxx]