Here's The Exclusive First Look at the MTM Special Ops Status Smartwatch
Find out why this striking tactical timepiece is the best of both worlds.
MTM
Presented by MTM
For more than 25 years, MTM Special Ops Watches has been the worldwide leader in manufacturing tactical military watches. Now the Los Angeles-based brand is launching the groundbreaking STATUS, a tough, tactical smartwatch with analog hands. 
Although digital watches offer extra functions, digital timekeeping creates unnecessary stress. Tactical watch enthusiasts want to feel time on their wrist, and they don't want to count down every stressful second. Arriving at a rendezvous on a tight schedule or just knowing how much time you still have left doesn't equal superior performance. 
Seeing hands moving around the dial enhances your grasp on how much time is left. That's why analog watch hands aid in understanding the pace at which you should continue your mission.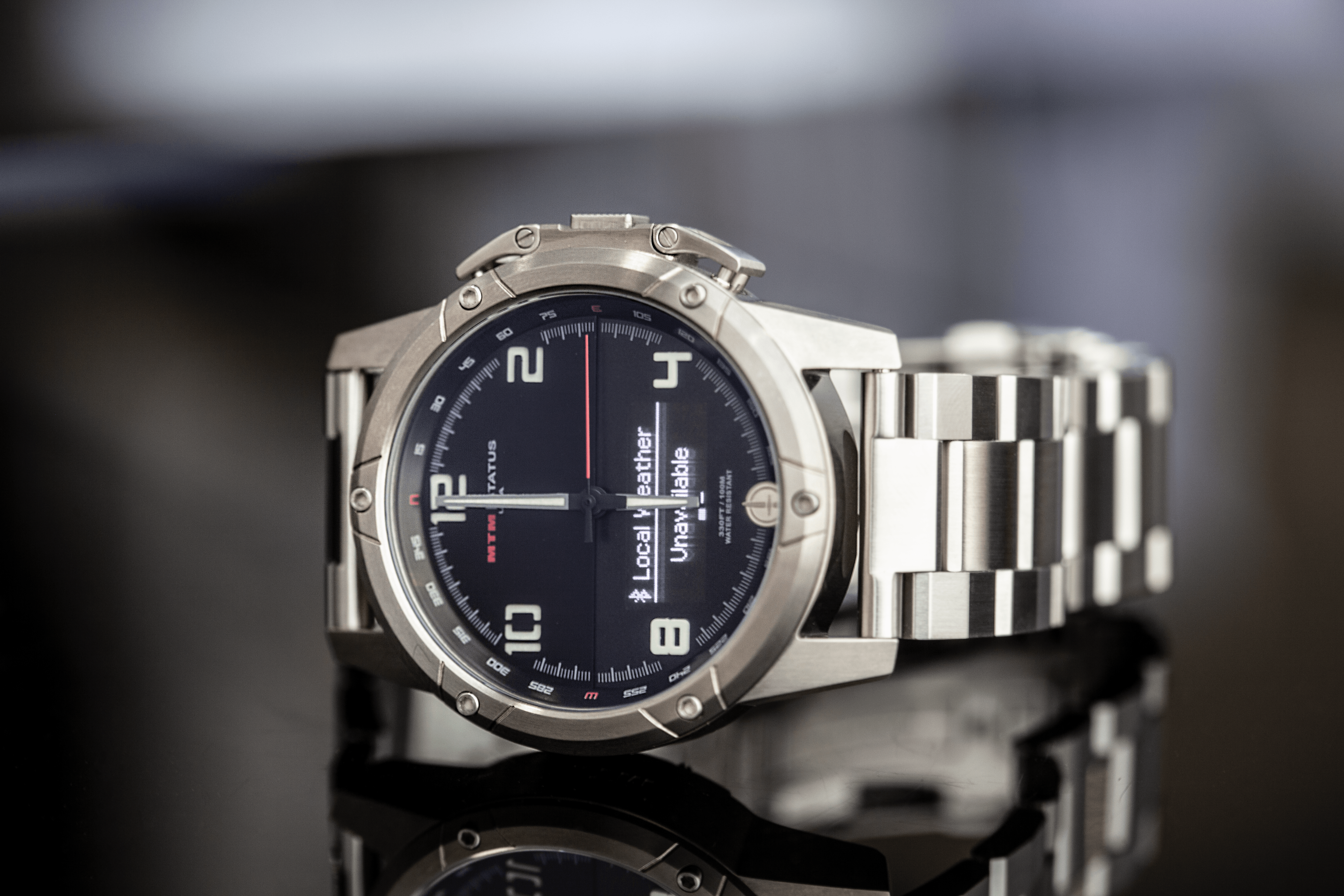 Gunner Thompson, head designer of MTM Special Ops Watches, says that the "need for real time information in the field without picking up your cell phone was absent in a tactical watch. 
"Professional divers rarely ever use digital displays, they need to visually understand how much time they have left to surface. That same visual feel is needed in a tactical smartwatch. We translated this premise into a robust field watch we call STATUS." 
The Status may look and feel analog, but it features a stealthy digital information panel in MTM's first-ever rock solid black dial. With a 46-millimeter watch case you can view much more than the time with just a glance. That includes traditional messages like notifications and GPS on the dial.
Additional applications can be customized through MTM's proprietary watch App. Users can download that directly from the MTM website or any App store. 
If needed, the traditional analog watch hands can be switched into a superior all-terrain compass. This rugged smartwatch also features a sleek and stylish stainless steel bracelet that integrates smoothly into the 100-meter water-resistant, titanium watch case, which sports a sapphire, anti-reflective and scratch-resistant crystal. 
MTM engineered the STATUS smartwatch to work with all IOS or Android Smartphones. You will feel the time and at the same time stay focused on what matters most at the moment. 
Check out more information about the MTM Special Ops STATUS smartwatch here.