Float 5 Feet Above Water In This Amazing 'Flying' Yacht
Elevate your boat game.
Enata/Foiler.com
The term "flying yacht" might cause a little cognitive dissonance at first. It sounds like something out of science fiction. It's real, though, and it looks like something out of the next James Bond movie.
The 32-foot Enata Foiler flying yacht is indeed the real deal—we covered an earlier incarnation here. It skims above the surface of the water at 18 knots, offering passengers a seasickness-free and silky-smooth ride. 
That's right—it eliminates that troublesome choppiness that can sometimes plague even the toughest amateur yachtsman. It's ideal if you think about it: You're gliding along as if in flight but still get the best part of the sensory experience of sailing, feeling the spray and hearing the rushing waves.
The Foiler utilizes four America's Cup-style hydrofoils to lift the ship with surprising smoothness. It eases into takeoff as if you're truly taking flight and comes down just as easy.
If you want to double-down on the fun the 2020 version of the Foiler Flying Yacht comes with joystick control which you can activate from the wheel. Robb Report has more:
It's located forward by the foredeck seats and controls the speed and direction of the yacht. Like other joysticks, pushing forward or pulling back powers up or dials back the speed of the Foiler from a standstill up to 40 knots.

Tilting to either side mandates direction. Enata developed this capability over the last year, and, once in the groove, it ultimately feels like an extension of your body.
The killer twin V-8 marine diesel engines provide 740 hp of total power, permitting a top cruising speed of 40 knots and the carbon-fiber body yacht is easily customizable to suit the owner's needs.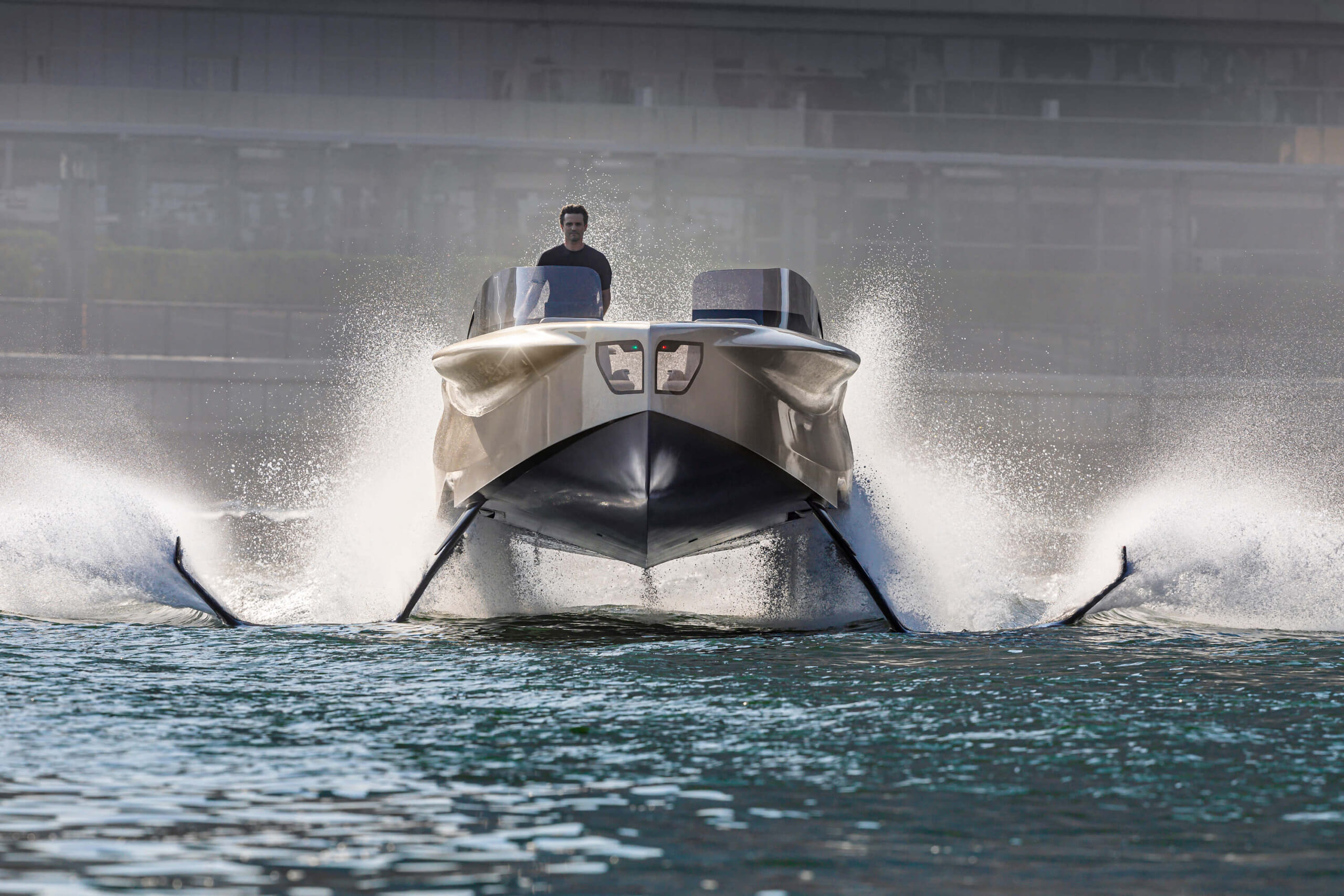 Enata prioritizes speed and fuel efficiency and has done considerable research into minimizing drag at every opportunity—but if you're not into flying? Just retract the hydrofoil and sail on the actual surface of the water. That way you can navigate the shallows and dock wherever you need to. Learn more at Foiler.com.