You Can Now Fly Coast to Coast in the World's Best Business Class Cabins
Qatar Airways' Qsuite tickets give passengers their own on-board bedrooms.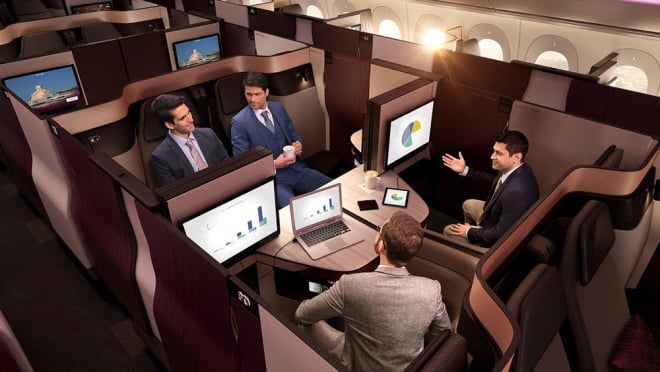 Qatar Airways
If you've ever flown out of L.A. and thought your business class accommodations were sorely lacking in double beds and privacy walls, the always-excellent Qatar Airways has good news for you. 
They're coming to LAX with daily flights featuring their luxe Qsuites. With the Los Angeles launch passengers will have six US gateways—in addition to New York City, Washington, DC, Chicago, Houston, and Dallas to access those amenities.
A Qsuite ticket is basically the key to a flying hotel room. Passengers lucky enough to book on time get double beds (never before offered in business class) and adjustable privacy panels. 
Notably, Qatar Airways hasn't forgotten family needs—suites can be arranged to permit family time or in-flight meetings for those actually doing business.
Eric Odone is Qatar Airways senior vice president in the US and he says the airline is "thrilled to be operating this state-of-the-art product in Los Angeles, offering our loyal customers a one-of-a-kind, unique experience they have never had before in the sky."
Odone also indicated the company is looking forward to customer response once LA service begins.
Per Robb Report, additional perks that go with a Qsuite berth include, "the White Company sleepwear and slippers for long-haul night flights, an actual door with a Do Not Disturb sign, pillows, a quilted mattress and duvet, a media panel with all kinds of outlets and plug-ins, and a top-notch amenity kit." 
Announcements from the company are all well and good, but what's traveling in a Qsuite really like? Apparently, it's great. The Points Guy published a guide to the experience in August 2018, and concluded the following:
Qatar Airways' QSuites are some of the best (if not the best) business-class seats in the world. Closing doors, fluid configurations and top-notch service all combine to make a flight in them nothing short of memorable. Luckily, it's also possible to book them with a number of different types of partner airline miles. With a little tenacity and savvy, you can book your own award and enjoy this truly unique experience for yourself.
Sounds like it's time to find an excuse to splurge the next time you fly.