Finally, a Smartwatch That Actually Looks Like a Watch
Sort of, at least!
When Apple CEO Tim Cook first unveiled the Apple Watch back in September 2014, we have to admit that we were hugely excited by the advent of a fully-functional smartwatch. Taken alongside the hugely popular $20 million Kickstarter campaign for the Pebble smartwatch, the arrival of the Apple Watch in mid-2015 seemed to usher in a new era of sleek, functional wearable tech that could perfectly supplement the smartphone as the jetsetter's go-to personal device.

There's only one problem: they're ugly as sin.

Sure, the Apple Watch and Pebble are slick little gadgets, embracing the digital minimalism that made the original iPod such a hit in a world of clunky mp3 players. But they lack style and panache, that upscale aesthetic that makes them an actual compliment (or accent) to your outfit rather than some shiny that clashes with your suit.

That's where Fossil comes in. This week, the watchmaker unveiled its newest smartwatches, the Q Wander and Q Marshal, in an effort to marry form in function in the most elegant smartwatch on the market yet. Sure, they're still a little bland, but it's the biggest step towards a more stlish smartwatch we've seen yet.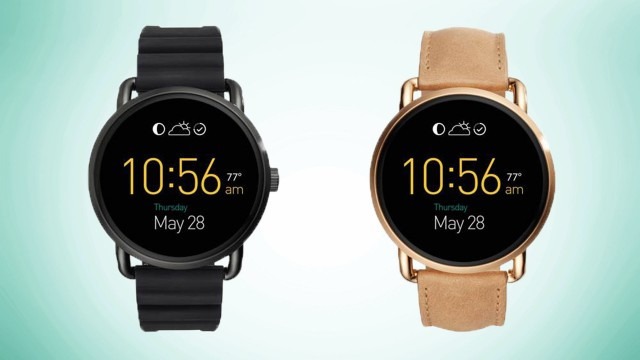 Both of Fossil's new releases come with classic smartwatch fare: outfitted with a touchscreen display, the watches can take calls and messages, allow users to check for calendar or travel alerts, and host a plethora of apps like Tinder and Venmo. But more importantly, both watches attempt to replicate the appeal of classic timepieces with refined steel frames and classic leather straps.
"We love the digital influence on our world today! It opens up a more direct dialogue with our customers, allowing us to design products and update technology in a much more impactful way," chief creative officer Jill Elliott said in a statement. "The expanded Fossil Q line brings creativity, curiosity and connectivity through smarter watches and trackers that enhance their personal style."
Obviously, a functional touchscreen display isn't necessarily comparable to the intricate face of a fine timepiece, and it likely never will be. But if Fossil's efforts on its Q line induce other wearable tech companies to incorporate some style into their new gadgets, we're in for some delightful new treats down the line.
Both smartwatches cost $275 and are available in two sizes, 44mm and 46mm. They're available at fossil.com