Bora Bora's Stunning Overwater Bungalows are Paradise on Earth
Jennifer Aniston, Jimmy Kimmel and Jason Bateman have all stayed at the Four Seasons Bora Bora's beautiful bungalows.
(Photo: Four Seasons/Barbara Kraft)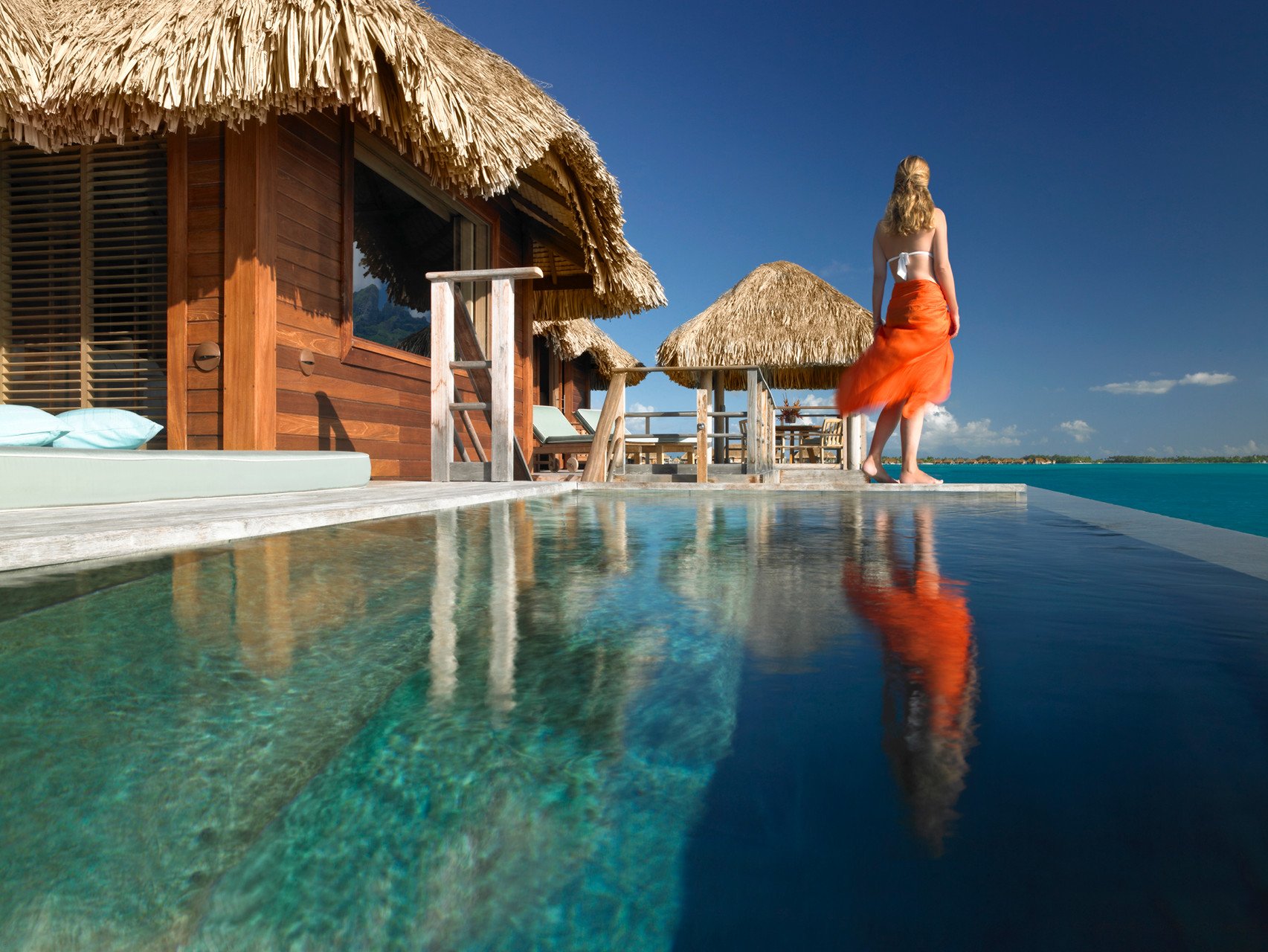 We all know the Four Seasons as one of the most luxurious hotel chains in the world, and the Four Seasons Bora Bora really takes opulence to the next level with its incredible overwater bungalows.
The 1,576 square foot One-Bedroom Otemanu Overwater Bungalow Suite sleeps three, and has a private plunge pool for relaxing and soaking up the sun whenever you're not swimming in the magnificent turquoise waters directly below and around you.
The bungalows also have a wrap-around private deck, perfect for taking in the majestic views of the lagoon and Mount Otemanu…which you can also conveniently enjoy from the comfort of your bathroom. 
Going for $1,666 a night during peak season — April through October, and December 15 – January 6 — these baller bungalows are a bit of a splurge, but worth it to stay in the lap of luxury. 
Want even more room to spread out? The Two-Bedroom Herenui Overwater Bungalow Suite offers 2,228-square feet of French Polynesian extravagance, with panoramic and unobstructed lagoon views, a private pool, and traditional teak furnishings.
Seeing how stunning the rooms are, it's no surprise the Four Seasons Bora Bora is popular among celebrities, such as ex-couple Jennifer Anniston and Justin Theroux, Jimmy Kimmel, Chelsea Handler, Courtney Cox, and Jason Bateman.
In the mood to splurge even more? The Otemanu Beachfront Villa Estate is the most lavish room on the property, with 5,380 square feet and three-bedrooms, a private infinity pool, and a private white sand beach.
Guests get a personal assistant for their entire stay (because why wouldn't they), customized private bar stocking, a private BBQ on the beach, and a private Polynesian show.
During peak season, the villa can be yours for a cool $19,807 a night.
The resort is about to undergo a property-wide facelift to make it even more luxurious, where rooms will be adorned with new furnishings and decor, new pools added to the suites, and brand-new overwater bungalows will be built. Even the restaurants will get an upgrade.
That said, it's hard to imagine a better way to enjoy Bora Bora than this.