The Adidas x 'Game of Thrones' Sneaker Collection Is Finally Here
Just in time for the final season of "Game of Thrones."
(Photo: Adidas)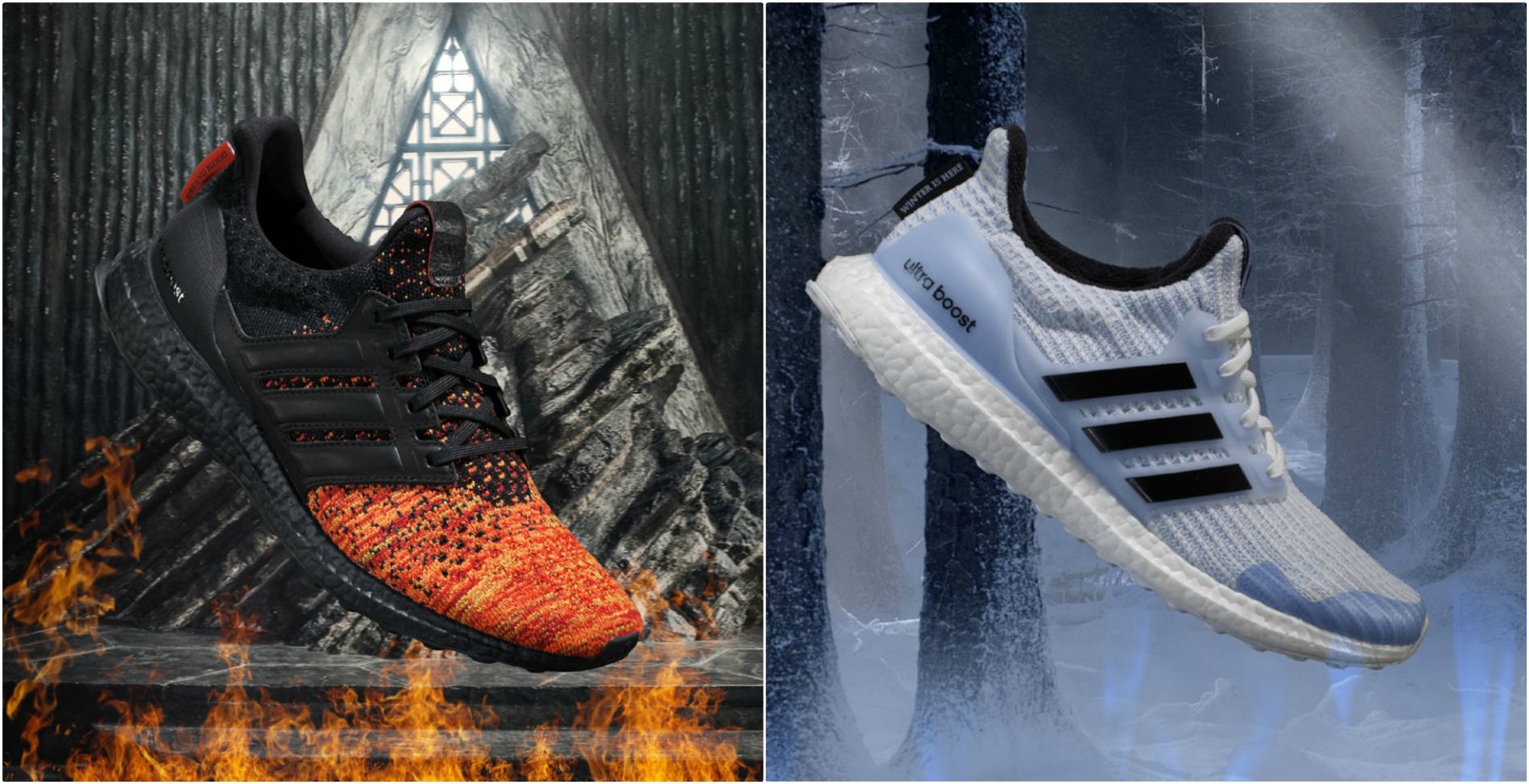 Game of Thrones fans and sneaker obsessives, rejoice: the hotly-anticipated Adidas x Game of Thrones Ultra Boost collection has officially been unveiled.
The GoT-inspired collection features six colorways of the Adidas Ultra Boost 4.0, each of which represents a theme or house from the smash HBO series. 
The Targaryen Dragons colorway features a red, orange, and yellow upper that fades to black, representing Daenerys' badass dragons. The heel tab reads "Fire and Blood."
A second sneaker in honor of the Targaryens is an all-white design with silver stripes that also says "Fire and Blood."
House Lannister's colorway is a regal red with gold accents, the Lannister crest on the inside of the tongue, and a heel tab that reads "Hear Me Roar."
For House Stark, a grey upper has black accents, a direwolf on the tongue, and a heel tab that says "Winter is Coming."
Obviously, White Walkers also have their own sneaker with a white and icy blue upper with black accents, and an eerie "Winter is Here" heel tab.
Lastly, the Night's Watch is a black, grey, and white colorway that has "Night Gathers. And Now My Watch Begins" written inside the tongue.
Stephan Schneider, the senior project manager at Adidas Running, tells High Snobiety:  "When you look at Adidas and HBO, or Game of Thrones particularly, you have two powerhouses and two iconic brands. We wanted to bring a sports icon and blend that with a cultural icon to create a really powerful and meaningful story.
"HBO was very open to our suggestions for how we would bring everything to life," he adds. "I think that's the beauty of the collaboration between Ultraboost and Game of Thrones. It speaks to all three dimensions, all consumers. 
"So you definitely talk to the sneakerhead, you'll talk to the Game of Thrones fan, but you'll also have a shoe that you can actually run in. It's just a very cool new spin on a running shoe."
The collection will officially launch Friday, March 22nd at 10 a.m. EDT and will go for $180, but until then you can check out the GoT collection right here.