How To Transform Your Living Room Into a 'Game of Thrones'-Themed Space
Just in time for Sunday night's viewing party…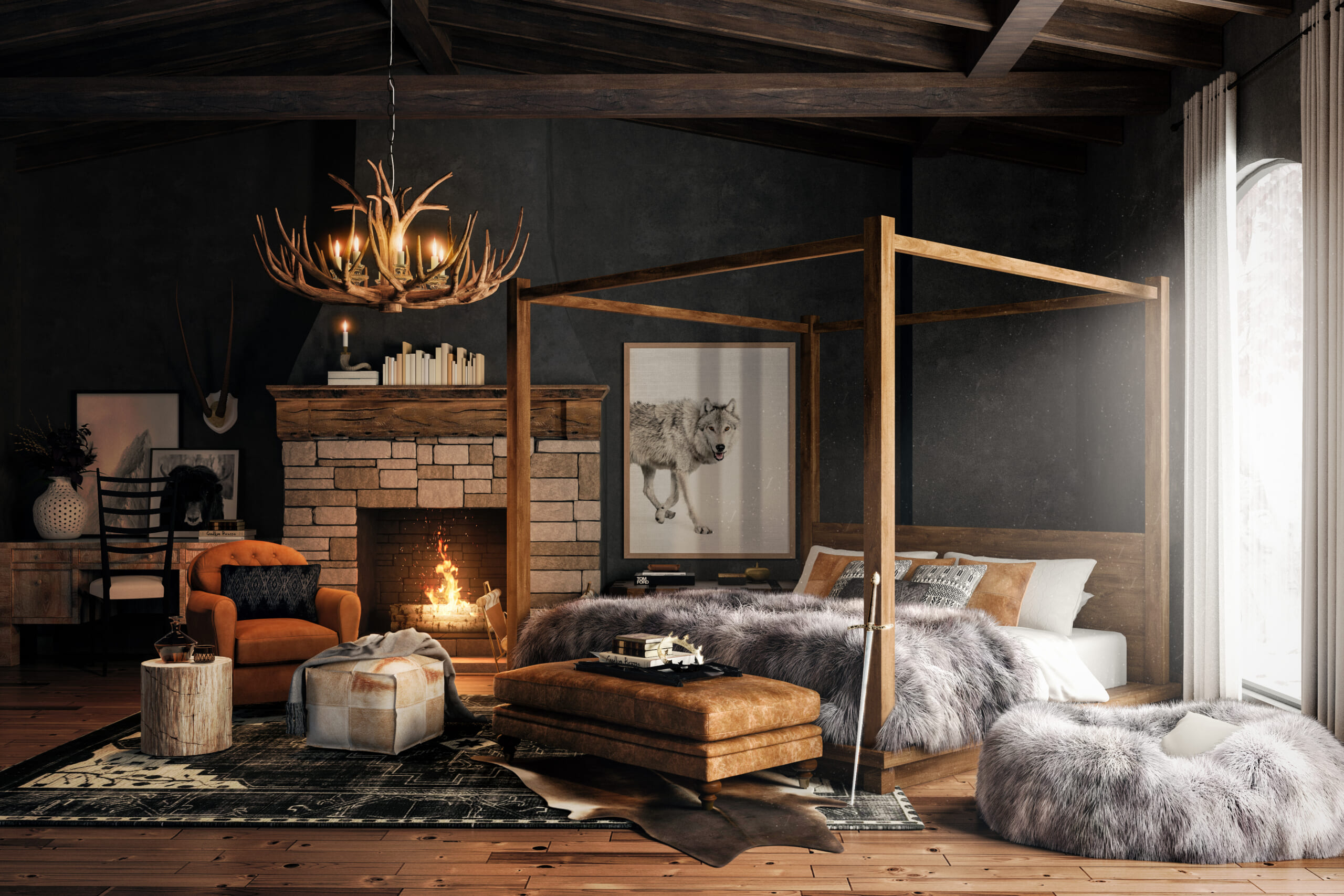 (Photo: Modsy)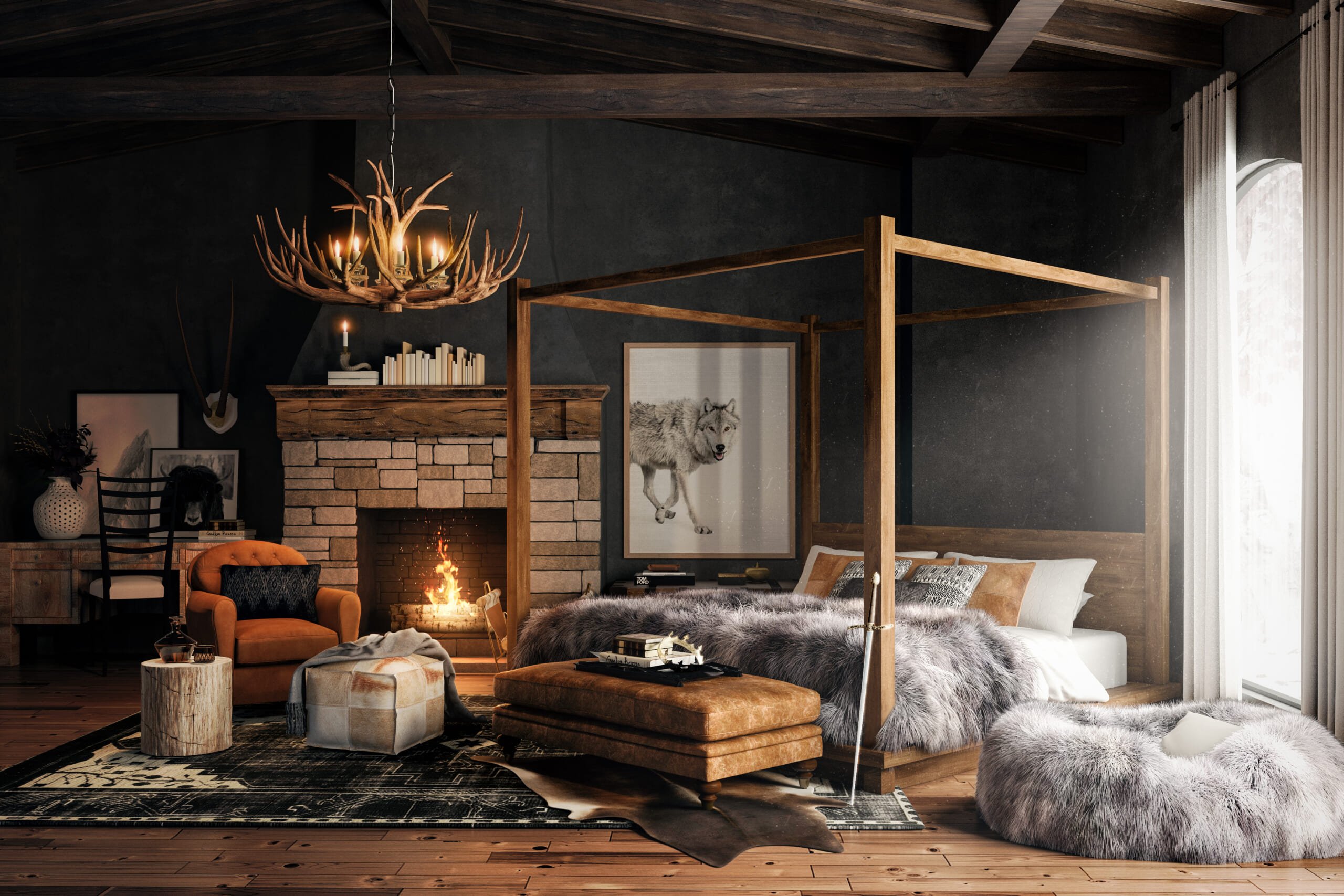 Game of Thrones superfans who can't get enough of the show's style and characters can now live like they're straight outta Westeros. 
An online interior design service called Modsy has reimagined how each family in Westeros would style their home in 2019, and with descriptions on how to achieve the style and a full list of furniture and decorations used, you can bring the same look to your own abode.
House Stark
"The color palette is inspired by House Stark's colors of grey & white which creates a dark, moody and almost brooding feel to the space, while still being inviting–a welcoming retreat during a long and brutal winter," Modsy describes the room.
To get the look, "start with a dark and moody base color and then layer in natural and organic materials like dark woods, leather, wool, and fur to warm things up. Look for clean and simple lines in your foundation pieces that allow the materials used to be the focal point."
Complete the room with some personal touches, like a crown, Arya's sword, the Godswood Tree outside the window, a wolf portrait, and the Mount Winterfell painting on desk.
Check out the product list right here for everything used in the room.
House Lannister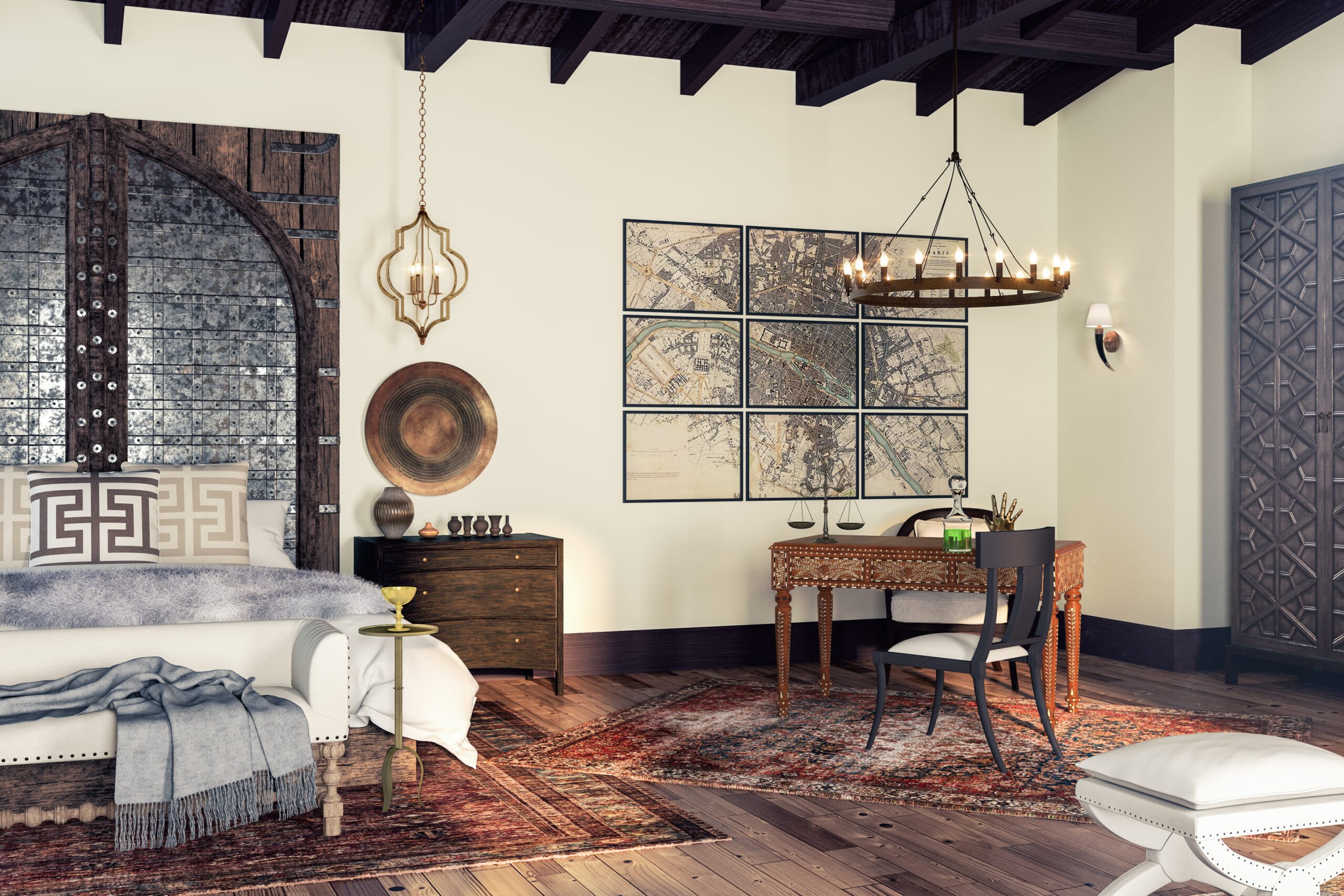 "The style of House Lannister is Mediterranean meets Colonial traditional. Elements of bone inlay, mixed woods, metals, and detailed carved woods combine to make the interior feel a touch rustic and industrial but also luxurious. You'll find wine glasses placed throughout, ample seating, and areas for entertaining.
"On the desk sits a scale – a recognizable element that a Lannister always pays their debts. Close by also sits a bottle of Wildfire – alluding to the Lannisters involvement in war and scheming."
"How can you achieve the Lannister look at home? Look for antique finds – wood carved furniture will be a great way to bring a more "collected" feel into your home. Don't be afraid to mix materials and look for vintage textile prints in rugs, pillows, and duvets. Darker woods will also help to add a bit of drama to your space as well."
Check out the product list right here.
House Targaryen
Combining boho elements from her Dothraki days, metal decor representing the Unsullied, and scale patterns and egg decor for her dragons, this room speaks to Daenerys' past, present, and future.
"Want to achieve this look at home? Pair furniture and fabrics in muted, earthy tones with metals and different textures create a layered, organic look."
Check out the product list right here.
White Walkers
Even though they don't exactly exist anymore (thanks, Arya), you can still bring that White Walker chillness in your home with all white everything, plush fabrics, and blue accents. 
"Our White Walker space isn't as scary as the show would expect us to feel – instead it's slightly austere and dramatic with an all white winter interior. The contrast of deep dark blues and blacks mixed with pops of white bring the drama while still feeling accessible to the living."
To get the look, "start with an all white base, and build out blue and black into the accent decor. Stick to more rustic pieces, such as wood side tables and raw edge pieces."
Check out the product list right here.
House Tyrell
House Tyrell is (well, was) all about beautiful gardens and florals, so this room is decked out in bold floral patterns and prints.
"To recreate House Tyrell for yourself, look for classic-inspired furniture pieces. Don't be afraid to mix vintage-inspired patterns with more modern pieces and prints. Storage pieces with detailed floral carving patterns will help to make this look feel a bit more collected as well. 
"Play up your lighting by mixing a larger chandelier with slightly more feminine sconces to create a bit of contrast. You can likely skip the poison bottles we added in remembrance of Olenna."
Check out the product list right here.