A Classic Gold Watch Owned By Elvis Presley Can Be Yours
The King's snazzy square timepiece is going up for auction.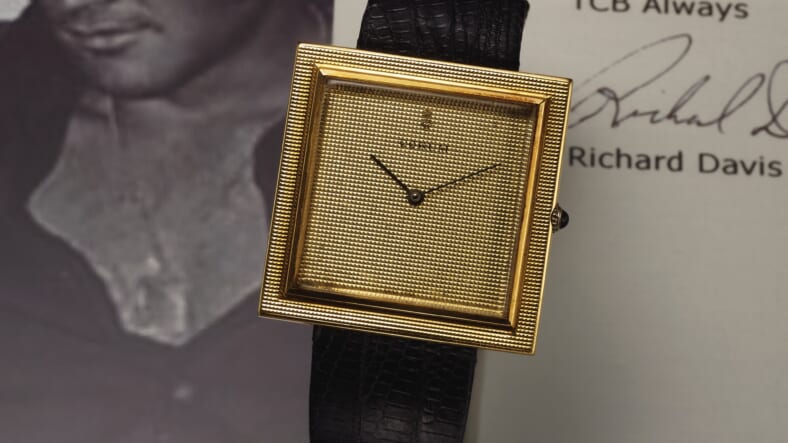 A swanky gold Corum "Buckingham" wristwatch owned by Elvis Presley is coming up for auction at Antiquorum's Important Modern & Vintage Timepieces sale in New York City on April 20, where it's expected to bring in up to $20,000. Made circa 1960, the Swiss timepiece was worn by Elvis for several years and then gifted to his valet and close friend, Richard Davis. 
The large, square cased 18K yellow gold watch comes accompanied by a box, eight color photos of Elvis wearing the watch and authentication correspondence. Davis began working for Elvis from the early 60's to 1971 as his valet, wardrobe assistant, stand-in and personal bodyguard. 
One day Elvis handed the watch to Davis stating there was something wrong with the back of it. When Davis turned it over he saw it had been inscribed, "To Richard, From E.P." As detailed in the letter, Elvis then said, "I guess it's yours now."
The Corum was one of a handful of gold watches known to be favored by the King, including an Omega Constellation (below), an Omega TC1 digital watch, a Baume & Mercier, and a Hamilton Ventura. He liked to complement the wrist candy with a variety of gold rings and Dunhill lighters. And even in his Army uniform he still exuded plenty of rock and roll style….