Good Luck Dry Cleaners Is The Buzzy Art Collective That's Taking The Fashion World By Storm
The "Swiss Army Knife of art and culture" works with major brands like Saks Fifth Avenue and Lululemon.
Getty Images
Good Luck Dry Cleaners is on the move. Again. Well they're seemingly always on the move; plotting, planning, producing. At the moment, GLDC's founders Jeremy Penn and Phil Reese are in the throes of relocating their gallery/shop/event space in the Lower East Side to another Manhattan location. Where? This is GLDC. 
"When shit drops," says Penn. "We like to make sure to keep it under the radar." That means they're not saying.
https://www.instagram.com/p/B1bwgeZn-_L
Founded in May 2017, Reese describes Good Luck Dry Cleaning as a jack-of-all-trades. "We're a Swiss Army Knife of art and culture," explains the 40-year-old. 
"We showcase art, do event activations, work on the branding and marketing side with clients, collaborate with hip-hop and punk musicians, we have a merchandise line…" 
The point being is they do a lot.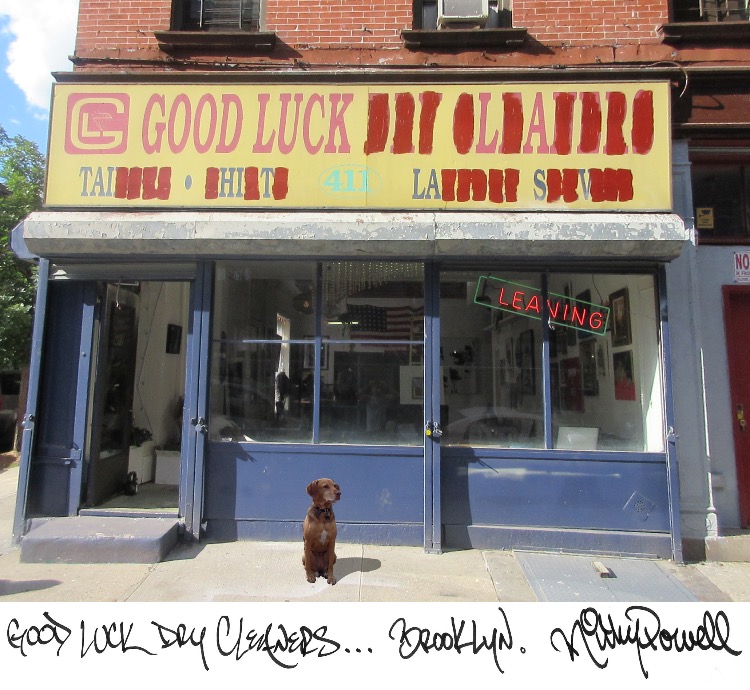 Their first project, converting a decrepit Williamsburg dry cleaners into an art space, got people talking. Within six months, the duo was hired by Saks Fifth Avenue to spearhead the company's Spring Fashion Book campaign (which combined art with over two dozen looks for brands like Prada and Emporio Armani) then transform their 5th Avenue store basement into the premiere party destination for New York Fashion Week. 
GLDC provided the artists, the deejays, and created a vibe that kept the place packed for seven nights. Highlights included a custom built saltwater fish tank DJ booth and reuniting hip-hop supergroup Handsome Boy Modeling School. 
"We weren't looking to give Saks a Mohawk," says Penn. "We just wanted to figure out how to take them into the "now" with real New York elements." 
Not only was the scene the toast of Fashion Week but soon after GLDC found themselves designing the renown Saks window sets. They were barely able to catch their breath when Lululemon called about the brand's 20th anniversary. They wanted a transformation at their Flatiron store. 
The basement bacchanalia featured a vintage Jane Fonda workout video projection (with Chinese subtitles from The Godfather Part III), turquoise painted walls (for a zen jungle vibe), a chimpanzee sculpture (wearing a Lululemon headband) and a hand-built crane game with Lululemon and GLDC swag.
Subsequent clients have included Getty Images, City Winery and even Maxim, who lured the duo to Miami to make a splash with the magazine's epic Art Basel bash at The Plymouth Hotel South Beach, enlisting artists JPO, SACSIX, Edward Acosta and Lambros to help bring the Maxim experience to life during Art Basel. 
"We always want to take a company's message and make it something people can connect to," says Reese.
The GLDC duo's 'connecting' has its origins in New York City itself. Both guys grew up in the Big Apple. Penn eventually became a traditional artist (modern art) and Reese, after stints in acting, singing in a punk band, and working in sports and entertainment marketing and business development, turned to art as well. 
Their influences vary. Penn raves about Francis Bacon, the Marquis de Sade and Willie Nelson, while Reese cites The Clash, Salvador Dali and Kerouac as just a few of the cultural icons that he swears by. They both talk passionately about – and make a staple of their work – the good old days of New York City. The basement parties. The nightclubs that didn't care if you had a black AmEx or not. The whiffs of danger than have been all been basically sanitized by developers and corporate dollars.
https://www.instagram.com/p/Btb3qU_n2_V
Working with a collective of 40-some odd artists, Penn and Reese aren't interested in so much the bottom line as something money can't buy: an authentic, immersive, unforgettable experience. It's why they are "OCD with details." While one of their events might look like a random grab bag of decor and music and booze and guests, the exact opposite is true. Every last detail is carefully thought out. 
As long as a client provides them with their one essential demand – room to run – they meticulously curate to the nth degree. The end result is, as they describe, a specific GLDC vibe crafted to evoke an emotional connection. 
"They take the most artistic stuff, and most obscure, borderline offensive stuff – but not really offensive – and put it all in a place that shouldn't make sense, but makes total sense," explains Mick Batyske, better known as MICK, a Brooklyn-based deejay who's spun at many of GLDC's events. 
"Then they get the most unique mix of people, from legends of different industries, to young cool kids, to randoms off the street who just want to see what it's all about. It's insane."
https://www.instagram.com/p/BnO0jrhHw0x
As for the future? Well it's certainly not about social media "likes." It's not about becoming influencers. Or selling out. It's about continuing their mission. Pushing boundaries. Using the special GLDC sauce to bring meaning to an increasingly meaningless cultural scene. 
Their next big project? There's no point of inquiring. This is GLDC.