Hamilton's New Khaki Pilot Pioneer Chronograph Is Inspired By The British Royal Air Force
The bold pilot's watch nods to rugged aviation-fueled designs of the 1970s.
The best timepieces — and indeed, the best style classics — are rooted in simplicity and a classic nature that's hard to define. The Oxford shirt. The blue jean. And perhaps, if you're lucky, the new Hamilton Khaki Pilot Pioneer Chronograph could be the latest classic addition to your everyday carry.
The rugged, striking new watch–available now for pre-order–carries on Hamilton's tradition of upgrading classic watches with a modern, inspired visage, turning toward its illustrious past to power its future.
In the case of the Hamilton Khaki Pioneer Pilot Chronograph, that means looking closely at chronograph watches issued to British Royal Air Force pilots in the 1970s, then ramping things up with modern components.
Hamilton says the durable 40mm timepiece in particular "celebrates classic military aviation design, with authentic style and engineering."
That it draws directly from the Hamilton archive is a bonus for newfound watch enthusiasts and Hamilton collectors alike. A watch once available only to a select few elite is now (at least somewhat) more available to those who prize a timeless blend of style and dependability.
The handsome and distinctive watch has the internal specs to pair up with the best Hamilton watches on the market, including the exclusive hand-wound H-51-Si movement for accuracy and precision.
A 60-hour power reserve further bolsters that long-range accuracy, the kind once prized on long-haul flights. To wit: The balance spring within the watch is crafted from anti-magnetic material silicon for, as Hamilton notes, "enhanced resistance to extreme atmospheric conditions" — every second does indeed count.
Simple start, stop and reset pushers power the movement, which notably doesn't feature a date function — the move is intentional, based off those RAF watches in a nod to "modern reliability and precision" merged with "signature, vintage-inspired design."
The black dial itself pairs up quite nicely with gold tone dial markings, all of which stands out subtly and stylishly against a brown leather strap designed to get better with age.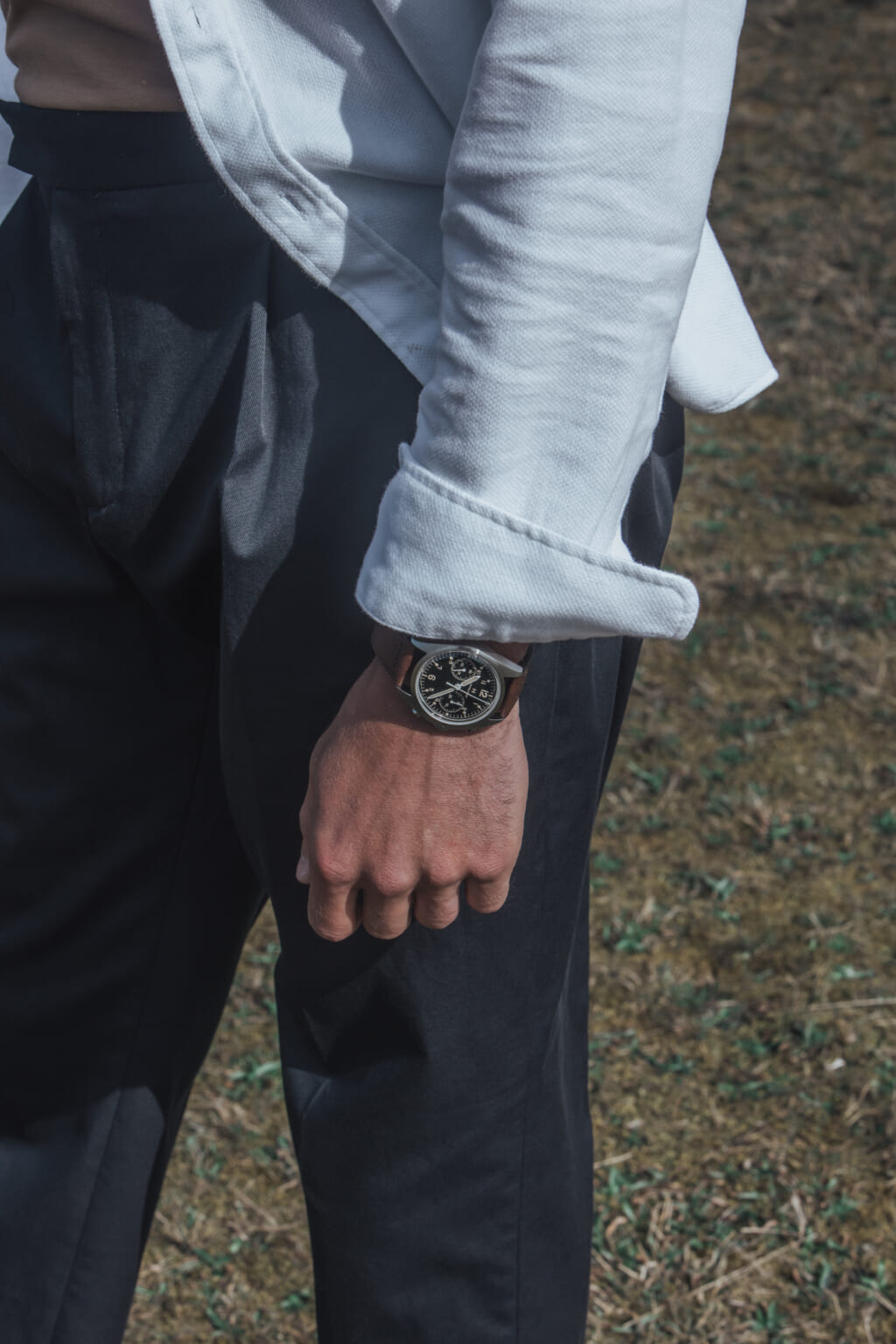 That vintage-inspired design makes this Hamilton pilot's chrono a natural style fit on adventures any time of year, best of all when taking once more to the skies.
It's a reliable style move to accent those other aforementioned wardrobe staples: Your favorite Oxford shirt and blue jeans or tan chinos come to mind, as does a rugged field jacket.
For now, you'll have to keep a close eye out for its on-sale date this month — pre-order it now for the minor splurge of $2,045, and get ready to adorn your wrist in iconic style for years to come.