This Horse in a Tweed Suit Looks Absolutely Miserable
Where are the animal rights activists when you need them?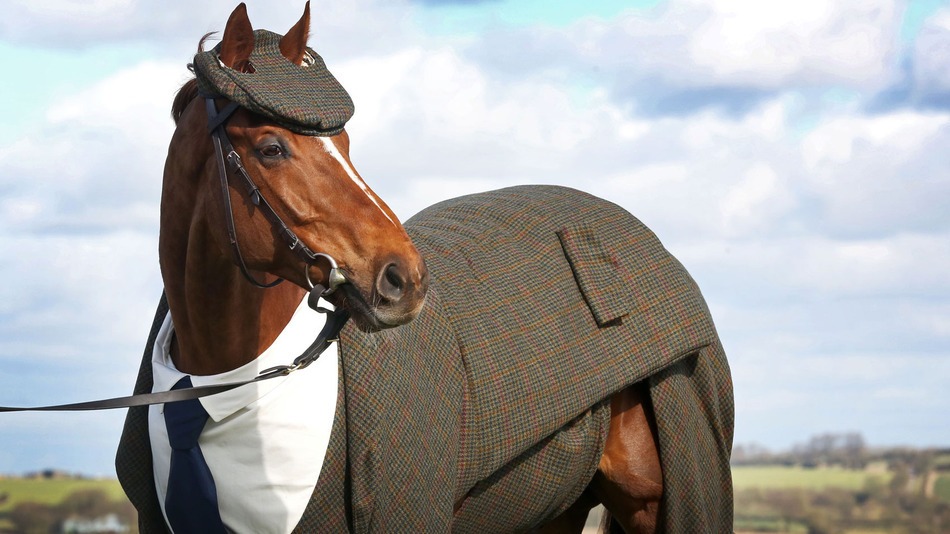 The British obsession with god-awful tacky tweed suits has just manifested itself in a sad new way. 
London-born fashion designer Emma Sandham-King embarked on the seemingly pointless four-week endeavor of designing the "first Harris tweed suit" for a horse as a promotion for the Cheltenham Festival horse race, which began Tuesday in Gloucestershire, England. 
The stunning creature being stuffed into this absurdity is named Morestead, and the short bloke sitting upon the racer's back is 20-time racing champion Sir Anthony McCoy, who appears to be having a great day despite the unmistakable look of shameful embarrassment in Morestead's big ol' horse eyes.
In a measure that seems wholly unnecessary, Sandham-King and McCoy even made a short behind-the-scenes video clip of the process where they pretend Morestead gives a shit about garments before comparing him to the gorgeous model Naomi Campbell. We're not sure Naomi Campbell would agree.