Hublot Debuts 'Big Bang' Luxury Watch Line
This stellar new set of timepieces is out of this world.
Hublot
Hublot, together with Bulgari, TAG Heuer, and Zenith recently took their high-end new inventory to Dubai for the launch of the first-ever LVMH Swiss Watch Manufactures Exhibition. They created the event to give fashion media around the world major previews of what's in store for 2020.
For their part, Hublot is adding to its long-running line of Big Bang watches, and they're doing it with flair, dropping 5 dramatic and colorful new selections, from the shimmer Big Bang MP-11 Red Magic to the coolly linear Big Bang Sang Bleu II.
The Red Magic (above) is one of the most eye-catching new Hublots we've seen, which certainly is saying something. The red case is made from high-tech ceramic, according to the watchmaker, and it was created entirely in-house. It sports an amazing two weeks of power reserve but will quickly be in short supply—Hublot is only releasing 100 pieces, making it an extremely limited edition. 
Check out the rest of the new Big Bang models below.
Big Bang Unico Integral
The new Big Bang Unico Integral is pretty literally-named. To mark the line's 15th anniversary, Hublot created this beauty with an unprecedented integrated bracelet, in which the first link is part of the watch case. 
In other respects, it's a classic 42mm Big Bang, with design elements that look back to the original 2005 model.
Spirit of Big Bang Rainbow
Hublot's new Spirit of Big Bang Rainbow is a direct reference to its physics-laden name, with the rainbow effect coming from a ribbon of gemstones that refract the light.
The cases are constructed from mellow King Gold and the baguette-cut gemstones include sapphires, rubies, topazes, and amethysts.
Spirit of Big Bang Meca-10
The new edition of the Big Bang Meca-10 has been outfitted with a generous 10-day power reserve. It has a generously-sized (for Hublot) 45mm case and comes in three different styles: titanium, black ceramic, and King Gold alloy.
Only 500 of the All Black pieces will be available for purchase.
Big Bang Sang Bleu II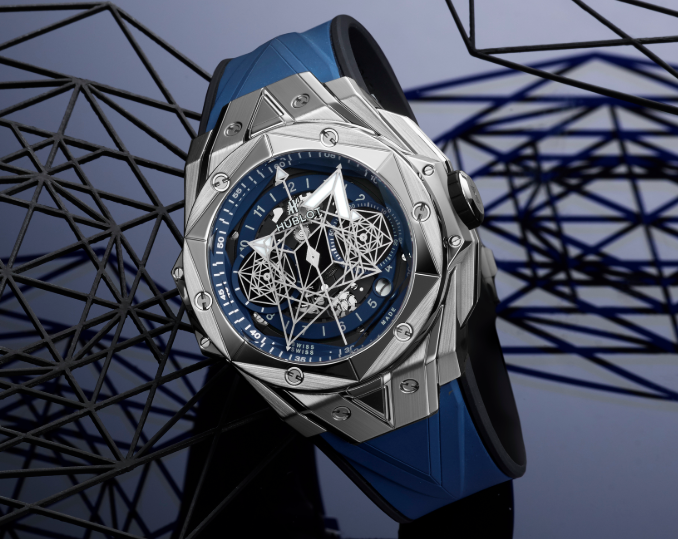 Hublot's own press release for the Big Bang Sang Bleu II calls it a "true piece of sculpture for the wrist," and we're not going to disagree with that. The design of this truly striking automatic was inspired by tattooing as an art form, not sculpting. Hublot specifically noted the work of Maxime Plescia-Büch, a Swiss tattooist who founded London's legendary Sang Bleu tattoo studio. 
Each new watch is tattoo-ink blue and they come in either titanium or King Gold and and measure 45mm. The HUB 1240 automatic chronograph, Hublot says, has a 72-hour power reserve. 
Exact release dates and pricing are still unknown. But you can check out the current Big Bang selections here, where they range from the low $20,000s up to $370,000.