Hublot Pushes Big Bang Boundaries With MP-13 Tourbillon
Hublot's latest Big Bang watch is a $158,000 collector's piece.
The Hublot Big Bang is already a work of horological mastery, a bold watch with bold pedigree that can serve as a starting point for even further innovation in the world of luxury watches. It's a high bar to clear, but the new Hublot MP-13 Tourbillon Bi-axis Retrograde is among the boldest Big Bangs in recent memory.
Announced as part of the stunning luxury watch trade show Watches and Wonders, there's plenty to love about this timepiece, starting with the fact that it boasts a brand-new, 100 percent Hublot manufacture complication.
The double-axis tourbillon movement is impressive in its own right, displayed in both proud and intricate fashion as part of the dual retrograde display dial.
Hublot rightfully calls the watch one that's "aimed at collectors eager to discover the watchmaking of tomorrow," as well as a timepiece that "writes a new chapter in the MP story."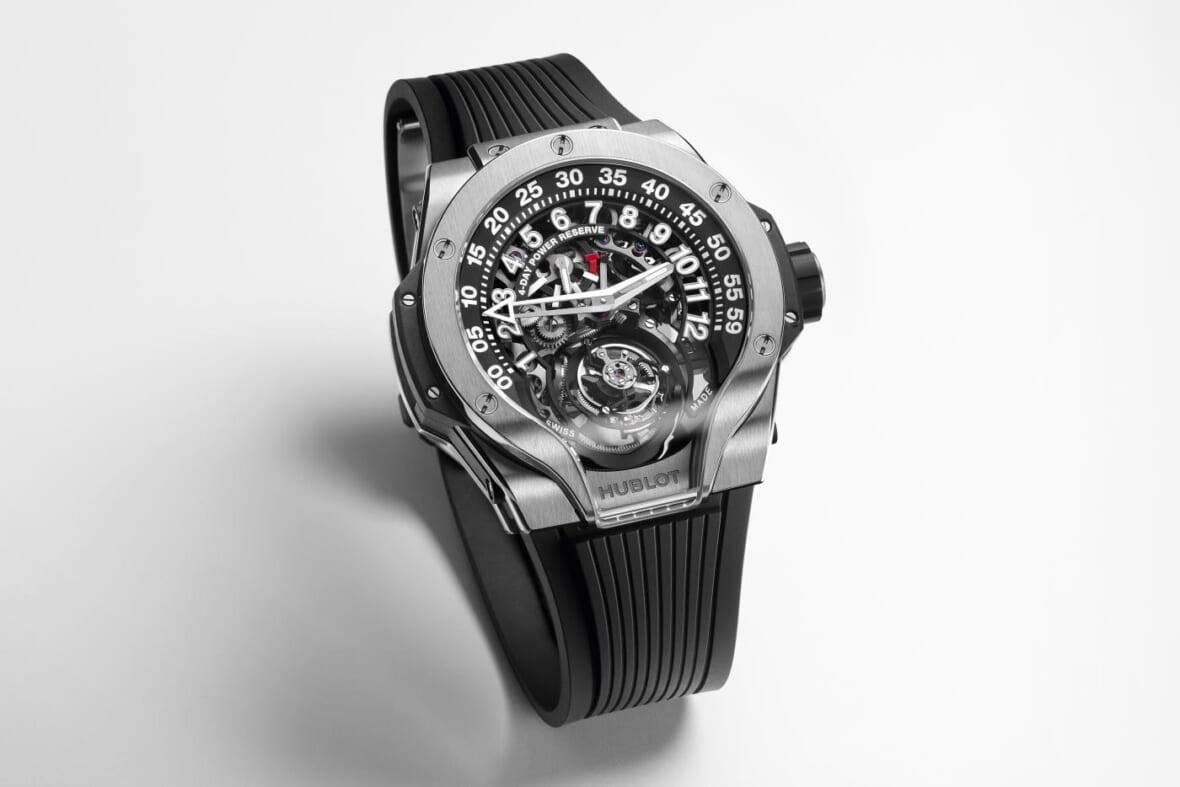 The 44mm brushed titanium case is complemented by a sporty ridged black rubber strap for a distinctive touch, but it's the dual-display dial that really steals the show (as with most Hublot Big Bang watches).
Hublot also notes that it's one of the few watchmakers with the ability to devise and manufacture a double-axis tourbillon entirely in-house: The tourbillon completes a full rotation every minute on one axis, while also completing another rotation on the other axis every 30 seconds.
The movement is set by one crown at the 3-o'clock marking, and the display is meant to be read from left to right for what the watchmaker calls an intuitive timekeeping experience.
The haute horologist calls the effect "hypnotic and technical," and one look at the movement itself drives home that point quite nicely.
For good measure, the tourbillon is both suspended and delivered with a skeletonized view for a further touch of technical watchmaking mastery.
What's even more impressive is that the energy-consuming bi-axis retrograde movement demands, well, quite a lot of energy, yet the movement boasts a power reserve of 96 hours.
All of this doesn't come cheaply, or at a large scale: Only 50 numbered editions of the MP-13 Tourbillon are set to hit the market, at the very rarefied price of $158,000.