This Glass Cabin in Iceland Could Have the Sickest Views of Any Hotel on the Planet
Watch the Northern Lights from your bed.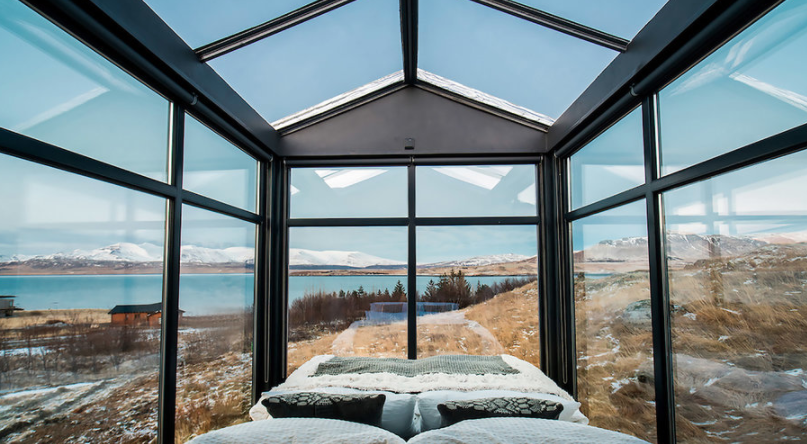 Panorama Glass Lodge
If you've ever wanted to camp out under the sky and watch the Northern Lights but figured it was too cold, head to Iceland. About 30 minutes outside Reykjavik is the Panorama Glass Lodge, and it looks like the cabin of your dreams.
This fully-equipped cabin is completely open to the sky and looks right out over the Greenland Sea.
You could pretty much stay there indefinitely if you could afford it. It's got a rain shower and room for two in the bedroom—and a hot tub. The kitchen is electric and ready for prepping a gourmet meal with fully electric appliances. 
This is one of the most private getaways you'll find, and past guests vouch for just what a unique experience it is.
A sample review of the stay from TripAdvisor.com proves it's worth the trip:
Me and my girlfriend stayed at the Lodge for one night and it was hands down the most beautiful stay we have ever booked. The view from the hot pot is incredible! There is no one around and you get to enjoy full privacy and silence. And also laying in the cozy bed and watching the stars and the sunrise was kinda magic. We got the feeling that we were floating in the sky…
It's not kid-friendly, no pets allowed and no smoking, but you probably won't care.
Look, there's fishing nearby, golf a half hour's drive away, horseback riding, even a beach. But chances are if you're there with the right person, you won't need any of that.
Depending on the season you'll pay anywhere between $420 and more than $600 a night. 
Go ahead and book a flight to Reykjavik today.
h/t HiConsumption