IWC Big Pilot's Spitfire Is a Stylish Salute To Classic Military Watches
The IWC Big Pilot's Spitfire is a rugged, functional timepiece with serious mil-spec style.
They just don't make 'em like they used to, until, well, they do. That's what IWC is doing with its latest watch launch, the bold and rugged IWC Big Pilot's Spitfire 43, a fitting nod to the rugged functionality and extreme dependability of mil-spec watches. The lightning-fast speed of the Spitfire plane is also a fitting homage, and it's engraved on the handsome titanium caseback.
IWC is never a brand to rest on its laurels, pushing the limits of design through partnerships with Mercedes-AMG and pushing the boundaries of its own design prowess with new and improved models. That takes the form of a retooled, souped-up military-style watch that manages to seamlessly blend the elegant and the field-ready.
The Big Pilot's line already encompasses a handful of models at IWC, but none quite like these two new introductions to the family. The new launch of the IWC Big Pilot's Spitfitre 43 carries on the IWC heritage of making timepieces that really do stand up in the field, in water or in the air (IWC once supplied the Royal Air Force with the Mark 11 navigation watch).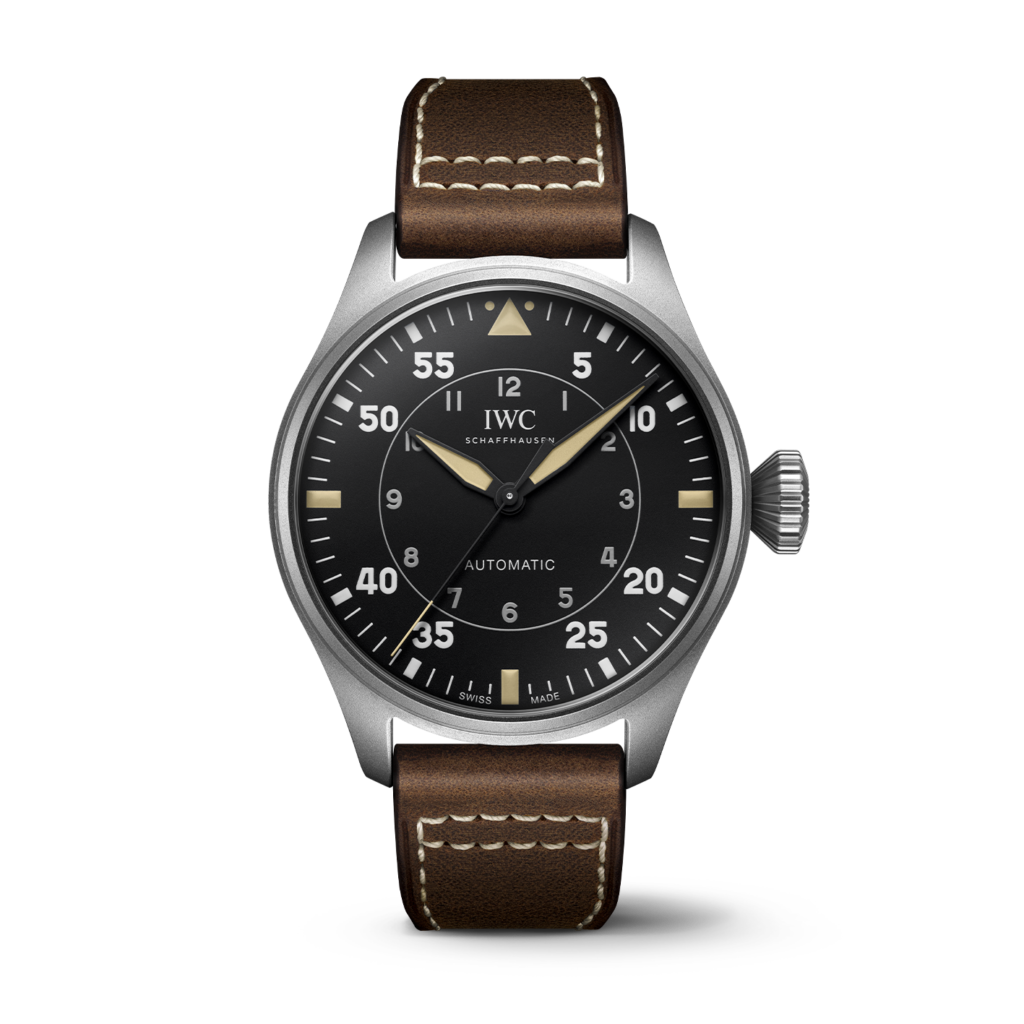 Take your pick from either iteration of this iconic field watch made new: One style of the Big Pilot's Spitfire 43 merges a black dial and a titanium case, while the other edition might just be our favorite, featuring a bronze case and a rich green dial outfitted on a textured green buffalo leather strap.
It's a striking package that's at once dressy and yet casually rugged.
The bronze case actually makes use of aluminum and iron, making it more hard-wearing than standard bronze. It'll also develop a wonderful patina over time, living up to the investment-worthy nature of this watch (it retails for $8,950).
"What sets these new Spitfire models apart is their military aesthetic with closed case backs, inspired by the rugged field watches from back when the iconic Spitfire graced the skies," said IWC Schaffhausen Creative Director Christian Knoop.
These watches represent the ideal blend of form and function, using a dial design inspired by observational watches. That means hour markings appear on a smaller, inner grey ring on the dial, while minutes and seconds appear in white on an outer ring. It's a fitting nod to the fact that every second counts, whether criss-crossing the globe or jetting across town.
Luminescent hand and hour markings provide maximum visibility on the go, and the inner workings of either version of the IWC Big Pilot's Spitfire are just as impressive. Each watch derives its super-sharp timekeeping abilities from the IWC-manufactured 82100 calibre movement, boasting a 60-hour power reserve and components that are virtually wear-free, according to the brand.
With reliable inner workings, handsome exterior design and visually striking details throughout, (not to mention a beloved homage to the past), the IWC Big Pilot's Spitfire 43 is a remarkable addition to any collector's watch rotation, and that's an understatement.