Jacob & Co.'Twin Turbo Furious' Watch Is a High-Octane Tribute To Supercar Style
This $580,000 timepiece costs as much as an actual supercar.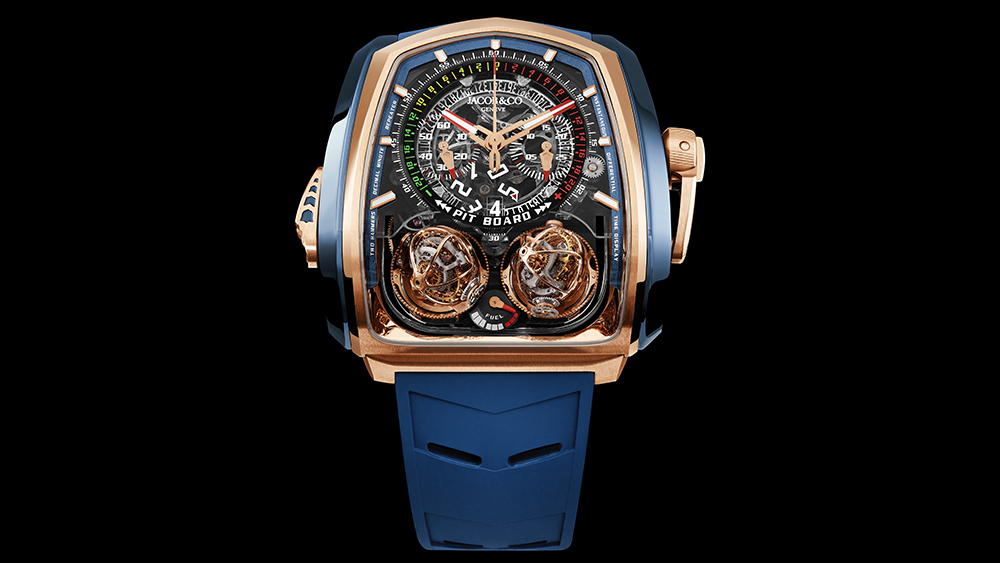 Following the blacked-out, Bugatti La Voiture Noire-inspired Twin Turbo Furious, avant-garde watchmaker Jacob & Co. has updated the incomparable high-octane chronograph with blue titanium.
It's a beast of a horological accessory, with a 57mm-by-52mm case crafted from blue titanium and 18-karat rose gold. Robb Report spotted the watch, adding that its dial-encompassing blue flange is made from a thermal- and shock-resistant resin called Neoralithe.
Like previous Twin Turbo Furious examples, the expertly engineered design incorporates two "accelerated" triple-axis tourbillons, which work to compensate for the effects of gravity on the precision of the grand complication movement, made up of 832 individual parts.
Its motorsport inspirations are also celebrated with a pit board-inspired indicator, which displays the difference in seconds in comparison to a reference time, as well as a decimal minute repeater.
While not as expensive as a Bugatti, the Jacob & Co. Twin Turbo Furious Blue Titanium does cost as much as many custom supercars at $580,000. Only 18 will be made—head to the brand's website to inquire.