How Designer John Varvatos Became a Menswear Rock Star
Check out some of his rocker-inspired looks right here.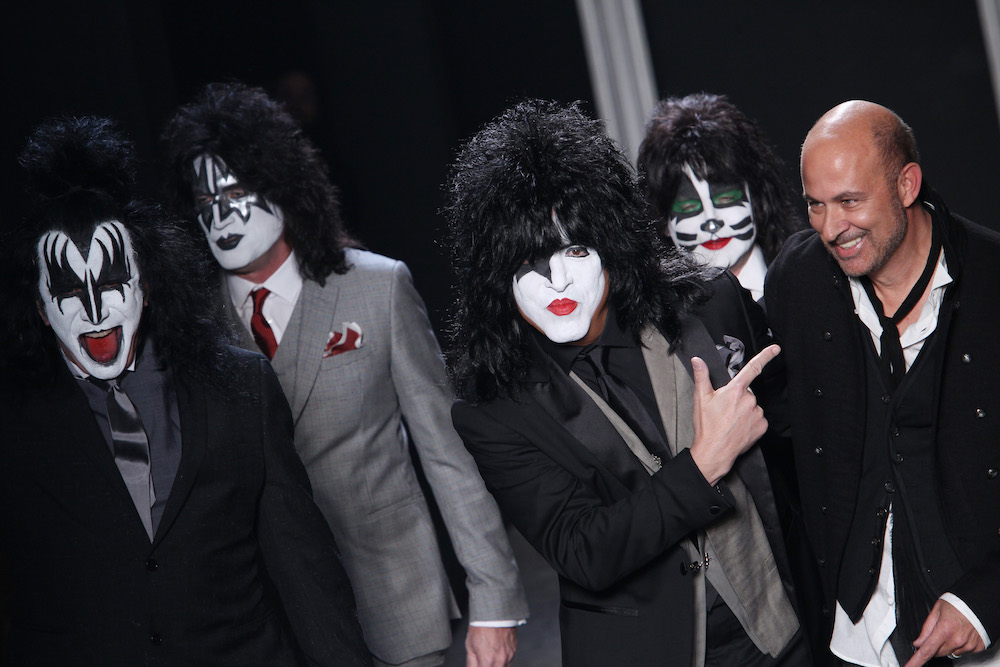 When John Varvatos launched his eponymous American label 17 years ago, the fashion world was so different it might as well have been the Paleolithic era. 
"There was no online business out there. Until 2007, there wasn't even an iPhone," Varvatos says today from his office in New York City's Flatiron District. The room is filled with rock & roll memorabilia: platinum records from Alice Cooper; moody black-and-white Jimi Hendrix photographs; a sound system with speakers so large that the setup takes up nearly an entire wall. "How we get information has changed so quickly," Varvatos adds. "Today, everything's instantaneous."
While some of these technological advancements may seem obvious— especially to a Millennial—what is a little harder to pin down is how, exactly, Varvatos Inc. has crept into the zeitgeist. Stylish men under the age of 45 walking around Detroit or Manhattan wear Varvatos' rumpled leather jackets just so, not to mention his leather chukka boots and high-end sneakers, made in partnership with Converse. 
Add to the mix regular celebrity clients and "personal friends" like Iggy Pop, Hozier, and Machine Gun Kelly, and it's clear that anyone with a penchant for insouciantly cool, music-tinged vibes need look no further than John Varvatos.
Varvatos has worked hard to turn rock & roll fashion—what he calls his "energy force"—from merely a spark of an idea into a business. Today, the brand's own website and retail stores are ensuring that his directive continues to thrive. In 2016, the company experienced a more than 50 percent increase in sales through its website, and 2017 has been a big year for brick-and-mortar, despite the dismal current retail climate, with store openings in Dallas and Los Angeles. Next March, the company will open its first outpost in Dubai. 
Varvatos fell in love with music as a kid in his hometown of Detroit, where he was in influenced not only by Led Zeppelin and Iggy and the Stooges but also the wild sensibility of Marvin Gaye. (Nowadays he also has his own record label in partnership with Big Machine Records.) 
In 1999, after honing his design craft at Ralph Lauren and Calvin Klein, Varvatos, who had begun developing his own eclectic, cool aesthetic, had an epiphany when he walked into a Barneys New York. "I started looking at all these brands at the time—Jil Sander, Helmut Lang, Prada—everything was black and nylon," he remembers. "There were a lot of followers."
Determined not to be one of them, Varvatos debuted his first collection for fall 2000 without a single black look. "It was a statement that you can still be modern and edgy and have a heritage," he says. Tailoring was big in the lineup, as was an inherently masculine vibe—both uncommon for the time.
The designer continues to abide by this cool-guy ethos, constantly updating his core pieces (skinny suits, easy Henley shirts), while still pushing the boundaries of what's new. A fall offering, for example, might include a lynx-print biker jacket and a pair of olive-green velvet slim-fit pants, while fringe sneakers and military jackets with an urban sensibility might show up in the spring collection.
Adapting and changing with his customer base is part of the Varvatos DNA. "The longest-lasting brands in fashion have been evolutionary brands. They continue to evolve and mature, but they don't push the envelope too hard."
Varvatos doesn't follow cyclical fashion trends and is more in tune with what the average man wears while walking down a city block, emphasizing how a "thrown together" outfit often looks best. "Great clothes for guys is our only driving force," he adds.
At 63, Varvatos still has a good few decades left in him, but he's admittedly starting to think about his legacy. 
"I've watched over the last 17 years: Men's and women's brands have come, and some of them that were just so hot aren't even around anymore," he says. "I'm not at this point in my life where I'm thinking about retiring, but as you get a little bit older, you want to continue to be one of the most important American brands. I want what I do to live on."
We hope you love the products we recommend! Just so you know, Maxim may collect a share of sales from the links on this page.