The King of Nineties Concert Art Breaks Down His Greatest Rock Posters Ever
These awesomely old-school gig posters will rock your world.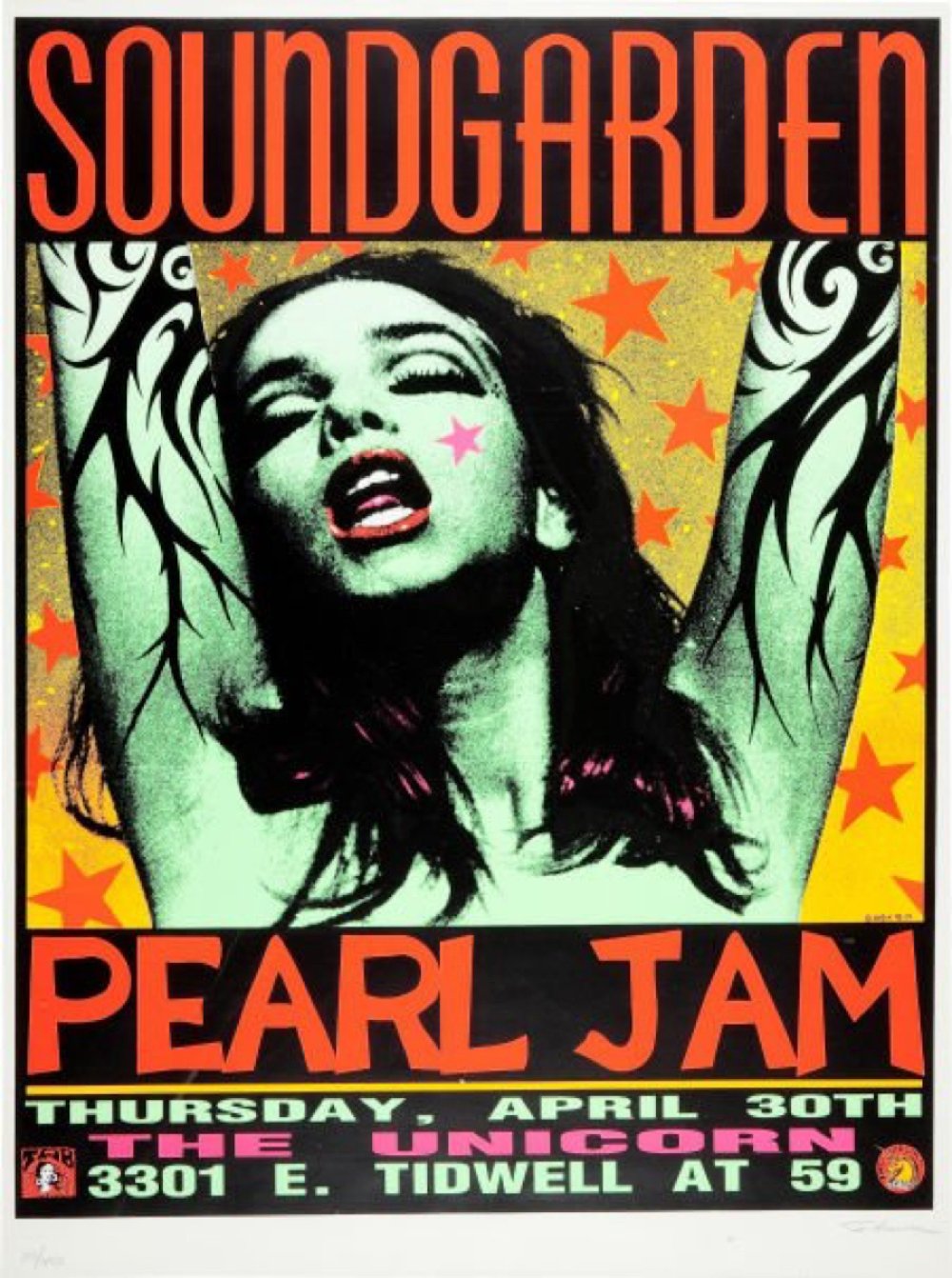 When it comes to vintage alt-rock concert posters, Frank Kozik is something of a legend. His boldly colorful silkscreen tributes were seemingly everywhere in the nineties, heralding gigs by Pearl Jam, the Beastie Boys, Nirvana, The White Stripes, Neil Young, Green Day, Soundgarden, Dinosaur Jr. and the Red Hot Chili Peppers, among others. 
The San Francisco-based artist designed the cover of The Offspring's 1998 album Americana, authored three books, and directed several music videos, including Soundgarden's "Pretty Noose". Kozik used money from a Nike ad campaign to launch Man's Ruin Records, a scrappy indie label that released records by Queens of the Stone Age, The Melvins, Kyuss and the Dwarves. So yeah, the dude's got seriously good taste.  
In recent years, Kozik has focused on fine art. He's Chief Creative Officer of boutique toy brand Kidrobot—which just relaunched the popular eighties collectibles Madballs — and produces limited-edition toys and figures, including his signature Labbit character. And he's still dreaming up some pretty freaky concert posters, too.
Maxim asked Kozik to pick his all-time favorites and describe what he liked best about them. Here's what he sent back:
Red Hot Chili Peppers, 1989 
"Psychedelic posters were not the norm in the post-punk '80s scene, so I decided to start doing them, just to be weird. Crude lettering and crass colors plus somewhat morbid content (that's Sharon Tate) seemed to be the ticket to have them be accepted…"
Ramones, 1990
"I always identified with the Ramones with leather jackets. Not being a fan of ugly rocker dudes on posters, I asked a friend of mine, Abby Antweil, to snap a pic of one of the local Austin scenester girls in a… yeah… leather jacket."
Motley Crue, 1989
"This late '80s piece for a Los Angeles show was hated by the band… so I felt it was a success. It's a combination of illustration and collage."
Bad Religion, 1990
"Had fun sort of slabbing together a bunch of atavistic (well, by 1990 standards, anyway) images on an updated bad acid trip Kali… or is it Shiva? Anyways… sort of violated my 'do not use a visual pun' rule on this one, but hey, the band loved it, so what do I know?"
Beastie Boys, 1995
"For me, they just had pure energy… so I wanted just a hugely energetic poster. Looks like it worked out OK. This was a huge silkscreen, 35" x 22.5"."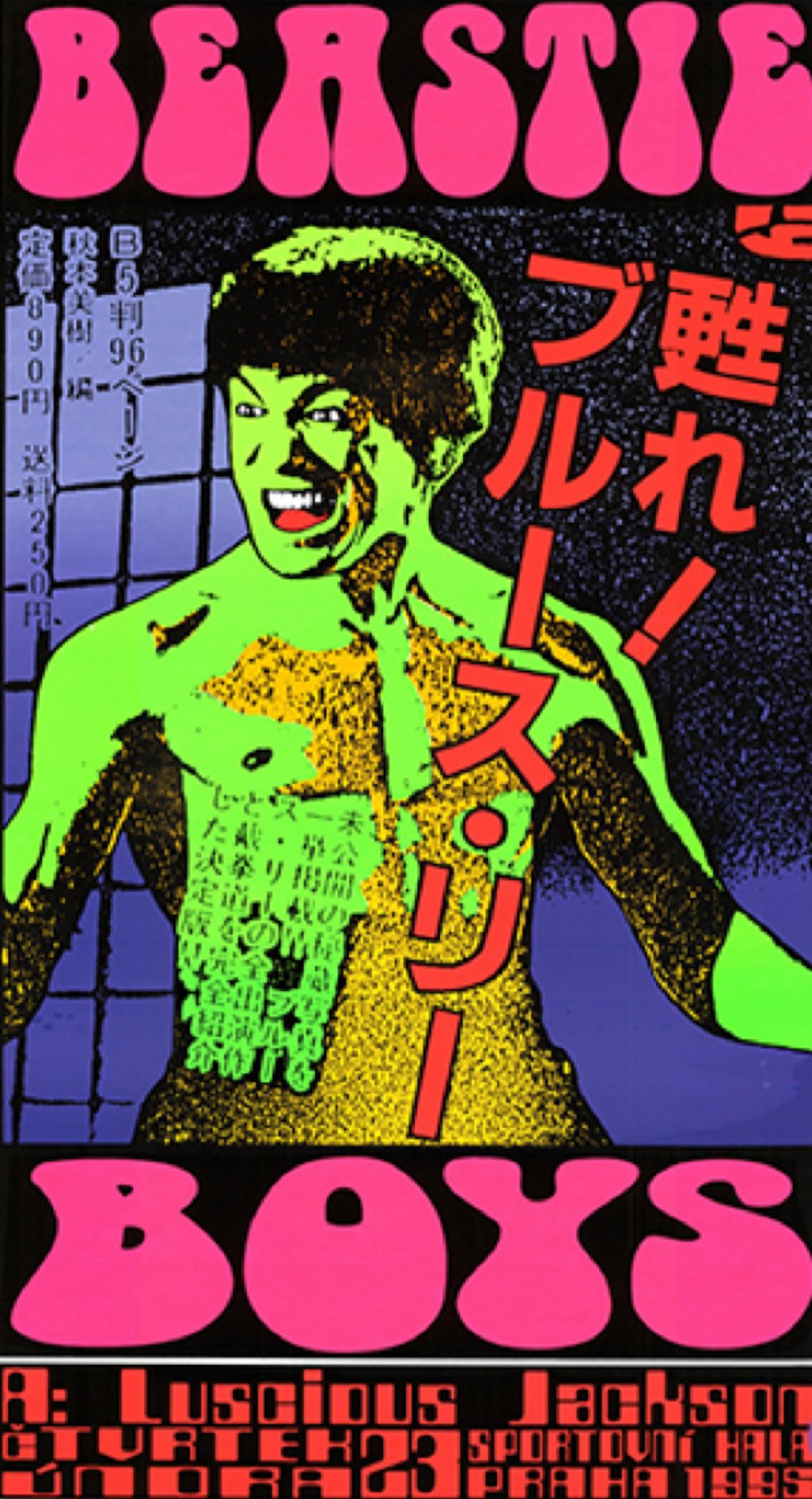 Nirvana, 1993
"At this point in their career, every single promotional image was just a picture of Cobain looking moody, so I decided to just get weird and draw my vision of Nirvana… which apparently at the time was innocent children dancing with God in the Fields of Elysium. Guaranteed to be the weirdest Nirvana poster ever made."

Neil Young, 1993
"I was very excited to do this piece because Neil Young generally did not let people do posters back then. It's basically a photo of High Bear who was the only Chief not to accept life on the Rez after the Ghost Dance debacle. He took his people north into Canada instead. Mr. Young really liked the poster and I think it is still on the front page of his website."

Helmet, 1991
"No meaning behind this… Helmet was basically jock rock hardcore, and I had just set up my own silkscreen shop. This was the second poster I ever printed all on my own, an experiment in color and printing. Features Jayne Mansfield with Manson background. It was sprinted on odd sized scrap paper so no two of these were the same dimensions."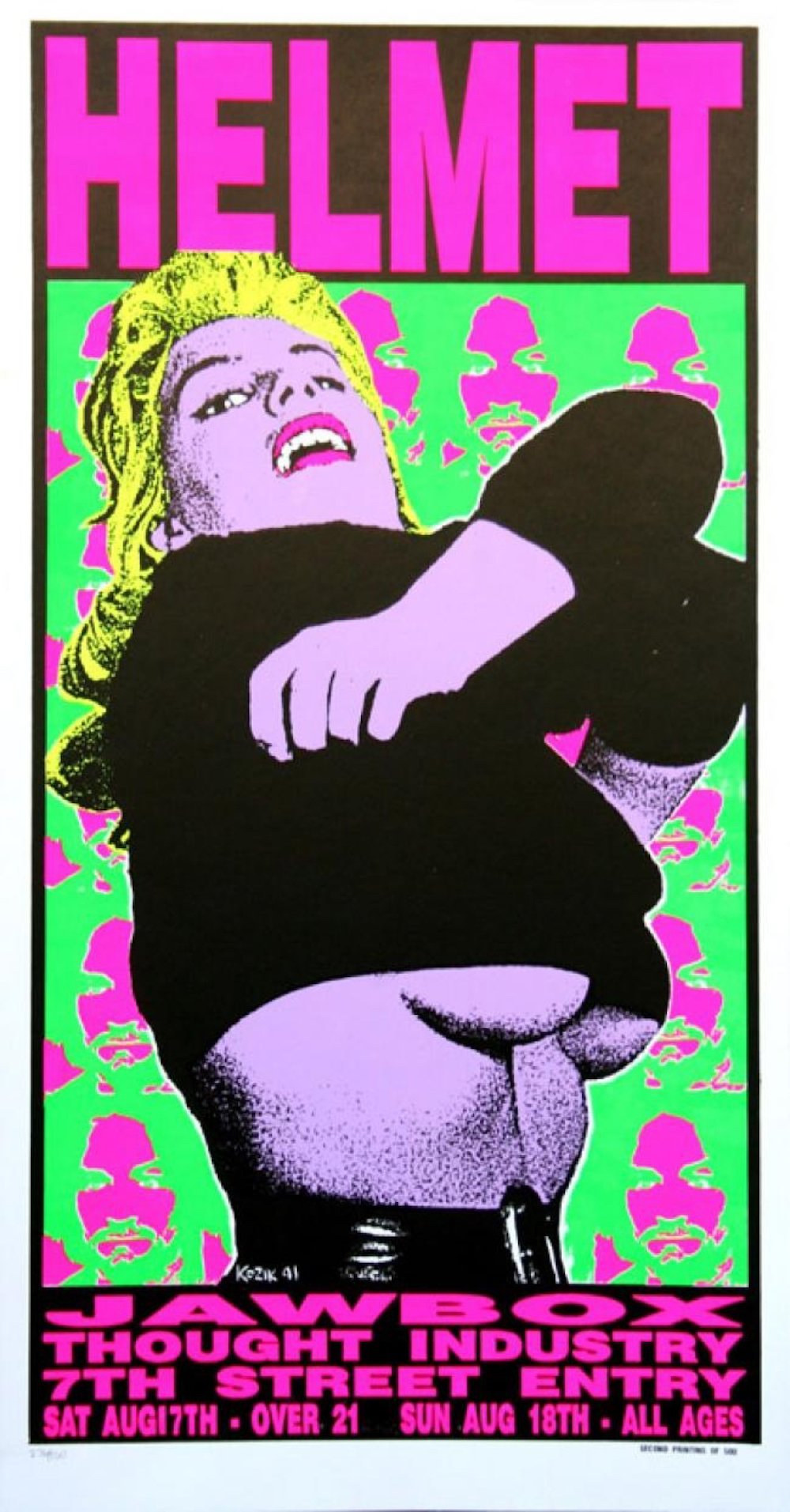 Pearl Jam, 2013
"This was from a few years back, thought I would explore the realm of the peyote cowboy and work in the old four-eyed gag. It has a William Blake quote printed on the back… as he tended to traverse the same mystic realms, albeit without any chemical aids."

Morphine, 1995
"For some odd reason I always associated this band with a sort of classy-yet-degenerate vibe, so we have what I suppose is an Eldritch socialite highly appreciative of her stage door Johnny's gift of an arcane item from The Outer Darkness… all set up like a 1950s men's magazine cover."

Slayer, 1991 (1989?)
"An exercise in METAL. It was even printed on silver foil. 1989 I think."

Soundgarden, 1992
"By far my most popular and famous poster. Which is ironic because I had no idea what to do, so I spent maybe 20 minutes drawing some tattoos on a picture of a girl cut out of an old softcore porn poster for a movie called Inga… but I guess the energy was right because this is like, the most desired poster from my '90s work. I have seen this poster sell for like $5,000 dollars on Ebay. It literally took 20 minutes. Go figure."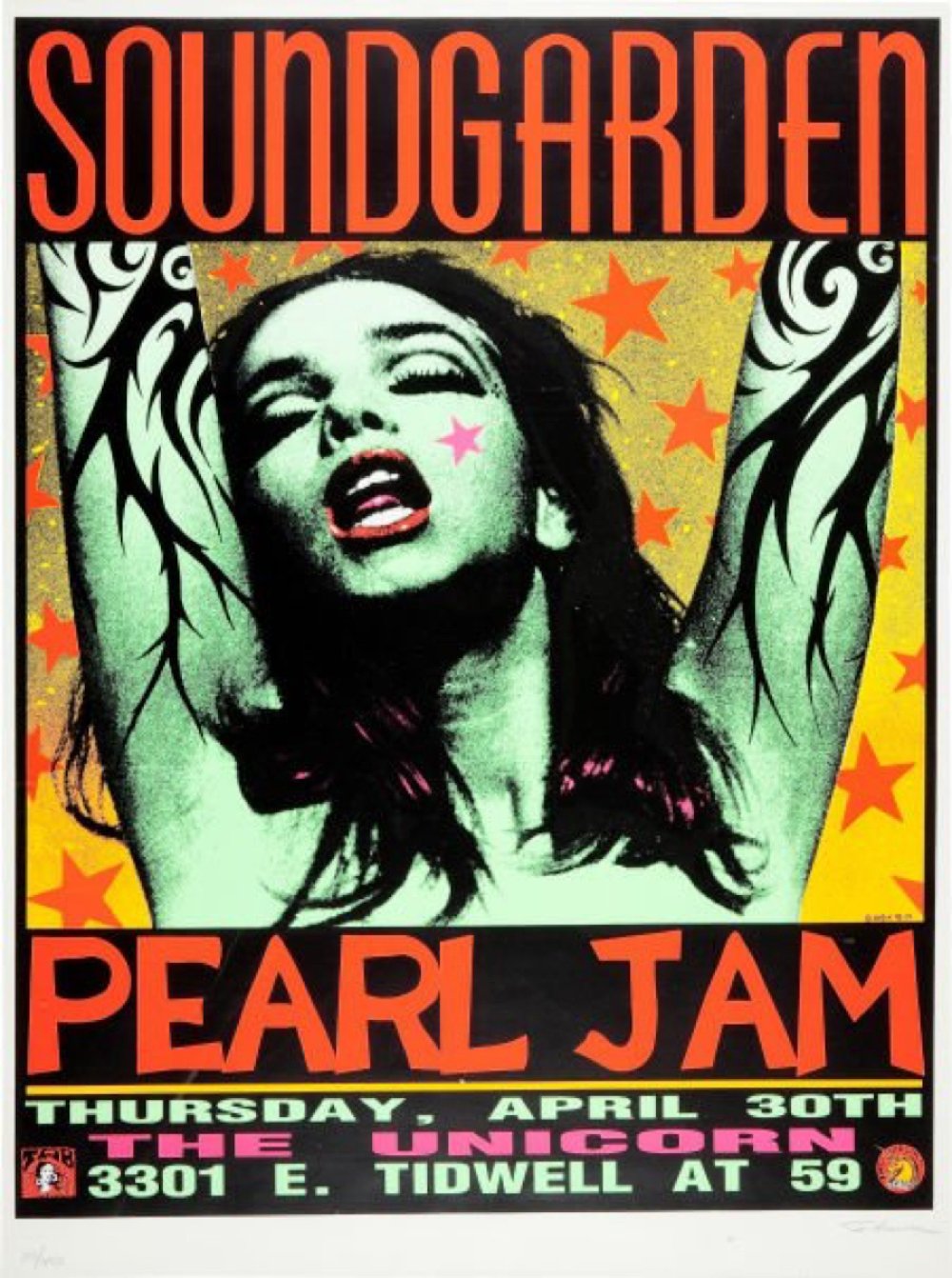 Nine Inch Nails, 1994
"I had a real obsession with Sharon Tate and Charlie back in the early '90s. Maybe we all do at some point, so here's my ultimate tribute to that doomed romance. (What a horrible thing to say). This poster was a huge thing at the time and remains highly desirable. Another very large format piece, very stunning in real life."

Butthole Surfers, 1991
"Ever wonder what Wilma, Betty and Pebbles did all day while the boys where off at the quarry? WELL NOW YOU KNOW. Beyond the Valley of the Gwangi…"
Smashing Pumpkins, 1996
"Oddly enough, I didn't really like this band, to me it was a band that annoying girls were really into, but I had to do something so I figured hey maybe a 'poetic and ambiguous" thing that annoying '90s girlfriends might like. Well guess what, they did. Ugh. Looks like Billy has become very poetic and annoying himself lately so maybe it was prescient."