Classic Bowling Movie 'Kingpin' Has Inspired the Ultimate Vegas Hotel Suite
With two full-sized bowling lanes, a pool table, and full bar, the 4,500-square-foot space is an epic Vegas party pad.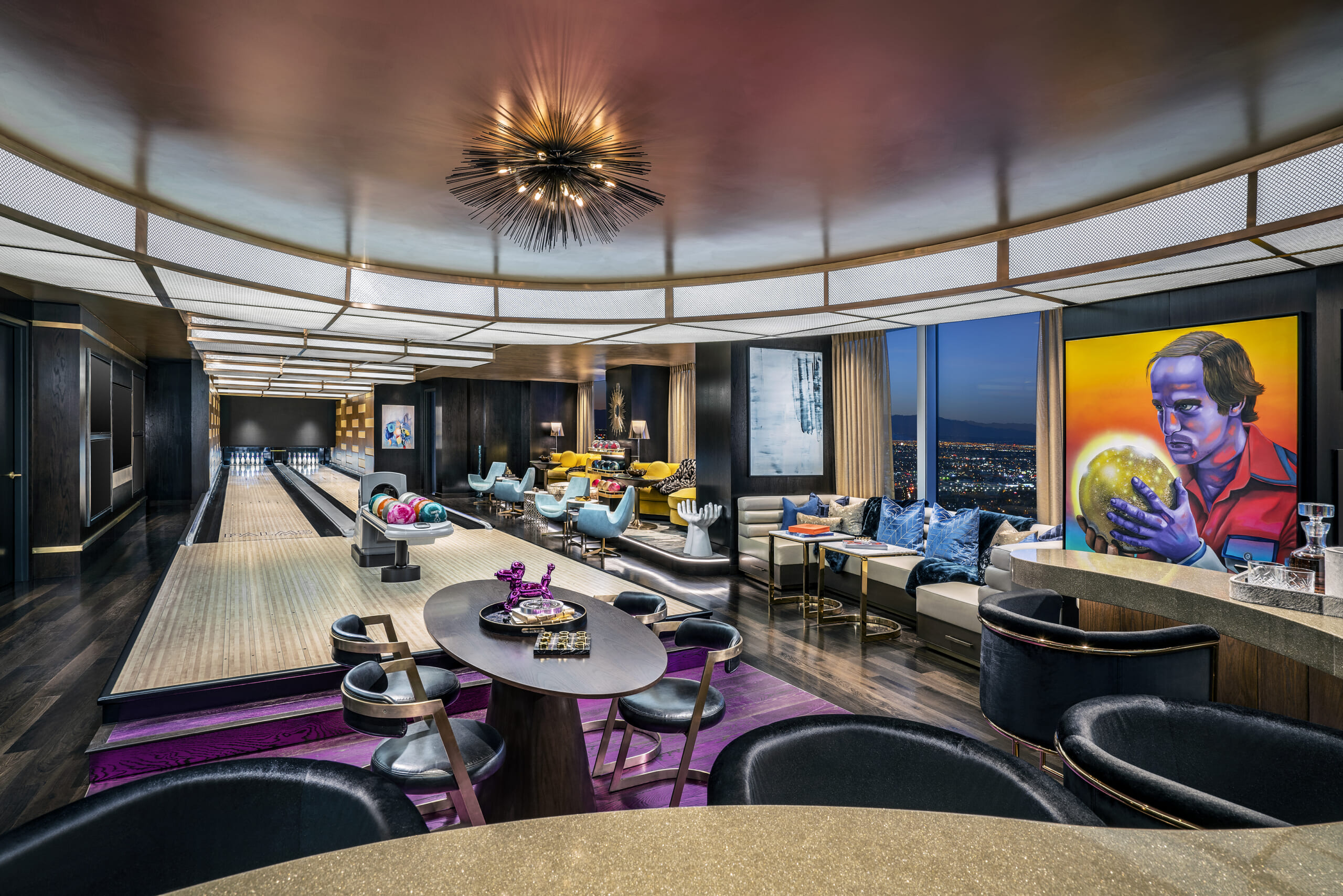 (Photo: Palms Casino Resort)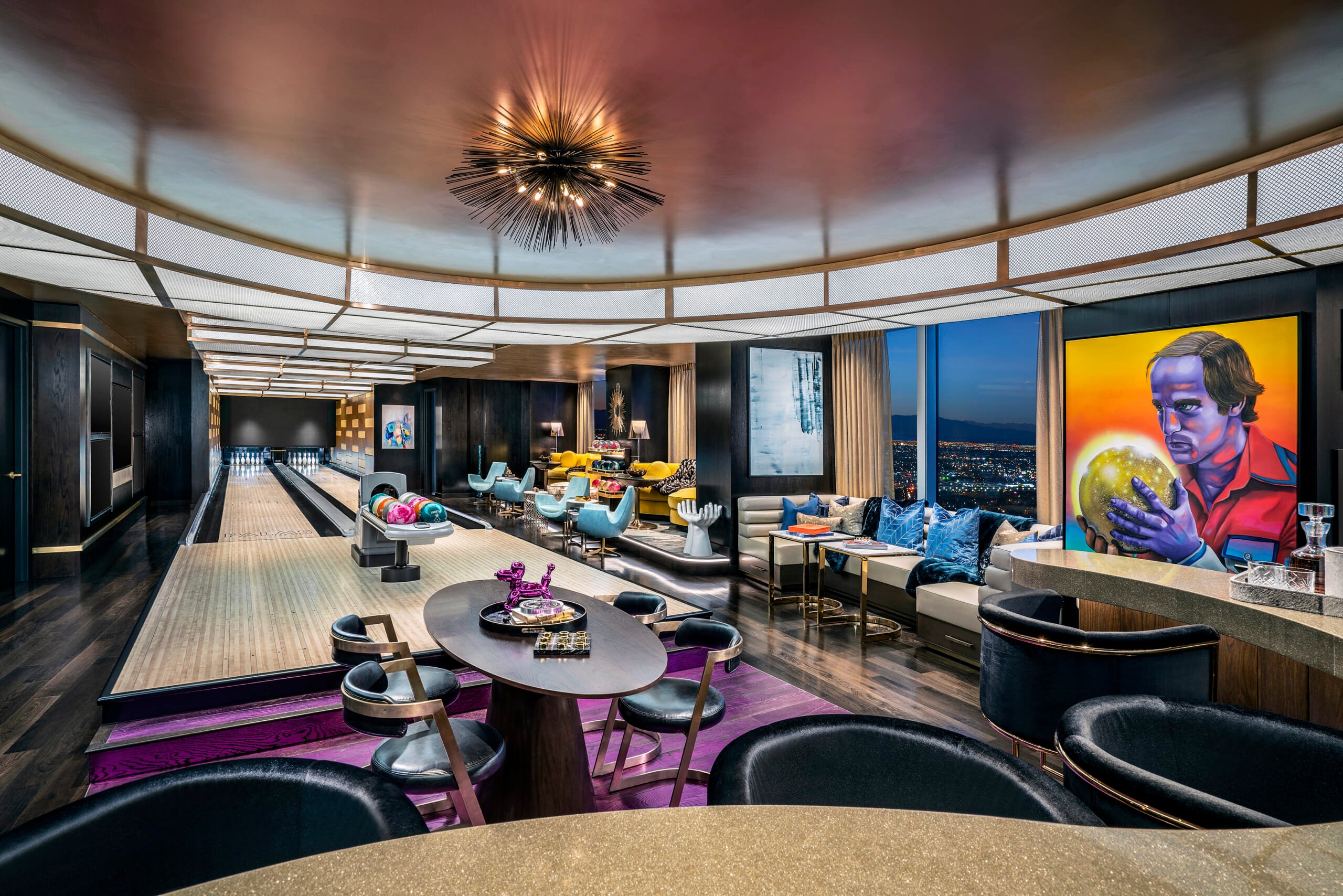 As part of a massive $690 million renovation, the Palms Casino Resort in Las Vegas is adding to its lavish collection of themed luxury suites with redesigns of two sprawling spaces: the Kingpin Suite and the Hardwood Suite.
The Kingpin Suite pays homage to the beloved 1996 bowling comedy Kingpin, and at $15,000 a night, the 4,500-square foot-suite has all of the over-the-top amenities you'd expect for high-rolling Vegas players.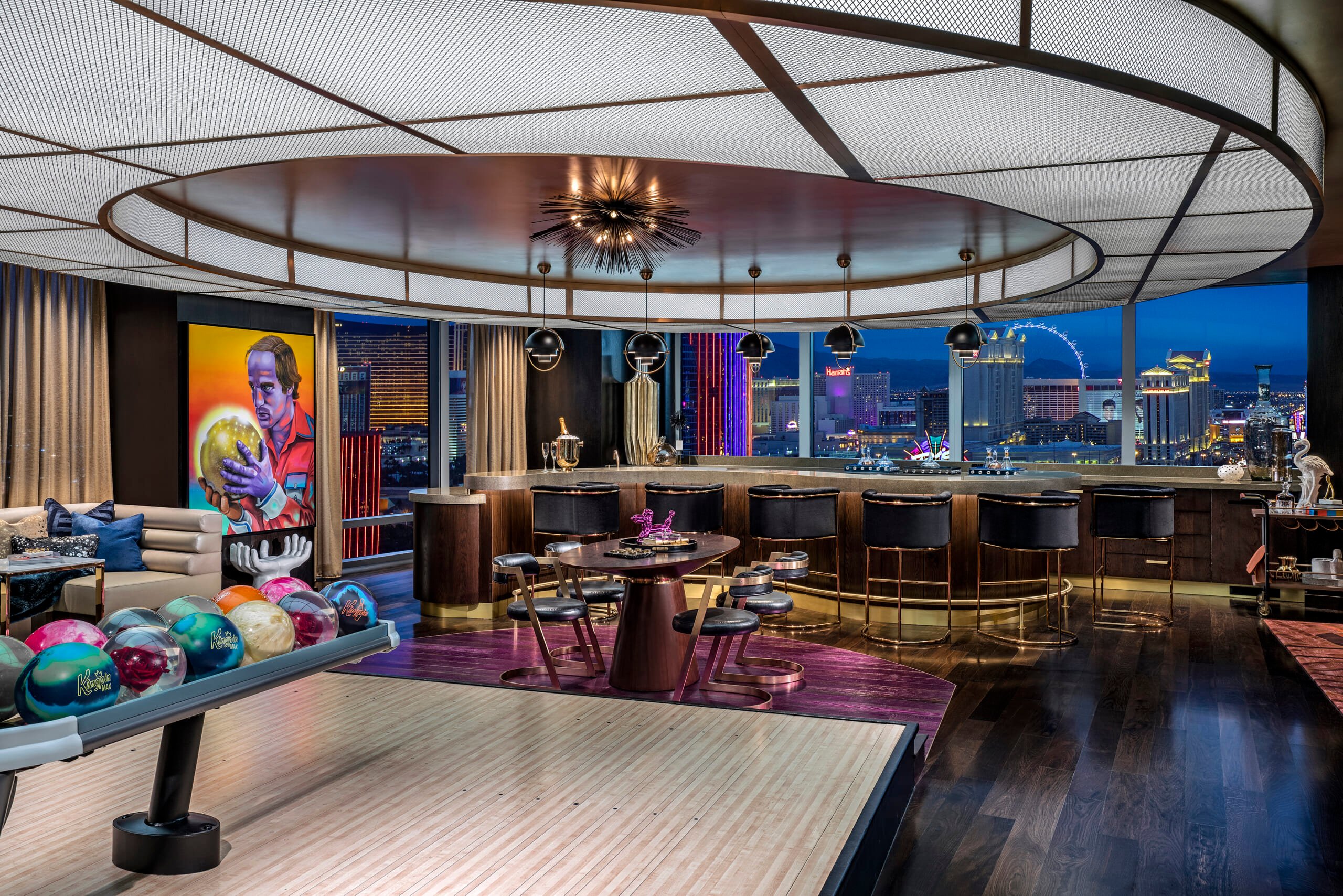 In the middle of the suite are two full bowling lanes complete with shoes, bowling balls, an automatic scoring system, and eye-popping views of the Vegas Strip.
On opposite sides of the bowling lanes are two sprawling bedrooms, one of them decked out with double queen bunk beds, and 2.5 bathrooms throughout the suite. 
Multiple lounge spaces, a pool table, several big screen TVs, a fully-functional bar, and modernized '70s aesthetic that includes faux fur throws, crazy textures, and neon signs make for one epic experience.
Basically, it looks like a suite fit for "Big Ern" at the top of his game.
https://www.youtube.com/watch?v=AClQyr2koxc
Then there's the Palms' basketball-inspired Hardwood Suite, which was remodeled by Rockwell Group in collaboration with street artists Joshua Vides, Patrick Martinez, Cryptik, and MADSTEEZ, and is an even more luxe experience at $20,000 a night.
Sporting luxurious urban vibes precipitated by industrial materials, dark wood, neon signs, glass fixtures, and rich upholstery, the two-story suite boasts two bedrooms and 4.5 locker-style bathrooms over a massive 10,000 square feet.
Adding to the ultra-luxe accommodation are a hidden whiskey room, game room equipped with a pool and poker table, 10-person dining table, and a 16-seat bar big enough to fit an entire NBA team.
The suite features a black and white basketball court painted by Joshua Vides, and in case you eat, breathe, and literally sleep hoops, you can crash (or smash?) on the court on one of three murphy beds. 
"The Hardwood suite has long been regarded as one of the most over-the-top hotel rooms around. As part of our property-wide reinvention, we decided to give our most notable suite a truly luxurious upgrade with relevant designers and artists while still preserving the amenities that made it so unique," Jon Gray, General Manager of Palms Casino Resort tells Maxim. 
"Back in 2005 when we created the then 'Fantasy Suites' at PALMS, we had this radical idea to add bowling lanes, basketball courts, and DJ booths to our rooms with amenities that you'd only think to put in your dream home," Gray says. 
"The idea proved to be a huge success – especially with the Kingpin and Hardwood suite. With these one-of-a-kind accommodations, we are able to attract the most discerning casino customers and hotel aficionados from all over the world. 
"While these suites are typically held for our casino clientele, we do accept traditional cash room reservations." 
So good news: Even if you're not a big enough gambling whale to get these megasuites comped during your next stay at the Palms, they also accept cash if you want to invest in the ultimate Vegas splurge.